CAA Articles
CAA Football Falls Back to Normal
CAA Football Falls Back to Normal
As the summer days get a little bit shorter, a fall football season approaches, and things in CAA Country return to some sort of normal.
Aug 3, 2021
by Kyle Kensing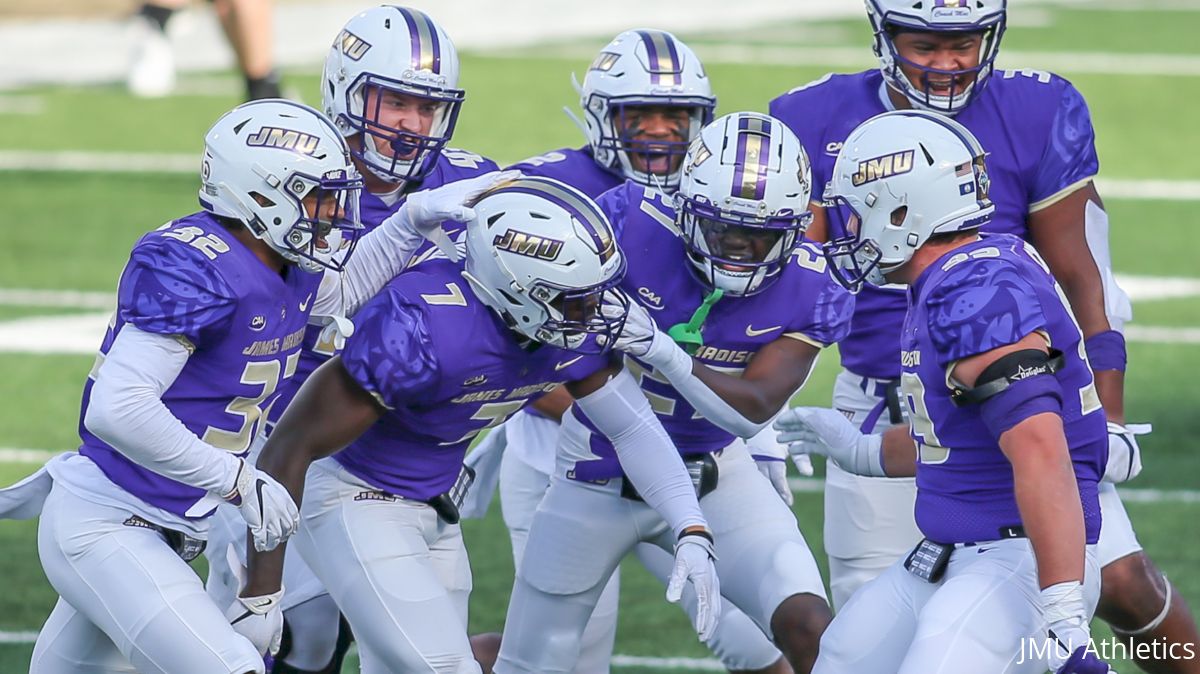 As summer days get just a little bit shorter, an almost instinctual eagerness settles in: Football season approaches.
Just as Anticipation Season arrived in summer 2020, a worsening COVID-19 outlook forced the unprecedented move of the Football Championship Subdivision campaign to spring.
The dedication of countless athletes, coaches, administrators and support staff made the unique slate happen, but a return to fall competition just feels right.
"This definitely feels normal, a lot like '19," said James Madison coach Curt Cignetti. "There's excitement, there's not as much uncertainty."
"We're excited to get back to it, and have a real, long season," said Maine wide receiver Andre Miller, one of the Colonial Athletic Association's breakout performers in the spring.
Miller caught 21 passes for 384 yards with six touchdowns in just four games. The Black Bears — who open the 2021 docket with a huge, CAA showdown against Delaware — navigated the spring without a positive COVID test.
Complications elsewhere resulted in Maine's final two games being called off, however. Such was the reality of football last academic year, both for FCS in the spring as well as FBS in the fall, which had more than 130 games impacted due to the pandemic.
COVID-19 hasn't disappeared, with the delta variant resulting in upticks across the United States. Unlike in the spring, however, the availability of vaccines provides some mitigation for fall football's outlook.
CAA programs preparing for the season include Richmond, which Spiders coach Russ Huesman said is over 90 percent vaccinated. William & Mary's Mike London said the entire university athletic department is over 85 percent, and the Tribe football program "will see that rise" ahead of fall camp.
Cignetti put James Madison's vaccination rate at "98 or 99 percent."
Such measures and others taken from the lessons of a challenging spring only heighten the eager anticipation for fall's arrival.
And while some of the CAA embarks on the campaign off a short turnaround — Delaware and James Madison with the shortest as a result of their national semifinal runs — Towson comes into autumn with plenty of lost time for which to make up.
The Tigers last played November 2019, the week before Thanksgiving. Towson was the sole CAA member to opt out of spring competition before it began, so when it kicks off the Battle for Greater Baltimore against Morgan State, will be in action for the first time in almost 22 months.
"It was really tough," said Tigers offensive lineman Aaron Grzymkowski. "We kind of liked this spring, having that opportunity to slow down and go at our own pace in terms of strength and conditioning and practicing on the field. But yeah, it's been a long time coming."
Safety S.J. Brown II expressed similar sentiment, adding that a year of "watching other teams play, celebrate, win, get their rankings up" left Towson with "something to prove."
The Tigers' sole dedication of the spring to fall 2021 preparation was unique, but not necessarily exclusive to them. Programs that did opt into the spring campaign leveraged the compacted schedule to introduce first-year players to college football.
Elon, which started three freshman on the offensive line, heads into the fall with far more experience than it would have had otherwise. UAlbany initiated youngsters including Jared Verse, a defensive end who went from unknown to one of the CAA's players to watch in 2021.
"So many kids that got to play that, if we hadn't played any games in 18 months, I'm not sure how we ever could have ever got prepared to play the schedule we're getting ready to play," said Great Danes coach Greg Gattuso. "Guys like Jared Verse, and Larry Walker and...Cristian Lewis, all these young guys got four games under their belt against great competition."
Spring football, regardless how it started or ended, did indeed provide value for the entire CAA.
But fall football is just natural, and perhaps never before that it felt more so than in this year's glorious return.