CAA Articles
James Madison KOs UND, Punches Ticket To FCS Semifinals
James Madison KOs UND, Punches Ticket To FCS Semifinals
James Madison emerged victorious from a heavyweight bout of sorts, knocking off North Dakota to advance to a showdown vs. Sam Houston State.
May 3, 2021
by Kyle Kensing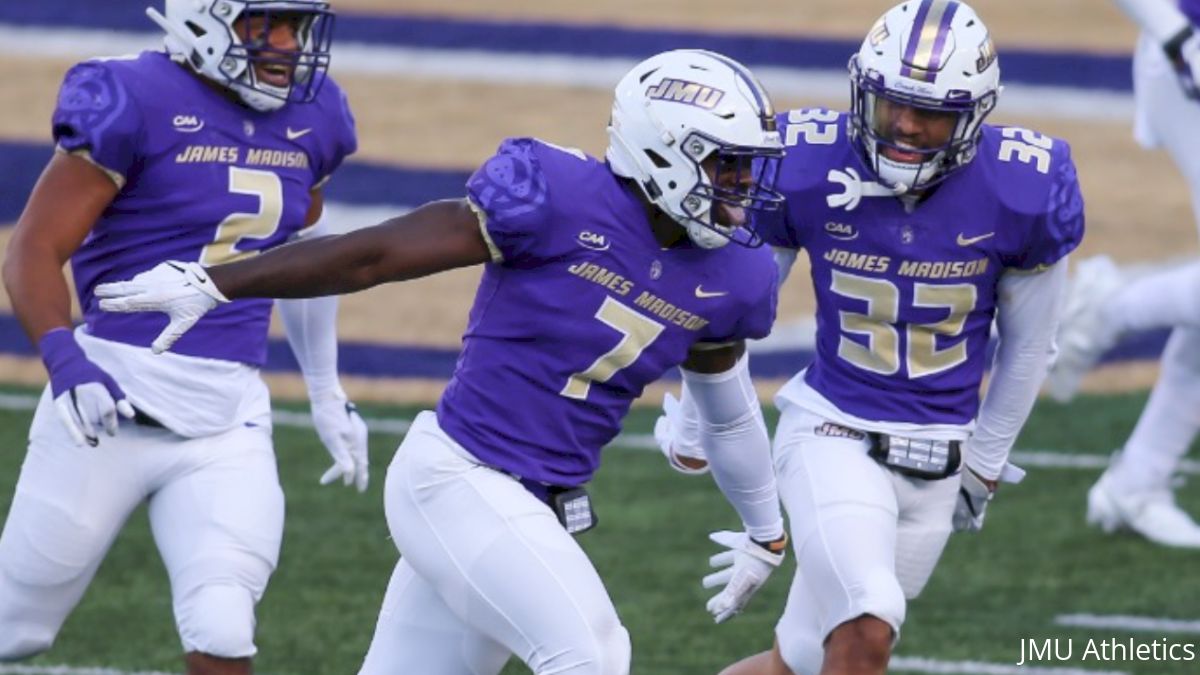 A contest pitting teams like James Madison against North Dakota — teams built around hard-hitting styles — comparison to a heavyweight boxing match might come to mind.
In the Dukes' 34-21, national quarterfinal defeat of the Fighting Hawks, their first touchdown drive was the proverbial peppering of body shots.
James Madison ran 13 plays, covered 80 yards in more than seven minutes, and went to the ground 11 times.
"Those drives...we know we're going to run the ball," said Percy Agyei-Obese, whose 3-yard touchdown capped the possession.
Agyei-Obese carried five times on the drive, gaining 26 yards and sharing the load with Latrele Palmer (four rushes for 12 yards), Solomon Vanhorse (one rush for 18 yards) and quarterback Cole Johnson (one rush for six yards).
It's just the kind sort of drive that reflects the multifaceted, physical offensive approach James Madison has adopted in Curt Cignetti's two seasons as head coach, and explains why the Dukes are headed back to the FCS final four.
"Coach Cig likes to run the ball. So, we've gotten used to it over the past year," Agyei-Obese said. "Whoever's in is going to get the job done, and that's what we like. We feed off each other."
Speaking of feeding, the running back Agyei-Obese explained his excitement when he watched Johnson and wide receiver Antawne Wells deliver the heavyweight fight's KO haymaker.
"I love seeing other players on the team eat and make big plays," he said.
Johnson's 63-yard touchdown pass to Wells in the fourth quarter — the second scoring connection between the two of the game — effectively ended the quarterfinals. The play highlighted Johnson's outstanding 14-of-17, 251-yard passing performance.
For Wells, whose star ascends with every week, the long touchdown punctuated a seven-catch, 143-yard evening. It was also the culmination of a very deliberate Dukes strategy, working in concert with that first-quarter, run-heavy drive.
"That was a focus of our offense this week: Set up the run so we could, later, pass it," Johnson said.
North Dakota came into Bridgeforth Stadium on the strength of a reputation earned in and reflective of the Missouri Valley Football Conference. The Fighting Hawks were holding opponents to 3.45 rushing yards per attempt, and less than 125 per game.
James Madison gained 217 yards at 4.1 per carry.
Aiding North Dakota's strong rush-defense numbers, the Fighting Hawks averaged 3.67 sacks per in their first six games.
The Dukes gave up two on Sunday.
Cignetti and his staff implemented a game plan that directly challenged North Dakota's strengths. After the strategy succeeded, the question ahead of James Madison's semifinal matchup with Sam Houston is to run it back, or follow a new fight plan?
Few teams around FCS ranked better against the run or recorded more sacks than North Dakota. Sam Houston did both.
The Southland Conference has developed a reputation as one of the more finesse leagues of FCS in recent years. Points are often plentiful around the Southland, and Sam Houston itself helped usher in the spring 2021 season with a 43-38 shootout win over Southeastern Louisiana.
That the Bearkats registered 31 sacks before Sunday's quarterfinals isn't necessarily a surprise, given Southland quarterbacks are dropping back so frequently. Of teams participating in the spring — a qualifier that actually takes two addition Southland teams in Central Arkansas and Stephen F. Austin out of the conversation — the SLC produced two of the six highest-volume passing offenses.
But while high-powered offensive styles might translate to more opportunities for sacks, logic dictates it also results in more points being allowed. Not the case for Sam Houston, which has only allowed an opponent since the SELA opener to score into the 20s once else: in the Bearkats' 24-20 quarterfinal win over North Dakota State.
Although this season's Bison showed vulnerability other NDSU teams amid its dynastic run lacked, it's still North Dakota State. Sam Houston limiting the Bison to 3.2 yards per carry and 139 for the game sends a clear message that the Bearkats defense translates no matter the conference.
Another week in James Madison's title pursuit, another heavyweight fight.