CAA Articles
Delaware Has The Blueprint For Containing Webb, Jacksonville State
Delaware Has The Blueprint For Containing Webb, Jacksonville State
Big victories over Sacred Heart and Villanova have created an inherent blueprint for Delaware relative to how it can topple Jacksonville State.
Apr 30, 2021
by Kyle Kensing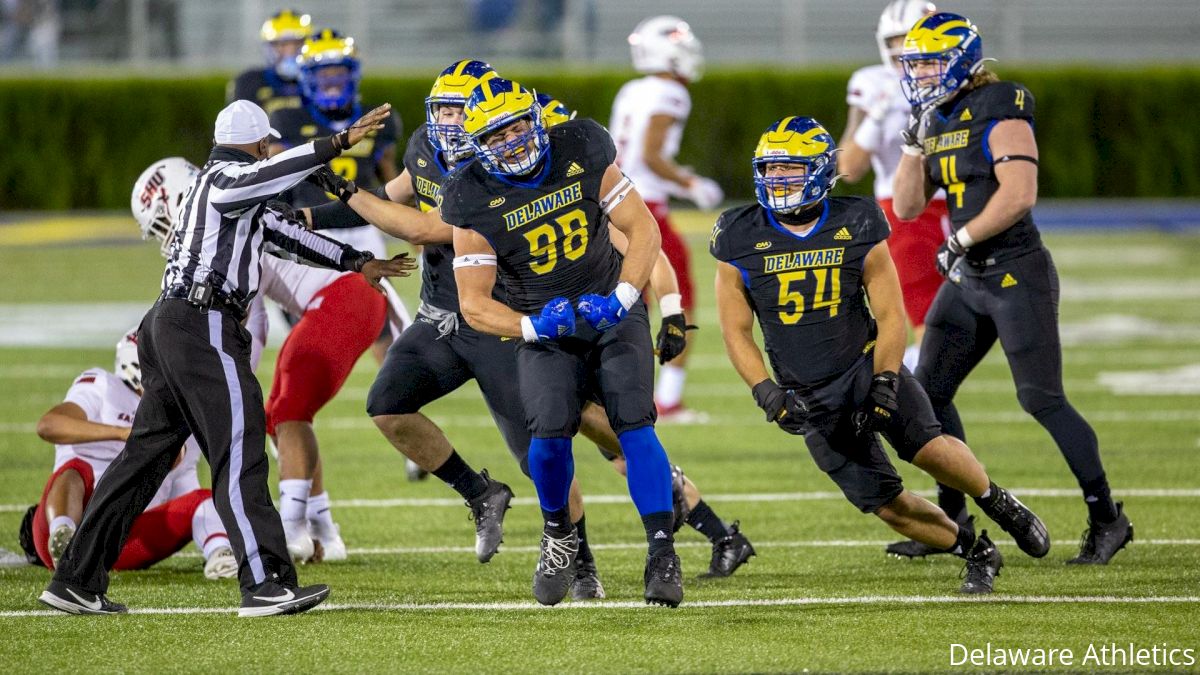 Delaware opened its spring 2021 FCS Playoffs faced with the subdivision's leading ball-carrier, and the Fightin' Blue Hens bent without breaking. In the quarterfinals, they'll face another of the top rushers in the FCS and one of the most prolific overall offenses in college football.
Sacred Heart's Julius Chestnut went for 138 yards and a touchdown in the 1st Round matchup, but his was the lone trip to the end zone the Pioneers mustered in a 19-10 Delaware win.
"Chestnut is an outstanding running back, pretty much as advertised," Blue Hens coach Danny Rocco said. "But I think his long run might have been 16 yards."
Delaware limited Chestnut to 4.5 yards per carry, and Sacred Heart to 2.9 yards per carry in total. In holding the Pioneers to 10 points, the Blue Hens shaved enough off their season scoring yield to take over No. 1 nationally among FCS defenses that played more than two games.
In the quarterfinals, the Blue Hens defense faces perhaps its stiffest challenge of the campaign, one that will again test UD's prowess against the rush. Ohio Valley Conference champion Jacksonville State comes into the round of eight averaging 195.8 rushing yards per game behind the output of a two-man running back rotation.
Uriah West and Josh Samuel come into the 2nd Round with 15 combined rushing touchdowns on the season, and three between them in the Gamecocks' opening-round blowout of Davidson.
What's more, the duo led Jacksonville State to 222 yards rushing on just 28 attempts, a hair below eight yards per carry.
"A year ago in a whole fall season, I don't know if we had nine tackles for loss and four sacks," Rocco said.
That's not quite the case; the 2019 Blue Hens made 26 tackles for loss but just six sacks. The exact numbers are less relevant than the story told coming out of the Sacred Heart win.
"For us to be able to go out there and do that in a playoff game speaks volumes for what we've been able to do to chart a new course," Rocco said.
Indeed, Delaware's flipped the script from 2019, and it's been no more evident than in the last two games. Both the aggressive and effective way in which the Blue Hens got into the backfield against Sacred Heart, and in limiting rival Villanova for UD's first Battle of the Blue win since 2011.
Villanova presented a look similar to what Delaware can expect from Jacksonville State, operating with a multifaceted rushing attack.
The Wildcats managed 191 yards on the ground, but Delaware broke into the backfield for five tackles for loss. What's more, the Blue Hens contained what should be a key component of knocking off Jacksonville State on the road to advance to the semifinals for the first time since 2010: "Being able to contain their run game and be in good position on the RPOs," as Rocco noted.
In addition to West and Samuel, the Gamecocks deploy quarterback Zion Webb on run-pass option plays.
He's gone for more than 60 yards rushing in each of the Gamecocks' last three outings, and scored at least one touchdown in each of those games.
Delaware's effective containment of Villanova's Daniel Smith in the regular-season finale offers a blueprint for how the Blue Hens can address Webb. Smith finished in the negative on the ground, unable to get UD off-balance from any designed or option quarterback runs.
That in turn forced the often accurate Smith into a 12-of-29 passing performance with a critical interception. With eight picks thrown on the year and a sub-60 percent completion rating, Delaware will aim to similarly render Webb into a one-dimensional playmaker.