CAA Articles
Truvell Wilson Emerges As Model Of Excellence For Young JMU O-Line
Truvell Wilson Emerges As Model Of Excellence For Young JMU O-Line
With holes in the offensive line, redshirt senior Truvell Wilson stepped into a position of leadership, guiding the new faces to an unbeaten spring.
Apr 23, 2021
by Kyle Kensing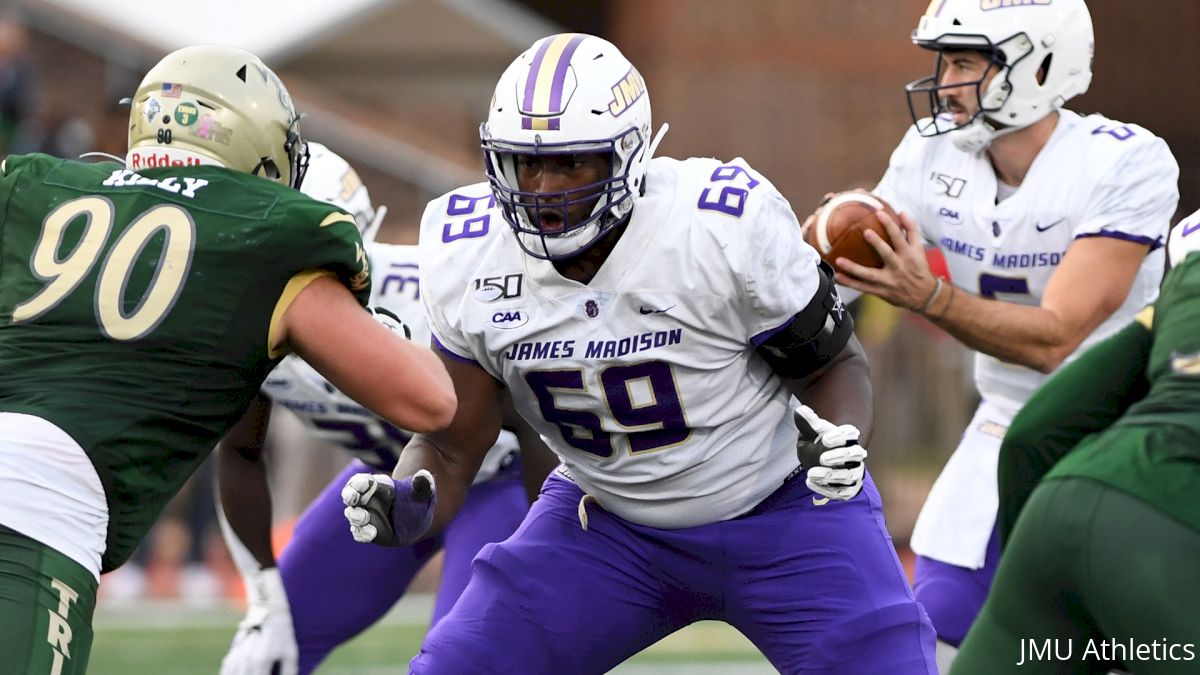 Autumn or spring, the James Madison offensive line faced filling some considerable gaps in the rotation no matter when the follow-up to the 2019 season occurred.
First Team All-Colonial Athletic Association honoree Mac Patrick graduated. So, too, did Jahee Jackson. Zaire Bethea moved on, and that was all before 2020 preseason All-American Liam Fornadel sustained a season-ending injury.
Young linemen have had to step into those prominent voids, but the group acquitted itself well through an undefeated regular season. The Dukes now embark on the Playoffs, in pursuit of the program's third national championship with the same physically imposing style that carried them within a red-zone trip of overtime for the 2019 campaign's title.
Freshman Cole Potts started the regular-season finale against Richmond, Tyler Stephens made the start at left tackle against Elon, and fellow freshmen Tanner Morris and Tyshawn Wyatt also saw snaps in CAA competition.
With first-year Dukes cycling into the front five, James Madison has trucked over defenses to the tune of 236 rushing yards per game — fifth-most in the nation. JMU's future employing the same brand of intimidating, stop-us-if-you-can offense appears set.
But it's not entirely a kiddie corps grading the road.
Truvell Wilson, a redshirt senior and All-CAA selection from the outstanding 2019 Dukes line, provides the experience and guidance that kept James Madison consistent through the spring season.
And consistent is the way to describe Wilson's presence.
"My biggest asset is probably consistency. I do what I do, and I do it the same way each time," Wilson said. "Just being able to have those guys rely on me...to help make the calls, when guys shuffle out.
"You know what you're going to get out of me," he added.
What the Dukes get, in addition to Wilson offering his savvy in relaying play calls from the sideline, are key contributions to big plays — like Cole Johnson's win-sealing, fourth-down touchdown run against Richmond.
The lane opened for the James Madison quarterback came courtesy of big No. 69 redirecting not one, but two Spiders. Wilson and Co. pounded away at one of the premier defensive lines in all of college football, until finally, the key breakthrough came.
That game-changing moment against rival Richmond reflects how this James Madison line has progressed through the spring, getting better the longer it goes on.
"One thing coach [Curt] Cignetti and [offensive line] coach [Damian Wroblewski] stress is finish, finish, finish," Wilson said. "We do sprints at the end of practice to make sure we finish practice the right way. We're constantly moving throughout practice so we get used to working while tired.
"That's been our biggest advantage," he added. "We're able to play a complete 60 minutes of a game and not get to the middle of the third and fourth quarter and we're tired and not able to compete and finish the job."
Physical toughness manifests through mental toughness for the Dukes, which also describes Wilson. He might play like a blue-chipper, but sheer talent isn't what buoys the JMU line's cornerstone.
"Dependable, reliable, level-headed, smart," is how Cignetti described Wilson.
Wilson ascended from walk-on transfer out of Div. II UVa-Wise to All-Colonial performer and potential spring 2021 All-American. So when Wilson preaches consistency as an integral part of offensive line to his younger teammates, it comes from personal experience.
He will prove central to James Madison's national championship aspirations before embarking on his post-graduate life. Cignetti said Wilson has "a job lined up" after this spring semester and plans to get married.
"He's a mature guy," Cignetti said. "When it's all done at the end of spring, I'm really going to miss him. I have a lot of respect for him, and he's going to be a big, big success in life."
And the young Dukes around him will have their paths to success forged in part from being party to Wilson's experience.