2022 CAA Football
Dominant Dukes Defense Is Peaking At The Perfect Time
Dominant Dukes Defense Is Peaking At The Perfect Time
James Madison's defense leads the nation in total defense (175.6 ypg) and scoring (9.8 ppg) as the Dukes roll into a first round tilt with VMI.
Apr 22, 2021
by Roger Brown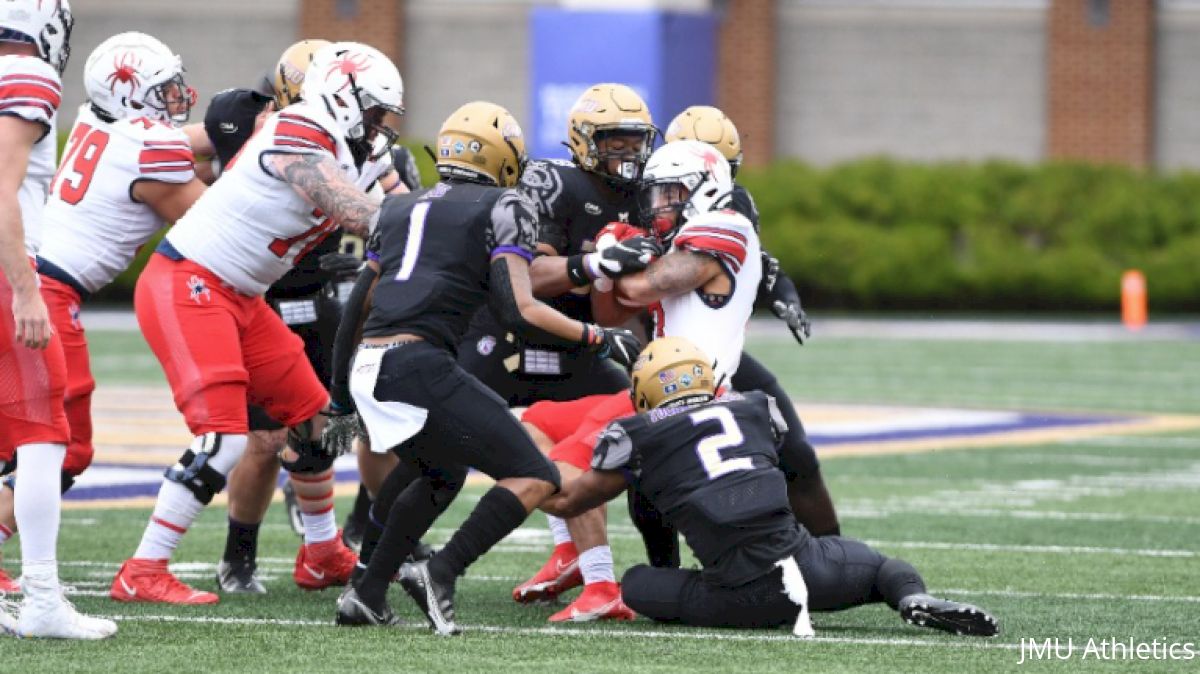 Before last weekend's Colonial Athletic Association game against Richmond, James Madison coach Curt Cignetti said he wasn't sure if his defense had been tested during the spring season. He noted that to that point in the season the Dukes had played teams that were either lacking a high-powered offense or were without their No. 1 quarterback.
The James Madison defense did what it could to make Cignetti a believer when the Dukes held Richmond to 200 yards of offense -- 75 rushing -- during James Madison's 23-6 victory.
Five James Madison players recorded at least four tackles against the Spiders. That group includes safety Wayne Davis, who made a team-high seven stops (five solo). The Dukes had four sacks and seven tackles for loss in the win.
"It was a hard-fought win and we played really great on defense," Cignetti said. "We took it right to them on defense. We had a good first drive on offense. We took the ball, made a couple big plays and then the defense really just manhandled them on the line of scrimmage. Tremendous effort against that offense, which on tape had been very potent."
The James Madison defense will attempt to prove itself again Saturday, when it faces VMI (6-1) in the first round of the FCS playoffs at James Madison's Bridgeforth Stadium (2 p.m.). The Dukes (5-0) are the No. 3 overall seed in the 16-team playoff field.
The Dukes lead the nation in total defense (175.6 ypg) and are second nationally in scoring defense (9.8 ppg).
"The numbers aren't a stretch, but we definitely have things we have to work on," linebacker Diamonte Tucker-Dorsey said. "I think we just came ready to play (against Richmond)."
VMI claimed its first Southern Conference championship since 1977 by beating The Citadel 31-17 last Saturday. This is the first time the Keydets have had a winning season since 1981.
The James Madison/VMI winner will face either Missouri State or North Dakota -- both members of the Missouri Valley Conference -- in the FCS quarterfinals.
James Madison won the FCS national championship in 2004 and 2016, and finished as the national runner-up in 2019. This is the seventh consecutive season James Madison has qualified for the FCS playoffs.
"I think it's great to play the best right off the bat and James Madison University is a traditional rivalry from the past and very close to home," VMI coach Scott Wachenheim said. "I know both teams are excited to play each other and it should be a great game."
Green Machine
Perhaps the best player on the James Madison defense is senior defensive lineman Mike Greene, who was selected as the CAA Co-Defensive Player of the Year in a vote by the conference's head coaches.
Greene, who shared the award with Richmond defensive tackle Kobie Turner, had 15 total tackles, eight tackles for loss, 2.5 sacks, two pass breakups and a pair of quarterback hurries during the regular season. Until this year, when he played primarily defensive end, Greene was used as an interior defensive lineman.
Greene ranks second in the CAA with 1.7 tackles for loss per game, which is 18th among all FCS defenders, and ranks seventh in the league in sacks with 2.5. He is the fourth straight JMU player to win at least a share of the CAA Defensive Player of the Year award.
A Good Catch
Junior wide receiver Kris Thornton, who transferred to James Madison after spending two seasons at VMI (2017 and 2018), averaged 18.3 yards per reception during the regular season, which led the CAA in that category. Thornton was an All-CAA First Team selection after he caught 17 passes for 311 yards and two touchdowns in his team's five regular season games. He was fourth among CAA players in receiving yards per game.
Thornton set the VMI single-season record for receptions with 87 in 2018, when he had 1,003 receiving yards and made four touchdown catches. He ranked fourth nationally in receptions per game that season (7.9).