2022 CAA Football
Red Hot Nolan Henderson Leads Delaware Into FCS Playoffs
Red Hot Nolan Henderson Leads Delaware Into FCS Playoffs
With Nolan Henderson red hot behind center, Delaware has its gaze fixed on a deep playoff run this spring.
Apr 21, 2021
by Roger Brown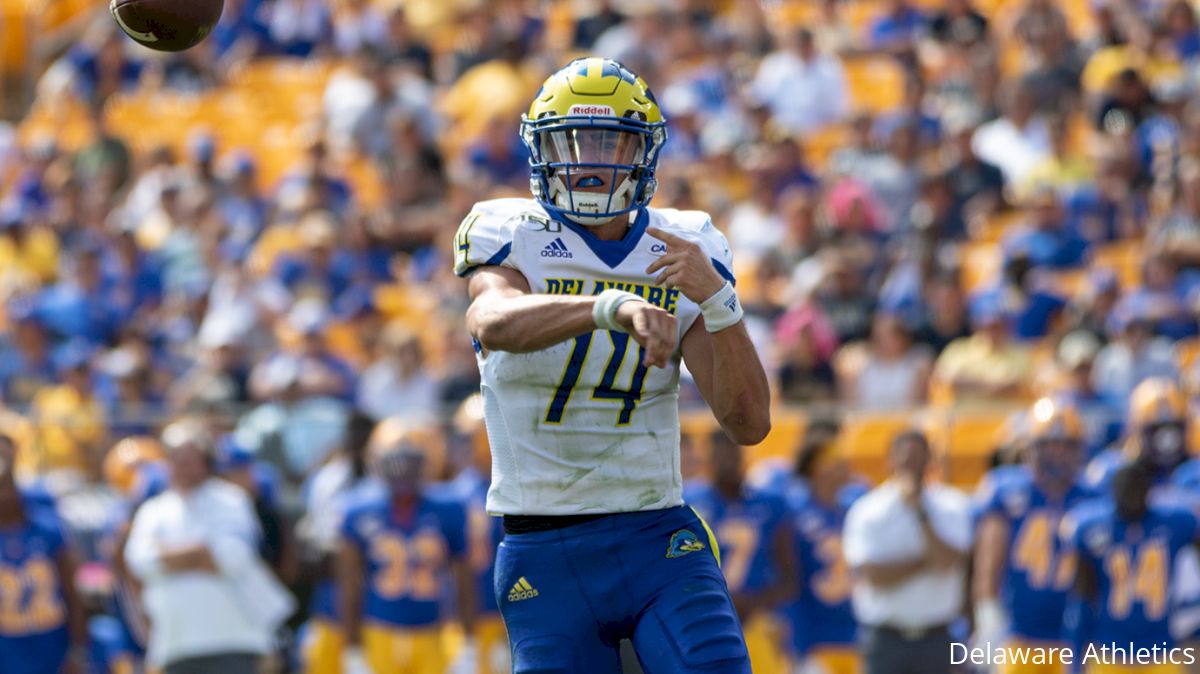 When describing his team's offense, Delaware coach Danny Rocco likes to say the Blue Hens have a lot of tools in the toolbox. The most useful of those tools may be quarterback Nolan Henderson.
Henderson, a redshirt junior, turned in perhaps his best performance in a Delaware uniform when he led the Blue Hens to a 27-20 victory over Villanova last Saturday. He completed 20 of 24 passes for a career-high 270 yards in the win, which earned Delaware the Colonial Athletic Association championship and an automatic berth in the FCS playoffs.
Henderson was named the CAA's Offensive Player of the Week for that effort.
"Coach (Rocco) always says, 'Be at your best when it matters the most,' and I think the biggest thing that impressed me with this team (against Villanova) was poise," Henderson told the media after the Villanova game. "We haven't trailed this year up until this game. Obviously you have two options there: You can sulk about it or you go back on the field and try to win that individual possession."
Henderson and the Blue Hens (5-0) will open the FCS playoffs with a home game against Sacred Heart (3-1) Saturday night (7). Sacred Heart won the Northeast Conference championship by beating Duquesne 34-27 in overtime last weekend.
Henderson's completions against Villanova included two touchdown passes. He enters Saturday night's game having completed 82 of 166 pass attempts for 988 yards and nine touchdowns during the abbreviated spring season. He's been intercepted twice. Henderson also has two rushing touchdowns.
"In a perfect world you line up and you run your core offense -- some zone schemes and a couple gap schemes -- and then throw the ball off of that," Rocco said. "We weren't getting a lot of traction in the run game (against Villanova). Nolan was seeing things really good. He was getting the ball out really quickly. He was very decisive. He was very accurate.
"Nolan was really good, and he was really good in just kind of being accurate, efficient, confident."
The Delaware/Sacred Heart winner will face either Davidson or Jacksonville State in the FCS quarterfinals.
Mark Nofri is in his ninth season as Sacred Heart's head coach. He was selected as the NEC Coach of the Year this season and has a 54-42 record during his tenure with the Pioneers.
"I know they beat a really good Duquesne team last week," Rocco said. "He's got a passionate group of kids that are excited. They won their conference championship. They're in the playoffs … and my guys are excited.
"It's win and advance or lose and go home, so we're going to prepare this week like we prepare every week: with a sense of urgency and purpose."
On The Run
Saturday night's matchup will showcase two of the top running backs in the country. Sacred Heart junior Julius Chestnut, the NEC's Offensive Player of the Year, and Delaware redshirt senior Dejoun Lee are among the 16 finalists for the Walter Payton Award, which is presented annually to the national Offensive Player of the Year at the FCS level.
Chestnut leads the FCS in rushing yards per game (179.3) and is second in the nation in scoring (17.0 ppg). He is also No. 1 nationally in all-purpose yards per game (222.0).
Lee returned the season-opening kickoff 87 yards for a TD against Maine. He's been named the CAA's Offensive Player of the Week twice this season, and the CAA's Special Teams Player of the Week once. He ranks sixth among FCS players in all-purpose yards per game (152.2).
Lee has rushed for 498 yards and five touchdowns on 77 carries this spring. He ran for 221 yards and had 275 all-purpose yards during a victory over Rhode Island.
History Lesson
This will be the second time the Sacred Heart and Delaware programs have met on the field. The Pioneers posted a 10-7 victory at Delaware in 2014.
This is the 17th time Delaware has qualified for the I-AA/FCS playoffs, and the first time the Blue Hens have had an FCS playoff game at home since 2010, when they lost to Eastern Washington in the national championship game. Delaware has a 22-15 FCS playoff record.
Sacred Heart is 0-2 in the FCS playoffs. Fordham beat Sacred Heart 37-27 in 2013, and 44-22 in 2014.