2021 Richmond vs James Madison
CAA Frontrunners Richmond, JMU Face Off In Regular Season Finale
CAA Frontrunners Richmond, JMU Face Off In Regular Season Finale
After a postponement on March 20, Richmond and James Madison will finally face off in a battle of CAA unbeatens.
Apr 16, 2021
by Roger Brown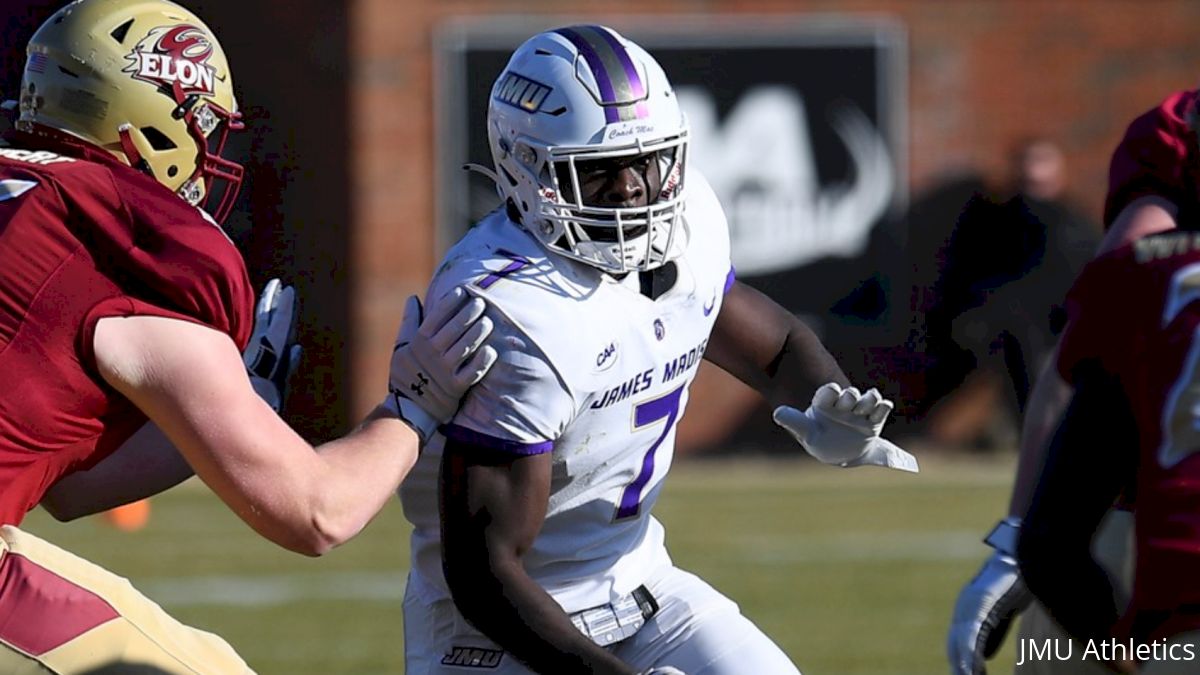 Neither of the first two scheduled games between Richmond and James Madison was played during the spring season, so the teams will try again Saturday, when the Spiders and Dukes plan to tangle at JMU's Bridgeforth Stadium.
JMU (4-0, 3-0 CAA) and Richmond (3-0, 3-0 CAA) were supposed to meet on March 20, but that game was called off because of COVID-19 issues in the JMU program. Then the April 3 contest between the schools was postponed because of COVID-related problems at Richmond.
Saturday's matchup will determine the CAA South Division champion.
Watch Richmond vs James Madison LIVE on FloFootball
"We're just excited to play again," said JMU coach Curt Cignetti, whose team hasn't played a game since beating William & Mary 38-10 on March 27. "Our guys really want to play. We haven't played much in the last six weeks."
James Madison is the No. 1 team in the STATS FCS Top 25 poll. The Dukes lead the CAA in scoring offense (36.5 ppg), rushing offense (259.0) and total defense (169.5). Richmond coach Russ Huesman said team speed is what impresses him the most about the JMU defense.
"It seems like they never run out of that," Huesman said. "They can lose nine or 10 guys on the defensive side of the ball and the guys they plug in there can run. They're physical on defense. … The big thing is they can run, they can chase you down. They don't give up big plays. It just jumps out every year how well they can run."
Richmond, the No. 11 team in the STATS FCS Top 25, is led by dual-threat quarterback Joe Mancuso, who leads the CAA in total offense (250.7 ypg). Mancuso is averaging 193.7 yards per game through the air, and 57.0 yards per game on the ground.
"It all starts at quarterback," Cignetti said. "Mancuso is really playing well. He's throwing the ball extremely well and he's still getting his yards running the football. He's been really accurate. … Nobody's really stopped them or slowed them down yet. They're a handful."
This will be JMU's first home game since Feb. 27, and there will be a limited crowd at Bridgeforth Stadium (30 percent capacity).
"We have a tremendous fan base and I'm sure we could fill it if it was allowed," Cignetti said. "It'll be a totally different atmosphere with people in the stands. Really looking forward to it. I know our players are.
"To have a big game like this at home is a great way to finish the regular season."
Quarterback Options
JMU has used both Gage Moloney and Cole Johnson at quarterback this season. Huesman on preparing for a game when the opponent has uncertainty at the quarterback position: "They're both good football players. You prepare for their offense and what they do offensively and how they want to attack you, and not specifically a quarterback, per se. They're both very similar in some ways. Until you see them live in person you don't really know who's got the stronger arm. On film it's hard to tell that. James Madison wouldn't have recruited them if they weren't good players, I promise you that."
Ground Control
Richmond linebacker Tristan Wheeler, the CAA Defensive Rookie of the Year in 2019, has a team-high 27 tackles this season. He recorded a career-high 14 tackles in Richmond's last game, a 31-17 victory over Elon on March 27. Four of those tackles came on kickoff coverage. Wheeler ranks second among CAA players in tackles per game (9.0), trailing only Maine linebacker Deshawn Stevens (9.7).
Looking Ahead
In addition to winning the CAA South, the winner of the JMU-Richmond game will remain in the hunt for the conference's overall title and the automatic qualifier to the FCS playoffs that comes with it. Delaware (4-0, 3-0 CAA) and Villanova (2-1, 2-1 CAA) will meet Saturday to determine the CAA North champion. The 16-team playoff field, which includes five at-large selections, will be announced Sunday on ESPNU (11:30 a.m.).