2021 Delaware vs Villanova
A Pair Of Playoff Hopefuls Face Off As Delaware Travels To Villanova
A Pair Of Playoff Hopefuls Face Off As Delaware Travels To Villanova
Villanova will square off with Delaware on Saturday in what may serve as a de facto play-in game for an FCS playoff spot.
Apr 14, 2021
by Roger Brown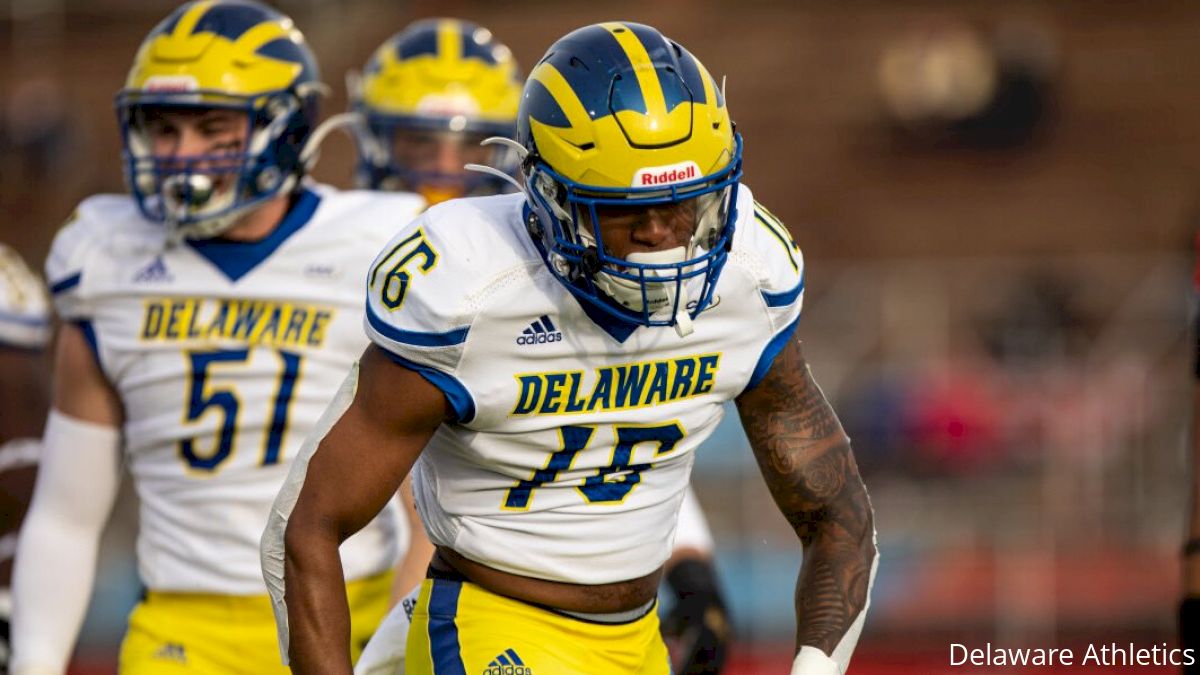 When Villanova coach Mark Ferrante was asked to identify the strengths of the Villanova football team he seemed to mention a little bit of everything. No surprise there, since Delaware enters Saturday's matchup with Villanova unbeaten (4-0) and ranked No. 7 in the STATS FCS Top 25 poll.
The Blue Hens rank third among FCS teams in both scoring defense (9.5 ppg) and total defense. Offensively Delaware is third in time of possession.
"They're a pretty complete team in all phases," Ferrante said. "They're not giving up a lot of points, so their defense is playing well. They're scoring a lot of points, so they're offense is playing well. And they're getting turnovers. Those are the three stats that I focus on and care about -- turnovers and then points for and points against."
Watch Delaware vs Villanova LIVE on FloFootball
Delaware has scored in 17 consecutive quarters and has scored more than 30 points in each of its four victories. It's the first time the Blue Hens have put at least 30 points on the scoreboard in each of their first four games since 2005.
The Villanova offense brings plenty to the table as well. The Wildcats (2-1) are averaging 32.3 points per game, which is third, one spot behind Delaware (34.2), in the Colonial Athletic Association.
Saturday's game will determine the CAA North champion.
Villanova, the No. 10 team in the STATS Top 25, has played one game since March 13. That was a 44-17 triumph over Maine on April 3. Running back Justin Covington ran for four touchdowns in that win and Villanova QB Daniel Smith completed 16 of 28 passes for 176 yards and a touchdown.
"Their quarterback is really good," Delaware coach Danny Rocco said. "He's really experienced. Very talented at running back, and they have receivers who can make plays. They stress you at all your different points in your defense. They can stress you running the ball right down the A gap, B gap. They can stress you running the ball to the perimeter. They can stress you with quick throws to the perimeter, then they can stress you with shots down the field. They have all the different things that make up a good offense."
Toss and Turn
It may be difficult for either team to win the turnover battle in Saturday's matchup. Delaware is first among CAA teams in turnover margin at plus-9. Villanova is second at plus-3.
Villanova has one turnover - an interception -- in its three games. Delaware has 13 takeaways this season (seven fumble recoveries and six interceptions). The Blue Hens came away with four turnovers in last weekend's 34-14 victory over Delaware State.
"We've been more aggressive I think just holistically in terms of attacking the football -- and that doesn't necessarily mean blitzing," Rocco said. "Just more aggressive with how we're playing, how we're attacking the line of scrimmage with our front. How we're attacking the line of scrimmage with our linebackers.
"I think the one thing about our defense that I had felt from the very beginning is it's a talented group (and) they're all battle-tested. We have guys that played a lot of football (in 2019). We've been very opportunistic with the football. Very ball aware."
Blue Notes
The Villanova-Delaware rivalry, known as the Battle of the Blue, has been dominated by the Wildcats recently. Villanova has won eight games in a row and 13 of the last 14 meetings between the teams.
Villanova leads the series 31-21-1.
"Our focus always is and always will be let's try to get to 1-0 this week regardless of the opponent," Ferrante said.