2021 Delaware vs Villanova
He's Back: Villanova's Justin Convington Is Healthy & Dominant Once Again
He's Back: Villanova's Justin Convington Is Healthy & Dominant Once Again
Back from a torn ACL, Villanova running back Justin Covington has returned to the form he showed during the fall of 2019.
Apr 14, 2021
by Kyle Kensing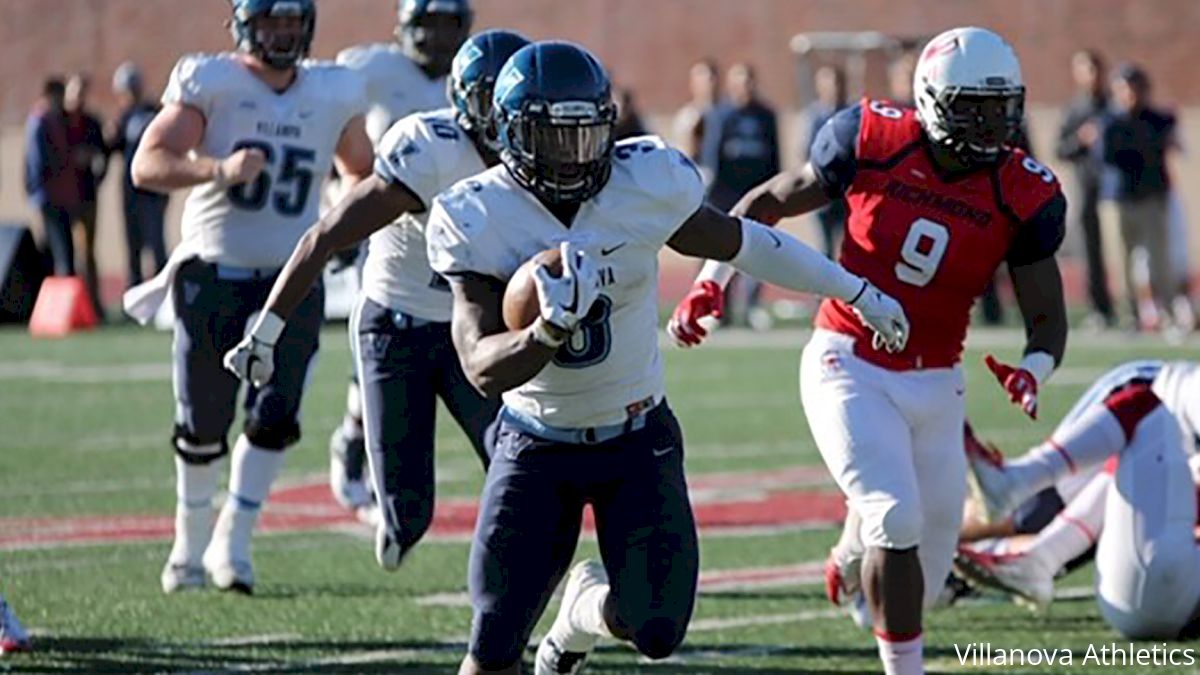 Bouncing to the outside, emerging from a pack and turning on the jets to break away from everyone, Justin Covington's 44-yard touchdown run April 3 at Maine showed off everything that made the Villanova running back a breakout star in 2019.
Coupled with a 76-yard touchdown run against Rhode Island on March 13 — a play in which Covington squirted through a mass at the line of scrimmage then side-stepped a defensive back on his way to pay dirt — Wildcats coach Mark Ferrante said, "Justin looks like he's picking up, maybe where we left off."
A Walter Payton Award contender through the '19 campaign's first half, Covington was averaging 8.1 yards per game and almost 122 yards per game when his season ended due to a torn ACL.
A Villanova offense that ranked eighth in the nation at 37.3 points per game remained dynamic with Covington sidelined, scoring at least 35 points in five of those six games. But it's hard not to ask what if the Wildcats had that additional playmaker, a running back who gained more rushing yards in six games than all but 75 FCS players that season, for the playoffs?
The 2021 spring season provides some insight into how the Villanova offense might have looked in the latter-half of 2019, as well as a sneak preview for fall 2021. And the very literal answer to that rhetorical question is pretty darn good.
Villanova's scoring output increased from game-to-game in each of its first three spring outings, including totals of 37 and 44 against Rhode Island and Maine. Covington was individually excellent in both, rolling up 141 yards with two touchdowns against the Rams and 88 yards with four touchdowns against the Black Bears.
If there's a layer to his production Covington added since his return to the field, it's getting into the end zone. He scored more touchdowns at Maine than he totaled his entire 2019 season.
"Three of them were on the one-yard line," he said."But it still felt good,"
Spring football has indeed been a welcome return to the rotation for Covington. His recovery process had him on track to be game-ready come fall, but The Bronx native did not let the postponed season make him complacent.
Covington credited his work with trainer Tyler Waite for getting him back up to speed.
While Covington "attacked the rehab," as Ferrante put it, beginning in 2019, the Wildcats offense proceeded onward with a rotation of ball-carriers. DeeWil Barlee rushed for 724 yards and six touchdowns, Jalen Jackson gained 314 yards and TD Ayo-Durojaiye went for 295 yards and three touchdowns.
Part of Covington's return has been integrating into a rotation, which has gone well — both in terms of production, with Villanova averaging 214 rushing yards per game during the spring, and for limiting an one player's mileage before the short turnaround to the fall 2021 campaign.
"We're obviously rotating a bit in the spring to keep us all fresh and healthy, which is nice," Covington said. "Nobody's getting a heavy, heavy load of carries.
"Keeping us healthy, keeping us fresh, and allowing guys to get experience," he added. "We've never had a season before a season."
Season before a season is a perfect distillation of the spring leading into fall. After 17 months away from game action, Covington will pack two campaigns into nine months.
And while the "2020" edition of the 126-year old Battle of the Blue rivalry game against Delaware is just the fourth contest Villanova will play in the spring, Ferrante said this unique time has felt like a full, 11-game slate.
Come autumn, when Covington gets a full docket of games, look out.