2022 CAA Football
Despite Challenges, FCS Spring Season Has Been 'Breath Of Fresh Air'
Despite Challenges, FCS Spring Season Has Been 'Breath Of Fresh Air'
With seven CAA teams now out for the remainder of the spring, navigating the tail end of the COVID-19 pandemic has proven difficult.
Apr 9, 2021
by Kyle Kensing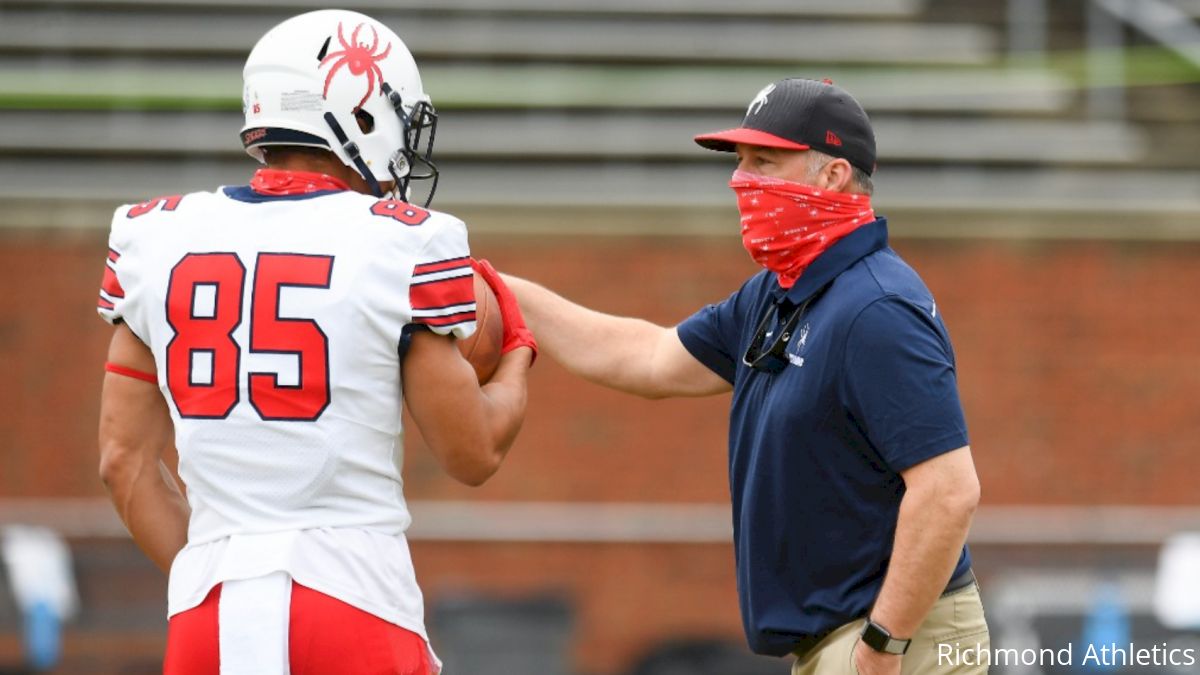 The penultimate Saturday of the Football Championship Subdivision season typically brings with it the eager anticipation of conference title chases and playoff positioning. The challenges the last 13 months have rendered add uneasiness and uncertainty.
Around the Colonial Athletic Association, UAlbany, Elon, Maine, New Hampshire Rhode Island and Stony Brook are done for the experimental spring season for various reasons related to COVID-19 protocols. Towson opted out before the spring, and James Madison is in a holding pattern.
Watch Richmond vs William & Mary LIVE on FloFootball
The situation is unfortunate and not one anyone wanted. Russ Huesman, coach of one of the teams still playing, Richmond, gave an impassioned explanation of the difficulties the Colonial, and all of FCS, have navigated to make this season happen.
"All of FCS football's done a great job," he said during his Wednesday media availability.
I'm glad we're playing in the spring. It's a breath of fresh air for our team, and I'm sure a lot of teams. Anybody that had to cancel due to COVID, whether it's a game, a season, I know they're crushed, their players are crushed, because they want to play."
CAA Football announced JMU's games at Richmond (4/3) and against Elon (4/10) have been postponed due to CoVID protocols at the two opposing schools.

📰 https://t.co/5HRsDJ8em9 pic.twitter.com/rbBJo2HbPN

— JMU Football (@JMUFootball) April 1, 2021
The shutdown of sports last March, starting with an NBA matchup between the Utah Jazz and Oklahoma City Thunder, then snowballing into postseason college basketball, marked a grim beginning of this pandemic age.
Assorted sports returned with different paths forward. Among the more contentious restarts was that of college football.
About six weeks before the scheduled start of the 2020 campaign, the CDC charted exponential growth in the number of cases in the United States. The CAA announced its decision to opt out of a fall football season on July 17 — the same day as a then-record spike of 75,624 new COVID cases were declared.
One by one, FCS conferences fell out of the fall schedule, and by August, the NCAA unveiled plans for a historic spring season.
Because the Football Bowl Subdivision lacks the same governing structure as the FCS, the decisions to play or not among the FBS resulted in fractured decision-making and a cumbersome, staggered season.
The FBS season coincided with continued, exponential spread of the virus. Just three days before the College Football Playoff Championship Game between Alabama and Ohio State, the CDC recorded its all-time new COVID case record of 314,861.
And as the FBS season proceeded against a backdrop of growing cases, players in the FCS — like Richmond's Kobie Turner — had their own campaign still to look forward to.
"It would have definitely been hard, even just having the fall season cancelled ... just watching other teams play football, and thinking that should be me," he said. "For the entirety of this break, and having to hold that and sit on that and wait with anticipation, that would have definitely been hard to come out and not compete in the spring."
Turner referred to the opportunity to chase both a Colonial championship and national championship. The Spiders also have a second date with rival William & Mary, and "bringing home that Capital Cup is huge."
All of those goals remain attainable for Richmond, rewards for the Spiders collective sacrifices. But those programs out of the mix are not done with the spring because of a lack of their own dedication and sacrifices.
Mitigating a pandemic isn't the same as executing a play call.
#CAAFB statement on @RhodyFootball's decision to end their spring football season due to positive COVID tests ⬇️ pic.twitter.com/kjeeML1hzM

— CAA Football (@CAAFootball) April 7, 2021
Cases have been declining steadily since January, but the virus has hardly gone away. The plateau numbers reached into April 2021 are closer to those that prompted fall football cancelations in the summer, even with the distribution of vaccines.
And while the FBS season reached a conclusion, the subdivision's fall campaign isn't a one-to-one comparison to the FCS, as Huesman illustrated.
"I see people all the time, or hear people talk about, 'Well FBS didn't have this many issues.' Yeah, well, FBS has 120 people on every roster. The FBS has 85 scholarship players. We don't have it in the FCS," he said. "We came into the spring with about 64 players that could possibly play, now we're down from that.
"I'm sure everyone's having these issues," he added. "Anyone that says, 'Well FCS, they're not doing it correctly.' Yeah, we are doing it correctly. We just don't have the numbers. A lot of places don't."
Despite its advantages in terms of numbers, the FBS season concluded with 139 canceled games, including some high-profile affairs. Ohio State and Michigan played The Game every year since 1918, including during World War II, but not in 2020.
The Sun Belt Conference Championship, slated to be a Top 25 showdown between Coastal Carolina and Louisiana, was a late scratch. The Pac-12 played its championship at the end of a heavily truncated season, but COVID-19 protocols resulted in an Oregon team that finished with one more loss than rival Washington playing in and winning the league title game.
Both FBS and FCS faced their issues. The challenge for FCS now is reaching the finish line in a month during a period James Madison coach Curt Cignetti deemed as "managing ambiguity," then preparing for what will hopefully be a much more traditional fall 2021.
Rather than the results of these challenges being cause for criticism, however, the final stretch of the unusual FCS season should serve as a reminder of just how hard everyone involved worked to make football happen during uncertain and scary times.