2021 Villanova vs Maine
With Fagnano At The Controls, Maine Offense Is Cooking
With Fagnano At The Controls, Maine Offense Is Cooking
Joe Fagnano has been performing at an elite level for Maine after a season opening setback to Delaware.
Apr 2, 2021
by Roger Brown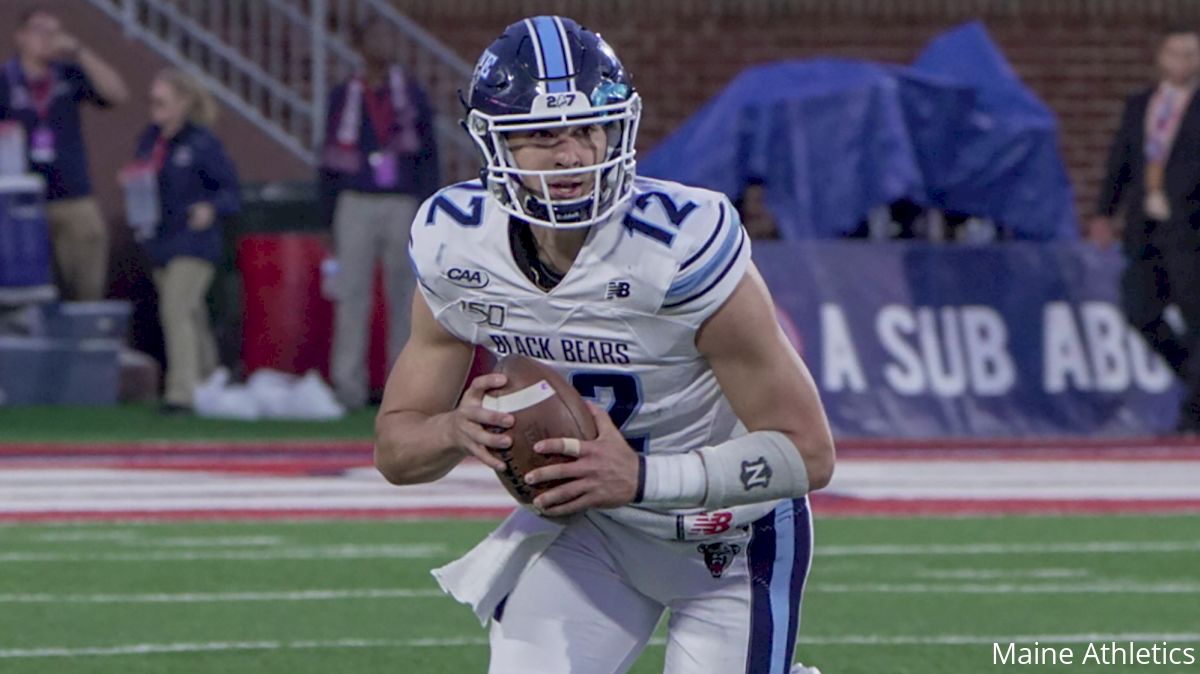 Maine has looked like a different football team since it opened the spring season with a 37-0 setback at Delaware. Perhaps the team's biggest improvement since that loss has come on offense.
After being limited to 112 yards against Delaware, the Black Bears (2-1) scored 73 points in victories over Albany (38-34) and Stony Brook (35-19). Maine has been particularly effective in the red zone. The Black Bears have moved the ball inside their opponent's 20-yard line nine times during their two victories and came away with points each time.
Watch Villanova vs Maine LIVE on FloFootball
"Really, the key stat for us in the last two games has been the red zone," Maine coach Nick Charlton said. "We've scored every trip. That's the biggest thing. That's probably the difference when you look at it, and a lot of that is putting the ball in the quarterback's hands. … In general Joe's producing right now."
Joe is sophomore QB Joe Fagano, who will enter Saturday's home game against 16th-ranked Villanova (1-1) having completed 46 of 81 passes for 560 yards and eight touchdowns this season. He has not been intercepted.
Fagnano has thrown 25 TD passes and been intercepted three times in 10 games since taking over as Maine's starting quarterback midway through the 2019 season. He has guided the Black Bears to eight touchdowns (two rushing and six passing) and one field goal in their nine trips to the red zone this season.
Senior wide receiver Andre Miller has become Fagnano's go-to target. Miller has 19 receptions for 309 yards and has caught six of Fagnano's eight TD passes. Miller is the only Colonial Athletic Association player averaging more than 90 receiving yards per game (103.0).
Four of MIiller's six TD catches have come after Maine entered the red zone.
No. 1️⃣ has been on a different level over the past two weeks 😳😳#BlackBearNation | #ChampionshipMentality | #CAAFB pic.twitter.com/kgKgAB3ERI

— Maine Football (@BlackBearsFB) March 25, 2021
"I really think it's as simple as execution," Charlton said. "When you look at some of the things that we're doing in the run game and the pass game it's about being on the same page and finishing drives. A lot of that is third-down execution in the red zone, which is big. When you get into the low red being able to finish with six instead of three, or coming away with points period.
"I just think we've been efficient and also I have to be honest with you, it's guys making plays. Obviously Joe and Andre have made a lot of plays, but there's a lot of other guys who have factored into that as well. Up front we've been pretty solid … the tight end position as well. There's a number of guys making plays when we get down there. That's ultimately a large part of scoring, and we're not turning the ball over. Red zone turnovers kill you, and we haven't done that.
"We certainly have played better, but we have not played a complete game yet."
Villanova hasn't played a game since March 13, when it lost to Rhode Island in overtime (40-37). The Wildcats rank at the bottom of the CAA in red zone defense, having allowed seven touchdowns and two field goals in the nine times opponents have moved inside their 20.
"I just hope we can go up there, put our best foot forward and play a little more consistently than we did in our first two games," Villanova coach Mark Ferrante said. "Yes, they had a blip on the radar if you will in their opening game, but it seems like they've kind of fixed some situations on both sides of the ball and on special teams, because the last two games they've had they've gone out and performed at a high level."