2022 CAA Football
After Long Road Back, UNH's Sean Coyne Looks To Reestablish Himself
After Long Road Back, UNH's Sean Coyne Looks To Reestablish Himself
It has been a long road back to the gridiron for New Hampshire's Sean Coyne, but the junior wide receiver is finally back and making an impact for UNH.
Apr 1, 2021
by Roger Brown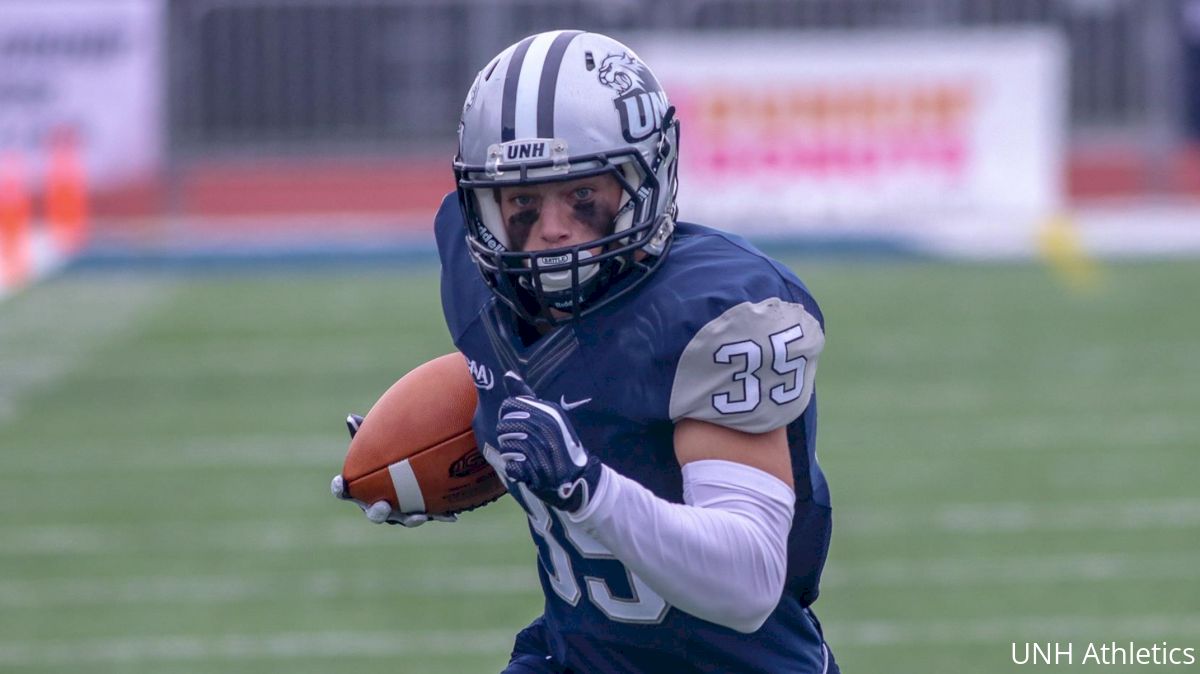 It's unlikely that any player on the New Hampshire football team was looking forward to getting on the field for the team's CAA opener against Albany this spring more than junior wide receiver Sean Coyne.
It had been a long time since any New Hampshire player had suited up for a game, but the layoff was even longer for Coyne, who was suspended by the school for his role in an incident that took place at a fraternity house in 2018. He was not enrolled at New Hampshire during the 2019 football season, and the 2020 fall season was erased by COVID-19.

"We knew he was coming back (to the program)," New Hampshire coach Sean McDonnell said. "He wanted to come back. We wanted him back. I thought it was a great learning process for the young man. Came back. Dialed it in in the classroom. Dialed in on the football field. Knows and understands what his commitment is to the program. Sometimes those life lessons are great teachers, and I think Sean has responded pretty well from it."
Watch New Hampshire vs Rhode Island LIVE on FloFootball
It didn't take long for Coyne to make his presence felt this season. He caught a 4-yard touchdown pass from quarterback Max Brosmer to cap New Hampshire's first offensive possession in the 24-20 loss to Albany. Coyne also caught an 18-yard TD pass from Brosmer in the fourth quarter of that loss.
He finished the game with five catches for 34 yards, gained 11 yards on two kick returns and picked up 4 yards on his only carry.
New Hampshire (1-0) hasn't played a game since then. The Wildcats had a bye the following week, and then had games against Delaware and Villanova cancelled because of COVID-19 issues within their program.
Coyne is hoping he and his teammates will be back on the field for Saturday's game at Rhode Island (1 p.m.). The Rams (2-1) began the season with overtime victories against Villanova (40-37) and Albany (17-10), but dropped a 35-21 decision to unbeaten Delaware last Saturday.
It will be a homecoming for Coyne, who grew up in Portsmouth, R.I.
"(The suspension) taught me not to take the team for granted or anything for granted," Coyne said. "Helped me grow up a little bit and realize what really matters and what's important."
It would be hard to find a more versatile player than Coyne on the New Hampshire roster. USA Today selected him as Rhode Island's Offensive Player of the Year following his senior season at Portsmouth High School, where he played quarterback, receiver, defensive back and handled the kicking duties. He led Portsmouth in passing yards (922), passing touchdowns (12), rushing yards (1,629), rushing touchdowns (20), tackles (39) and interceptions (four) during his senior season.
Coyne also made 15 of his 23 field goal attempts that season, including one from 58 yards.
"When he came here he was on a partial scholarship mainly because of his kicking, and then when we saw him out there practicing running and catching we were like, 'He's a lot better runner and catcher than he is a kicker,'" McDonnell said. "But if he stayed a kicker he'd probably be our best kicker.
"Talented kid who's really worked his tail off from the day he got here in the program, and then once he got back into the program has done nothing but work his (tail) off to become the best possible football player he can."
Coyne caught 21 passes for 148 yards and two TDs in 11 games during the 2018 season, when he also ran for 70 yards and a TD on 12 carries. Had he not been suspended, Coyne would have been the team's leading returning receiver in 2019.
"(Being away from the program) was definitely frustrating, but I take full responsibility for everything so the only thing I can do now is move forward with it," Coyne said. "I'll do whatever Coach Mac asks me to do to help us win football games. I'm just happy to be back."