CAA
JMU's Cole Johnson Didn't Waste A Second Chance
JMU's Cole Johnson Didn't Waste A Second Chance
James Madison's Cole Johnson took advantage of an opportunity to get back behind center against William & Mary, with unbeaten Richmond up next.
Apr 1, 2021
by Roger Brown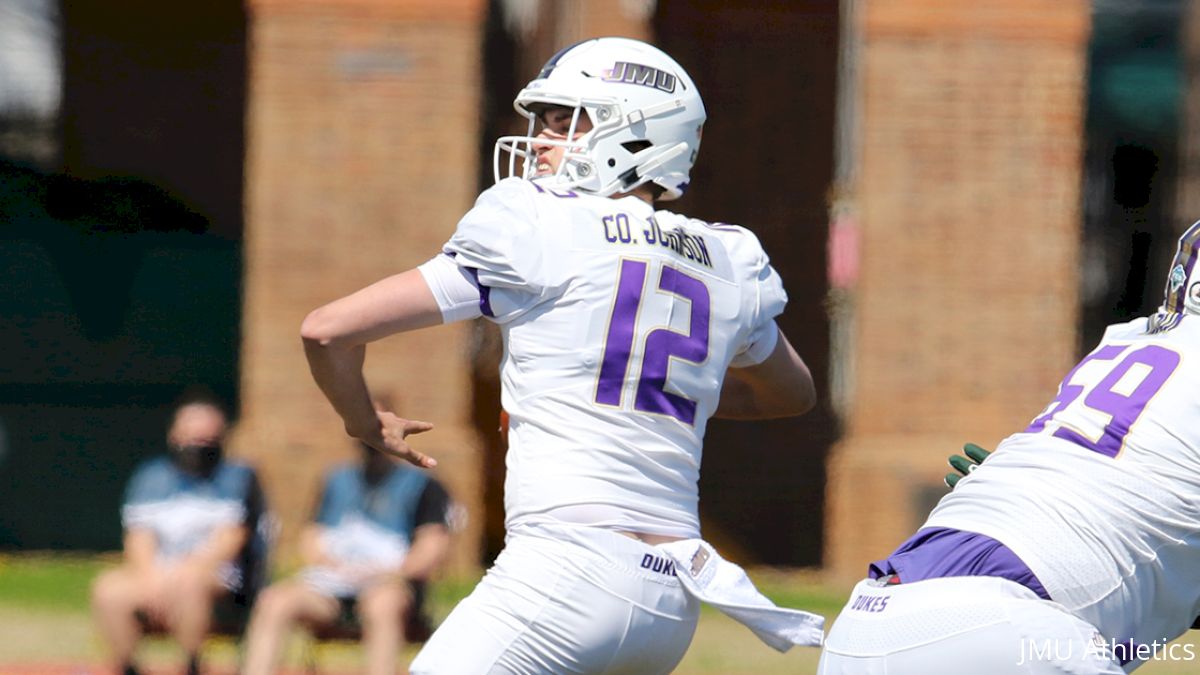 Quarterback Cole Johnson has started each of James Madison's four games this spring and the Dukes were victorious in all four, but that doesn't mean Johnson will be the starter when James Madison plays at 15th-ranked Richmond on Saturday.
Johnson was replaced by Gage Moloney late in the third quarter of James Madison's game against Elon on March 6. Moloney, a fourth-year junior, helped the Dukes erase an 11-point second-half deficit and pull out a 20-17 victory that day.
A fifth-year senior, Johnson was named the team's starting quarterback during preseason, but was intercepted three times during a win against Robert Morris and also had one pass intercepted before he was pulled when the offense struggled against Elon.
After the Elon game James Madison coach Curt Cignetti said Moloney would start the following week, but a COVID-19 outbreak within the James Madison program cancelled the team's next two games. Moloney was among the James Madison players unavailable for last Saturday's contest against William & Mary. Johnson moved back to the top of the depth chart and guided the top-ranked Dukes to scores on six of seven possessions in a 38-10 triumph.
Watch James Madison vs Richmond LIVE on FloFootball
"I guess I probably do have a decision to make if Gage is available," Cignetti said. "Hopefully he's available. I guess we'll find out Saturday what that decision is.
"Two really good guys who are very popular with their teammates. Both guys are really into winning and whatever it takes to win."
A backup prior to this season, Johnson completed 16 of 22 passes for 220 yards and a touchdown with no interceptions against the Tribe before reserves entered the game in the third quarter. He completed five of his first seven pass attempts for 60 yards and capped the opening series with a 6-yard touchdown pass to tight end Clayton Cheatham that opened the scoring..
"I wouldn't say I lost my confidence, but it did diminish a little bit," Johnson said. "But as a quarterback you've got to have a short memory, focus on the future and quit worrying about the past."
"Cole Johnson is a very level-headed guy," Cignetti added. "He was anxious to help the team however he could and I thought he really played well. I thought we took a step forward as a football team in all areas."
Clayton Cheatham. That is all.#GoDukes pic.twitter.com/OJZMzK1Etp

— JMU Football (@JMUFootball) March 27, 2021
Saturday's game is a matchup between the only unbeaten teams in the CAA's South Division. Richmond is 3-0 overall and in the CAA, and two of James Madison's four victories came against conference opponents. Delaware, which is 3-0 in the CAA's North Division, is the only other undefeated team in the conference.
Richmond coach Russ Huesman said he was impressed with Johnson's performance against William & Mary.
"He threw the ball really well and you can tell he's got a really strong arm," Huesman said. "And the one thing we tell our guy [Richmond quarterback Joe] Mancuso to do is get it to our weapons and I think that's what showed up more than anything. [Johnson] got the ball to his weapons. He threw it really well.
"And so he's a good player. He just hasn't played a lot of football and I think now he's starting to get it, where he's played some and feeling better about it. Quarterback is a different position. It's a tough spot. You got the ball in your hands every snap and you've got to make a lot of critical decisions, but I was extremely impressed with him against William & Mary."
Johnson had started one game as James Madison's quarterback entering the spring season.
"It's a blessing when you get a second chance," he said. "And it's nice to have all the guys in the locker room have your back and still have faith in you."