2021 Stony Brook vs UAlbany
Stony Brook's Anthony Del Negro Emerges As Special Teams Dynamo
Stony Brook's Anthony Del Negro Emerges As Special Teams Dynamo
Stony Brook's Anthony Del Negro has emerged as a source for game-changing plays this spring, including a big blocked kick in a victory over UAlbany.
Mar 30, 2021
by Kyle Kensing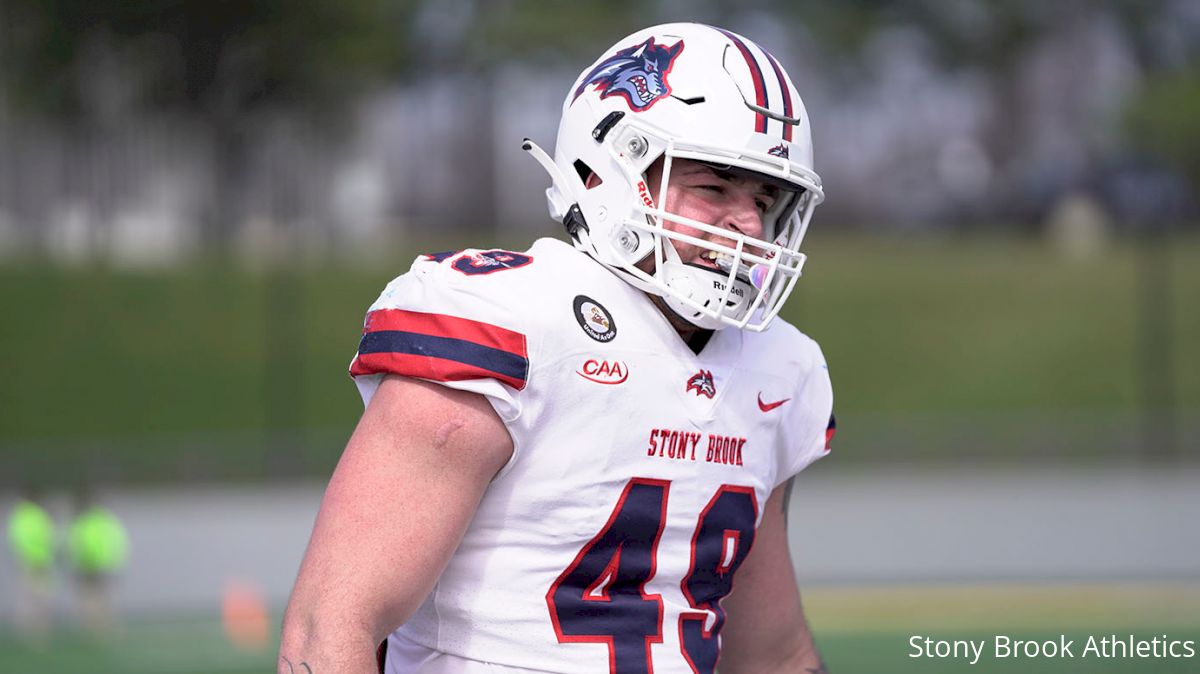 Stony Brook's Anthony Del Negro specializes in game-changing plays.
In four outings through the spring 2021 season, the redshirt junior tight end has blocked three kicks — more than plenty of teams total in full campaigns. His most recent came in the fourth quarter of the Seawolves' 21-7 defeat of rival UAlbany, denying the Great Danes an opportunity to flip the field at a critical juncture.
Del Negro's contribution helped Stony Brook reclaim the Golden Apple for the first time since 2017.
"I'm happy it's back here now," Del Negro said of the rivalry trophy. "I think it's going to stay here a long time."
Future encounters for the Golden Apple will surely have memorable moments, but the spring 2021 edition reflects the significance of plays that won't live forever on replays. Take Del Negro's efforts this year.
His punt block aided in the win with its altering of field position and eating some precious time. But another special-teams play that could understandably go overlooked set Stony Brook on the right course for victory.
We've got TWO dudes who balled out this week for #CAAFB Honors.

Details: https://t.co/NSCcOv3UhM#BelieveInTheSeawolves | #HOWL pic.twitter.com/SGYMFGsK9I

— Stony Brook Football (@StonyBrookFB) March 29, 2021
"He set the tone of the game on the opening kickoff," said Seawolves coach Chuck Priore "Just how he came down and ran through a block."
You'll often hear or read of coaches and players emphasizing the little things that dictate success. It may be cliche, but running over a blocker and energizing one's team exemplifies exactly to what doing the little things refers.
Priore called it "play[ing] at full speed." That's the approach Del Negro applies to special teams.
"Special teams is very overlooked, so I feel like every rep counts," he said. "It can be critical to game-changing moments, deciding who wins the game or not."
Del Negro, coming off a 2019 in which he blocked two more kicks, recorded his first block of 2021 in the season-opener against Villanova.
That play set up a Seawolves offense that had struggled to score points much of the afternoon with possession in the red zone, and the ensuing touchdown gave Stony Brook a shot at the upset.
The second of his three blocks came against Delaware. Priore explained why all three, no matter their direct impact on the final score, are all impressive in their own ways.
RAISE THAT APPLE!#BelieveInTheSeawolves | #HOWL | #CAAFB pic.twitter.com/PYmYH6HzyD

— Stony Brook Football (@StonyBrookFB) March 27, 2021
"Honestly, none of those were called blocks," the Stony Brook coach said. "Those were all effort [plays] by him."
Getting to the kicker without having to bring the house takes some pressure off of Seawolves special teams. How Del Negro does it is about as no-frills as it gets.
"When it comes to the punt shield, it's either just straight force right through them, try to slip through the gap, or go around them," Del Negro explained. "When I have the opportunity to go, I want to go 100 percent."
Del Negro credits special-teams coordinator Tony Thompson and tight ends coach Steve Martino for emphasizing the approach, repping in a way the tight end says "makes it second nature out there."
Delivering game-changing plays through special teams isn't without considerable work for Del Negro; he only makes it look easy.