2021 Elon vs Richmond
CAA Rewind: Beware Of Delaware
CAA Rewind: Beware Of Delaware
James Madison won what Curt Cignetti called a playoff game, Delaware kept on rolling and Richmond remained unbeaten this week in CAA gridiron action.
Mar 29, 2021
by Kyle Kensing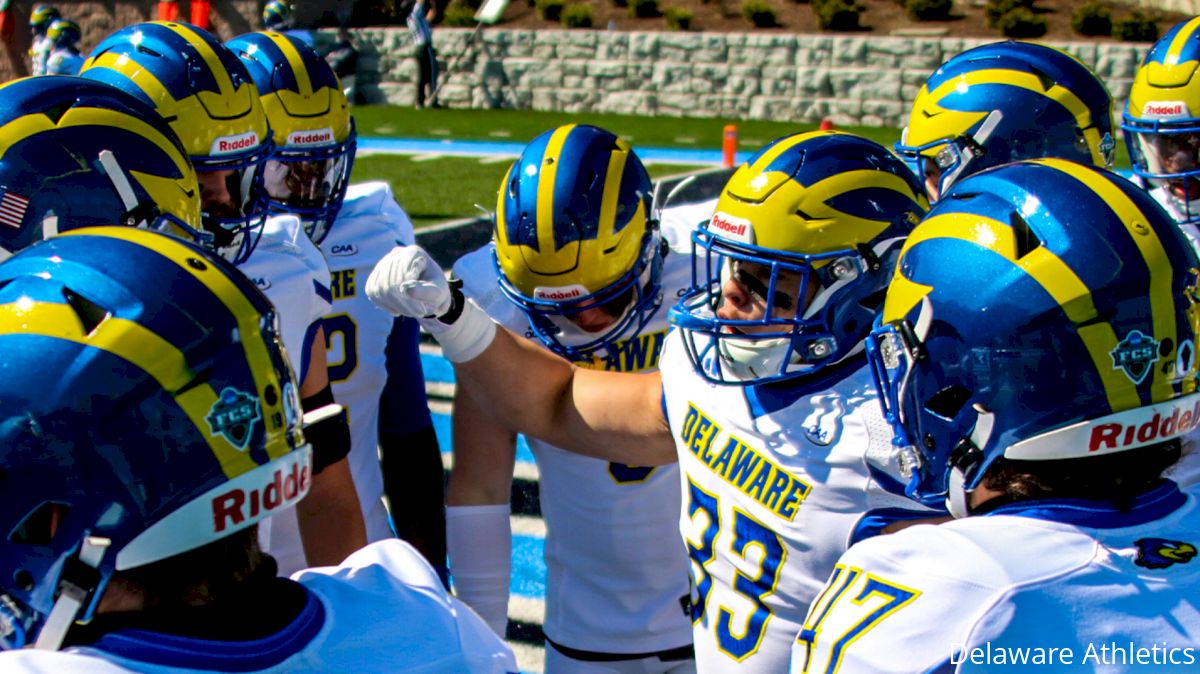 Coming off a two-week layoff due to COVID-19 protocols, James Madison coach Curt Cignetti described the Dukes' return to action at William & Mary as "a playoff game."
If James Madison's 38-10 win foreshadows how these Dukes navigate the postseason, another trip to Frisco may well be in the program's immediate future — particularly with the caliber of offensive performance it got in Williamsburg.
After slow starts in wins over Robert Morris and Elon before the shutdown, James Madison went up 28-0 with touchdowns on each of its first four drives.
"That's the biggest thing that we've been focusing on, just starting off faster," said defensive end Mike Greene. "Offense came out there, was rolling and had two great first drives and just punched it in. That gave us all the juice."
Offensive questions looming over James Madison during its COVID break, with Cignetti having declared Gage Moloney the starter following the quarterback's effort leading the comeback at Elon, extended into kickoff at William & Mary.
With Moloney among the Dukes unavailable, Cole Johnson returned behind center. And he made the most of the opportunity.
"It's obviously a blessing that you get a second chance," Johnson said following his 16-of-22, 220-yard and one touchdown performance. "It's nice knowing all the guys in the locker room have your back and they still have faith in you."
"Cole played great, threw some really great balls," Greene said. "Looked like something I'd do on Madden, sliding the tight end, sliding Antwane [Wells]."
Wells, who made a critical catch in the Elon win, appears on his way to establishing himself as the No. 1 target in James Madison's passing attack. He caught six passes for 86 yards, both team-highs.
Meanwhile, the rushing attack — which was without Latrele Palmer, Solomon Vanhorse and Percy Agyei-Obese — goes even deeper than perhaps previously thought. Kaelon Black's breakout performance of 141 yards and a touchdown demonstrate yet another potential difference-maker in the rotation.
JMU has its offense clicking in time for the stretch run of the regular season, a process that Cignetti said has required "a lot of 3:30 a.m. mornings for me." That progress takes the Dukes into the home stadium of one of the only three undefeated teams left in the Colonial Athletic Association.
Richmond Rolls
In completing the season sweep of Elon with a 31-17 win, Richmond improved to 3-0 ahead of a showdown for the CAA South with James Madison.
How are the Spiders feeling with the Dukes coming into Robins Stadium on April 3?
"Really excited," said Richmond defensive end Darius Reynolds in his postgame press conference. "That's it."
Coming off an impromptu bye, with JMU's COVID protocols denying the Spiders an earlier shot at the Dukes, Richmond looked refreshed against Elon. Aaron Dykes continues to add highlights to his reel, combining special-teams plays with his team-leading ball-carrying, and on Saturday, showing out as a receiver.
TOUCHDOWN SPIDERS!@jojocuso1218 finds @dykes_aaron between the hashes for a 38-yard TD! 7-0 Richmond with 10:29 left in the 1st quarter.

Drive: 4 plays, 80 yards in 1:45 #OneRichmond pic.twitter.com/LGVIheOTzU

— Richmond Spider Football (@Spiders_FB) March 27, 2021
Defensively, UR has yet to allow an opponent to score in the 20s through three games. Reynolds racked up three sacks and had a quarterback hurry on Saturday to set the standard on that side of the ball.
"We're playing the run game really well with our front four," Spiders coach Russ Huesman of a defense holding teams to 55 rushing yards per game. "And we're rushing the passer when it's time to rush the passer."
Beware Of Delaware
The Colonial's showdown for first-place in the North left no doubt: Delaware is the team to beat.
Despite giving up its first touchdowns of the season in the win at Rhode Island, Delaware was again dominant en route to its third multiple-score win of the spring season.
The Fightin' Blue Hens going from defensive heavyweights in routs of Maine and Stony Brook, to playing like an offensive juggernaut against Rhode Island, reflects the all-around ability of Danny Rocco's squad.
Dejoun Lee's 220 yards is the high among all CAA rushers this season, and elevated the Blue Hens running back to eighth in rushing yards per game. But, as any good running back will tell you, it ain't all the guy toting the rock.
Can't stop those big boys!!!!

— Dejoun Lee (@DejounL) March 27, 2021
Following the 35-21 win at Meade Stadium — a much more comfortable margin of victory for Delaware than in its last meeting with Rhode Island — the Blue Hens' spread have been 37, 28 and 14 points.
This team isn't just winning: It's dominating.
Reclaiming The Golden Apple
Stony Brook had not won the Golden Apple, the trophy for which the Seawolves and rival UAlbany play each season, since 2017. In both scoring its first win of the spring 2021 season, and regaining the Golden Apple, Stony Brook had itself a nice Saturday.
RAISE THAT APPLE!#BelieveInTheSeawolves | #HOWL | #CAAFB pic.twitter.com/PYmYH6HzyD

— Stony Brook Football (@StonyBrookFB) March 27, 2021
Ty Son Lawton's 114 yards and two touchdowns were critical, but the Seawolves defense set the tone in holding the Great Danes to their fewest points since the 2018 season opener at Pitt. Nick Chimienti and Chris Campbell both made interceptions, Tyler King forced and recovered a fumble, and Sam Kamara showed out with a sack and forced fumble.
Stony Brook has long flourished with that combination of ball-control offense and overwhelming defense. As the shortened spring season nears its end, how teams finish in April can go a long way to establishing its identity come September.
The Seawolves took an emphatic step toward being contenders in the fall with their showing at UAlbany. And they'll take good care of the Golden Apple until it's at stake again come November.
Safety first 😏#BelieveInTheSeawolves | #HOWL | #CAAFB pic.twitter.com/dL8Mvkrg4A

— Stony Brook Football (@StonyBrookFB) March 27, 2021