2021 James Madison vs William & Mary
Questions Persist Behind Center For Top-Ranked James Madison
Questions Persist Behind Center For Top-Ranked James Madison
As James Madison returns from an unexpected break, questions persist at the quarterback position for Curt Cignetti & Co.
Mar 25, 2021
by Kyle Kensing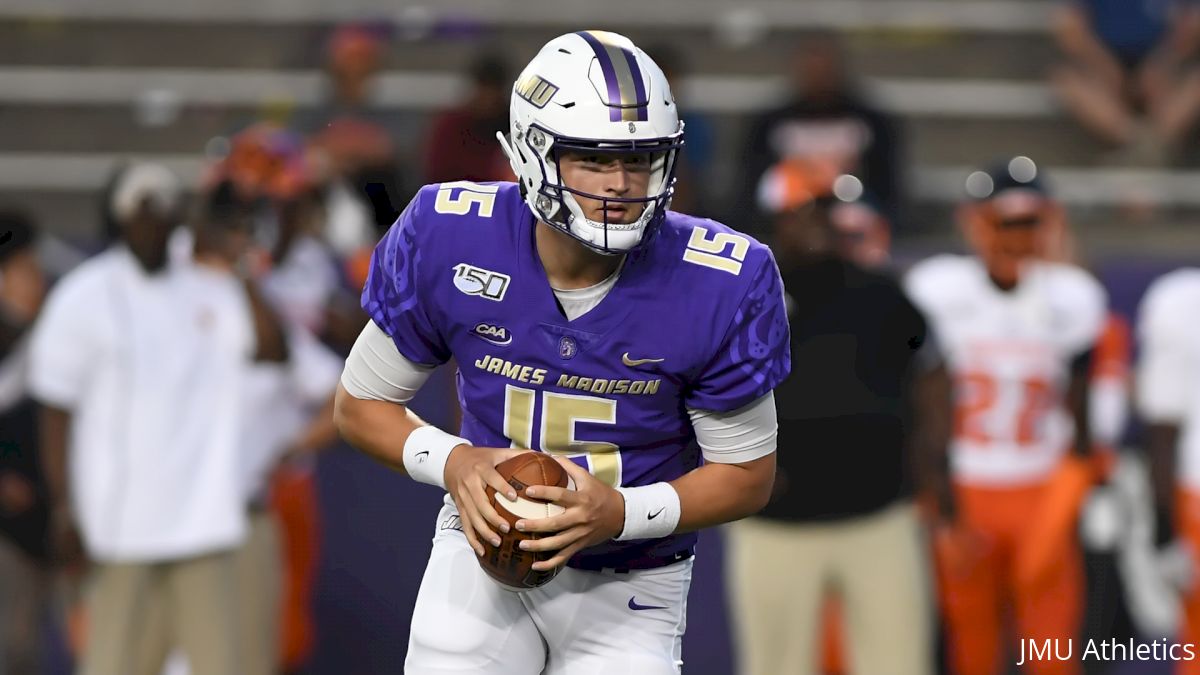 Two important questions await James Madison as it returns from a two-week layoff due to COVID-19 protocols:
How will the Dukes adjust physically with three weeks between games and two whole weeks without practices?
What is the quarterback situation?
Coach Curt Cignetti said James Madison returned to practice on March 22, the team's second on-field workout since rallying to beat Elon on March 6. The last time the Dukes took the practice field was the day following the Elon win, before the positive COVID-19 tests forced a shutdown.
"They did have the benefit of lifting weights and running," Cignetti said at his Tuesday luncheon. "We put the pads on Monday, changed the routine up and got after it."
Watch James Madison vs William & Mary LIVE on FloFootball
Part of changing up the routine means preparing around any absences on the roster related to protocols.
The Dukes head to William & Mary on March 27 to face a Tribe team coming off a 31-10 win at Elon. When James Madison takes the field, it will be without "guys you're used to seeing," Cignetti said.
Another change to expect in Williamsburg is at starting quarterback.
Cole Johnson was QB1 for James Madison's first three games, going 36-of-54 for 452 yards with three touchdowns and four interceptions. With the Dukes unable to get into the end zone at Elon, the move to Gage Moloney was made.
"From a gameplan standpoint, it didn't change our game plan," Phoenix coach Tony Trisciani said on March 8. "But [Moloney] came in and won the game for them. There was a lot of energy from their team at that point."
William & Mary coach Mike London echoed that theme of Moloney flipping the game for the Dukes on March 22.
"When Moloney came in the latter part of the Elon, he won it," London said. "He's a good player."
The Dukes reeled in 28 of 40 first-place votes to remain atop this week's @StatsPerform FCS Top 25.

📰 https://t.co/9a2QuYEezd#GoDukes pic.twitter.com/XNSrK3rvOY

— JMU Football (@JMUFootball) March 15, 2021
Perhaps Moloney was the difference. It's true the Dukes went on three scoring drives, including two touchdown drives, in the late second half after he lined up behind center.
Trisciani specifically cited the touchdown pass along the sideline Moloney threw to Antwane Wells in the fourth quarter when praising the Dukes quarterback.
"Gage is a competitor. I know the team has a lot of confidence in him. He's really well liked," Cignetti said on March 8, but added some important context. "I thought Cole made some good plays, too. It's hard to fault him when you're driving for a touchdown, you get a 15-yard penalty, drive again and get another 15-yard penalty."
James Madison was penalized five times for 60 yards at Elon. The Dukes rank in the top 50 nationally on the more favorable end of penalty yards accrued, but it's been an issue of where and when the Dukes are penalized and how it impacts their offensive production that Cignetti laments.
Against Robert Morris on Feb. 27, James Madison took a false start on fourth-and-one on the Colonials' side of the field that denied the Dukes an opportunity to go for it. The next possession began with an unsportsmanlike conduct flag that forced them into a first-and-27 situation.
A personal foul in the second quarter at Elon turned a second-and-short in scoring range into a punting situation. No matter if Johnson or Moloney is behind center, cutting down on self-inflicted mistakes is a point of emphasis.
"The line is capable of playing better," Cignetti said on Tuesday. "We had some missed assignments that are uncharacteristic of us."
"We'll start Gage and have Cole ready to go. I have confidence in both of them."

-Cignetti on Gage Moloney starting vs. W&M https://t.co/NBTbBscZ86

— JMU Football (@JMUFootball) March 8, 2021
A byproduct of this spring season calls on teams around the Colonial Athletic Association to play more first-year members. Coupled with a season-ending injury to All-American Liam Fornadel, James Madison has been forced to go particularly young up front.
Like Trisciani, London said he does not anticipate having to make schematic adjustments depending on who plays quarterback.
"They have a bevy of running backs and they can get it done," he said. "They stack the run then play-action pass and do some things with their wide receivers and beat you deep. They're a complete team."
Moloney won't be riding the momentum of his outstanding second half at Elon, but this layoff between meaningful snaps isn't nearly as dramatic as the last. Before leading the comeback against the Phoenix, Moloney's last play in a high-pressure situation came 14 months earlier in the 2019 season's National Championship Game.
He relieved Ben DiNucci in a handful of rushing situations, gaining eight yards on two carries against North Dakota State.
"Having that experience does help," Moloney said in the moments following the title game in January 2020. "It probably builds confidence I don't know about."
If that confidence carried over more than a year later, he should flourish after just three weeks away.