2021 James Madison vs William & Mary
Freshman Are Turning Heads In The CAA This Spring
Freshman Are Turning Heads In The CAA This Spring
A unique spring CAA season has resulted in an increase in opportunities for younger players and several have seized the opportunity to impress.
Mar 23, 2021
by Kyle Kensing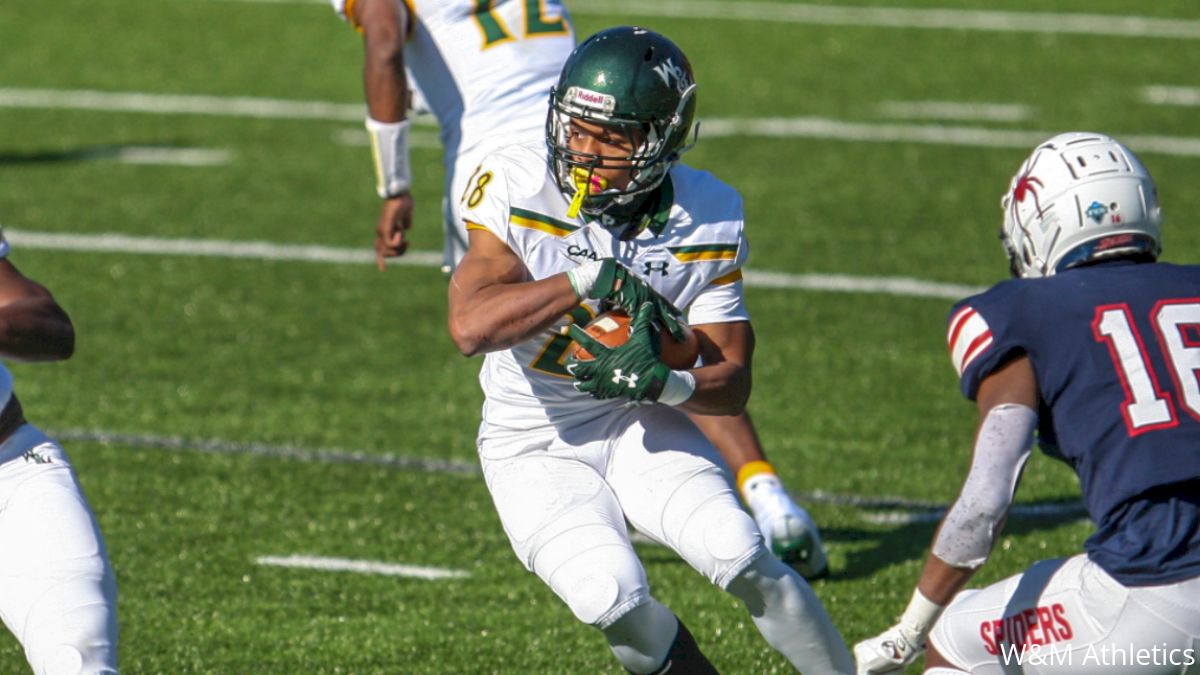 The future comes at you fast — particularly so when Malachi Imoh finds a crease.
The William & Mary running back went for three touchdowns in the Tribe's 31-10 win March 20 over Elon, two of which were from 65 and 38 yards out.
"Once he finds a crease and some space," said Phoenix coach Tony Trisciani, "He's tough to catch."
Imoh is part of a freshman class in the Colonial Athletic Association using this unique spring season to launch what promise to be stellar college careers.
Heading into this truncated, pandemic-impacted campaign, various coaches around the Colonial talked of using this time to build and go deep into their rotations. Stony Brook's Chuck Priore, for example, called the combination spring and autumn 2021 a "17-game season."
Utilizing more of the depth chart than in a typical season means opportunities for youngsters. But Imoh's the kind of playmaker who Tribe coach Mike London explains would be seeing opportunities in spring, fall, winter or summer.
Malachi Imoh's 3⃣ TDs from every angle ⬇️#GoTribe | #CAAFB Rookie of the Week pic.twitter.com/B4VbZvZ6vj

— William & Mary Tribe Football (@WMTribeFootball) March 22, 2021
"He's dynamic, he's explosive, we knew that when he first started practicing with us," London said. "We're trying to find ways to get him the ball. He's probably one of the fastest, if not the fastest guy on our team."
Even on a William & Mary roster with "veteran running backs we're able to play," as London noted, players like Owen Wright and Elijah Burns, Imoh's speed and cutting in practice made clear he could be used as a change of pace ball-carrier immediately.
Not every impact freshmen embarked on this season in the same manner.
Traditional spring football seasons — those of the 15-practice variety with an intrasquad scrimmage at the end — allow newcomers the chance to acclimate in a relatively low-stakes situation.
UAlbany defensive end Jared Verse's acclimation period came over webcam.
"He wasn't here in the fall...other than Zoom meetings," Great Danes coach Greg Gattuso. "But he came in in great shape."
Physical conditioning is one thing, but translating it into on-field production in a player's first few collegiate outings presents a greater challenge. The redshirt freshman Verse has done just that.
In his first three games, he's blocked a kick, recorded three sacks, including two in an overtime encounter with Rhode Island — and, according to Gattuso, "he could have had more" — and has made six tackles for loss.
If Verse is producing at this level after an offseason spent on Zoom, imagining what opposing offenses will have to handle in the fall after a season of live competition is downright staggering.
"He's got so much God-given ability, [and] every week he gets better," Gattuso said. "Every week he learns."
4Q | 7:18

TOUCHDOWN PHOENIX!! @jaylanthomas3 pulls in the TD catch from @JRMartin_MMI!#AED pic.twitter.com/V4fWhYXpgn

— Elon Football (@ElonFootball) March 20, 2021
The proverbial on-the-job training this shortened season provides is really one of the most important traits of the spring. While the standout first-years like Imoh and Verse are noteworthy, those freshmen who aren't necessarily putting up gaudy statistics will also benefit.
Gattuso pointed to the bevy of youngsters playing significant snaps currently for the Great Danes, like wide receivers Mike Gray and Jackson Parker.
At Elon, results on the scoreboard have largely eluded the Phoenix in the spring campaign.
"We're not going to win a CAA championship this spring," Trisciani said. "But we can do everything we can to win on Saturday. Developing our players is a major focus for us."
Elon was put into a position of developing some of its youngsters by necessity: Injuries to quarterbacks Davis Cheek and Joey Baughman meant freshmen JR Martin and Justin Allen had to play.
While the Phoenix offense has struggled to produce points, the freshmen are seeing exactly what can be improved through a platform the typical spring doesn't provide.
"The ability to make decisions in the pocket, and sometimes stay in the pocket," Trisciani cited as points of emphasis. "I expect both of those guys to continue to develop."