2021 Elon vs William & Mary
CAA Rewind: Imoh Emerges As Lethal Weapon For Tribe
CAA Rewind: Imoh Emerges As Lethal Weapon For Tribe
Malachi Imoh and Kasim Hill have emerged as stars at William & Mary and Rhode Island, respectively, and within the CAA this spring.
Mar 22, 2021
by Kyle Kensing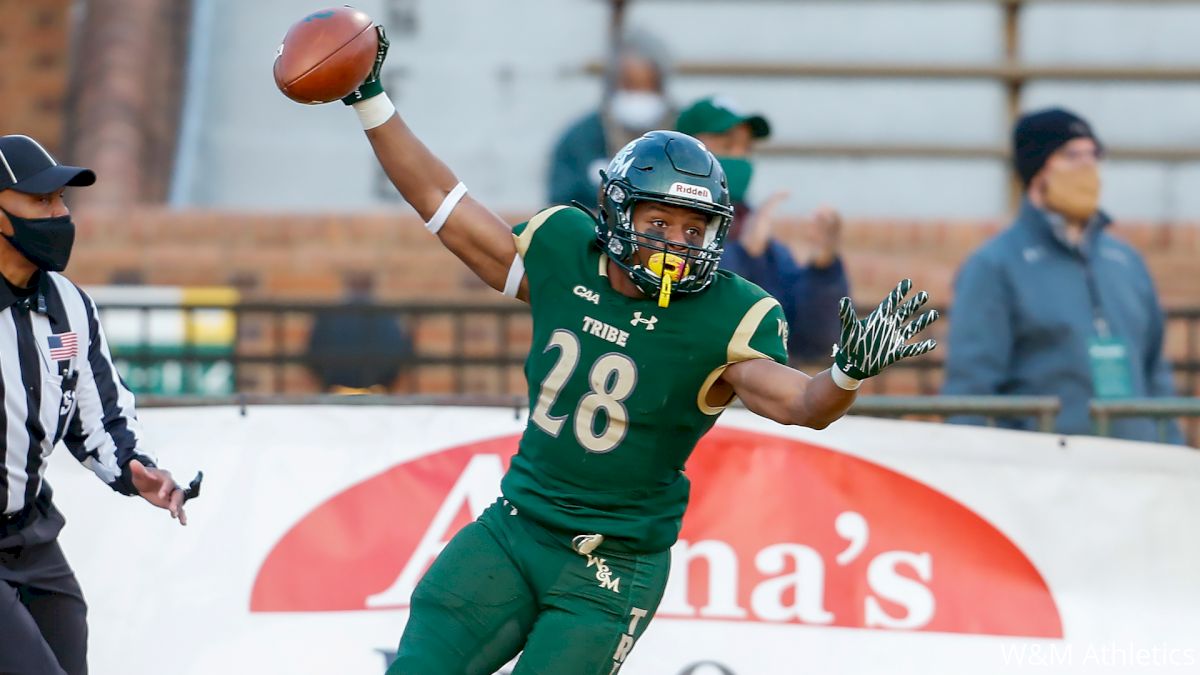 Just call him Cardiac Kasim.
For the second time in as many weeks, Rhode Island quarterback Kasim Hill rushed for an overtime touchdown to lead the Rams to a win over a top 20-ranked, Colonial Athletic Association opponent.
With wins now over Villanova and UAlbany to open the spring 2021 season, both away from home, Rhode Island suddenly looks like a leading contender in the CAA North — especially in light of the much different tenor each game followed.
Rhode Island's season-opening win at Villanova was a high-scoring shootout that showcased both Hill's dual-threat playmaking ability, and the power run-game of running back Kevin Brown Jr. The Rams rolled up 40 points, 34 in regulation, gained almost 500 yards and converted 25 first downs.
At UAlbany, Rhode Island's run game was stymied. The Great Danes allowed just 99 rushing yards — which means the Rams had just 74 net yards before Hill's game-winning touchdown — and limited Hill's passing production to 142 yards.
Jared Verse was outstanding for UAlbany, getting through for a pair of the Great Danes' six total sacks, and Danny Damico intercepted a pass that gave them possession with a chance to win in the fourth quarter.
Going from a 40-37 shootout, to holding a prolific UAlbany offense to its lowest point total since November 2018, Rhode Island is showing it can get things done on both sides of the ball.
Of course, it was no secret to the CAA before this season that Coby Tippett can play. The Towson transfer's two interceptions of Jeff Undercuffler were vital to Rhode Island's win.
@tippett_coby is doing his thing @RhodyFootball. Two ints in as many games. Loved coaching this kid. He is a special player. pic.twitter.com/csWGosZg7Q

— Nicholas D'Angelo (@CoachNickD72) March 20, 2021
Back In Black
With its 2-0 start, Rhode Island joins Delaware atop the loss column of the CAA North. The two square off this coming Saturday, as the Rams try to become the first opponent to score a touchdown on the dominant Fightin' Blue Hens defense.
But with that first-place showdown on tap, Maine looms right back in the hunt.
The Black Bears' spring campaign opened with a blowout loss to Delaware, in which pretty much whatever could go wrong did. Their two outings since produced a thrilling, 38-34 win over UAlbany, and this week, a 35-19 defeat of Stony Brook.
Joe Fagnano accounted for five touchdowns in Saturday's win, with four in the air and a fifth rushing. But for a second straight week, Andre Miller stole the show.
For the second consecutive week, Andre Miller has THREE touchdowns!

Black Bears lead, 28-19!#BlackBearNation | #ChampionshipMentality | #CAAFB pic.twitter.com/EImNh73zXL

— Maine Football (@BlackBearsFB) March 20, 2021
Miller's second straight three-touchdown reception performance in as many games has the Maine wide receiver tied for fourth-most scoring grabs in the nation — an impressive enough statistic on its own, but consider the context.
Of the three players with more touchdown receptions than Miller in the 2020/spring 2021 season, Central Arkansas' Tyler Hudson (7) and Lujuan Winningham (12) of Central Arkansas played nine games, and Xavier Gipson (9) of Stephan F. Austin played 10.
The player with whom Miller is now tied, Eastern Kentucky's Keyion Dixon, played nine games.
Maine is off in the coming week, leaving Miller until April 3 when it welcomes Villanova to Orono before he can go for another hat trick. But while the Black Bears are off, they'll get to watch the CAA North race tighten with one team it currently trails guaranteed to lose.
Meet Malachi
An intriguing prospect of this unique spring season was seeing youngsters with a platform to show their stuff. To that end, say hello to William & Mary's Malachi Imoh.
The Tribe freshman running back took over in William & Mary's first win of the campaign, going off for 135 yards rushing and three touchdowns.
Imoh used his 5-foot-8, 175-pound frame to slip through impossibly narrow gaps in the Elon defense on scores of 38 and 65 yards.
Malachi Imoh finds the endzone once again! A 38-yd TD run to extend the Tribe lead!

W&M 14, Elon 3 | 2Q, 9:07#GoTribe pic.twitter.com/V53YVJ8QDB

— William & Mary Tribe Football (@WMTribeFootball) March 20, 2021
Malachi Imoh breaks loose for a 65-yd TD run! W&M on the board first!

W&M 7, Elon 0 | 1Q, 5:44
#GoTribe pic.twitter.com/GHdgiP8hFk

— William & Mary Tribe Football (@WMTribeFootball) March 20, 2021
Breakaway speed off the cut through the hole is an impressive part of the freshman's repertoire, but Imoh has more in the toolbox. He capped his breakout day making moves in the proverbial phone booth in the red zone.
Malachi Imoh finds the endzone for the THIRD time!

Tribe leads 31-10.#GoTribe pic.twitter.com/BdCHzWqqll

— William & Mary Tribe Football (@WMTribeFootball) March 20, 2021
Not a bad springboard into a college career.