2021 Elon vs William & Mary
William & Mary Hosts Elon In CAA Play
William & Mary Hosts Elon In CAA Play
In search of a bounce back performance, Elon hits the road for a meeting with William & Mary on Saturday.
Mar 19, 2021
by Kyle Kensing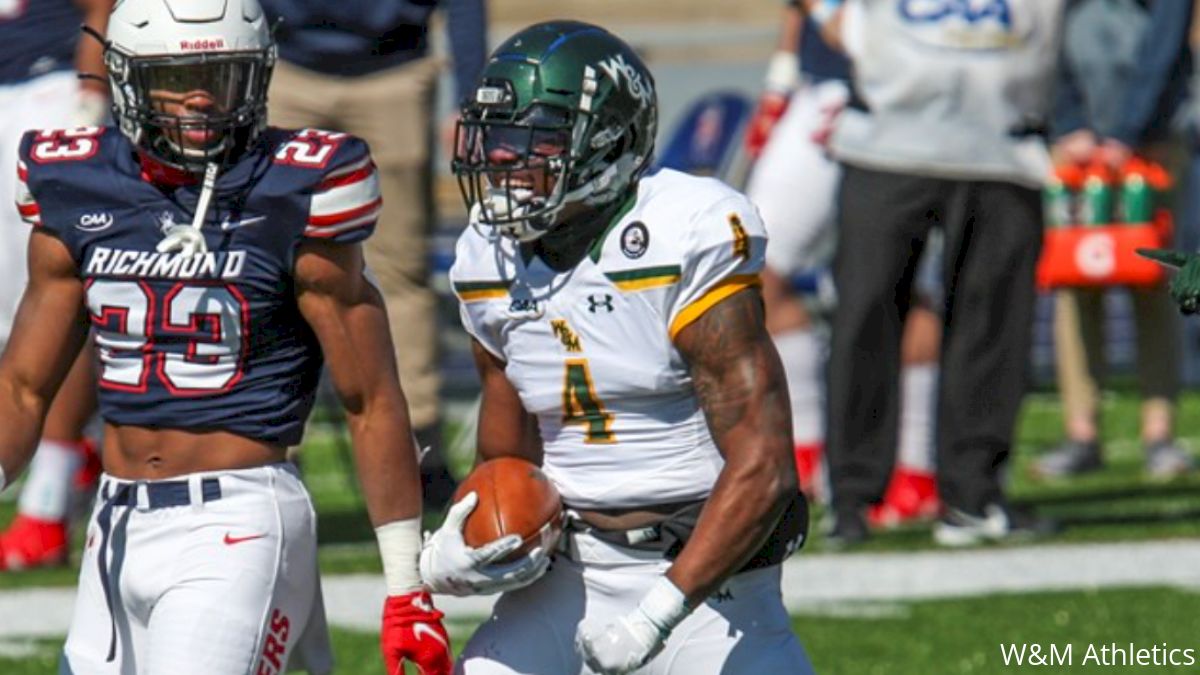 The last time Colonial Athletic Association counterparts Elon and William & Mary played, they made history.
In 2019, the two played the first-ever FCS game employing new overtime rules that eschew alternating possessions after five overtimes for a shootout-style, two-point conversion contest. Now, in 2021, their rematch again has some historic implications.
The winner will claim its first-ever victory in the one-time, pandemic-created CAA South division, and first conference victory of an unprecedented spring season.
Watch Elon vs William & Mary LIVE on FloFootball
Coming off a heartbreaking loss to James Madison in which it led most of the way, Elon was slow out of the gate in its March 13 loss to Richmond. William & Mary opened the campaign with a loss to the Spiders, and was off last week due to COVID-19 protocols at James Madison.
"We've all talked about the unexpected, the unprecedented and the ability to adapt and adjust," said William & Mary coach Mike London, who said the week was used "like a bye.
"You worry about yourselves, you worry about correcting things you saw on tape," he added.
In a sense, the Tribe's impromptu bye week reflects some of the opportunities of this spring campaign. The short duration of the season, and the NCAA cutting down from 24 to 16 postseason berths leaves very little margin for error to make the Playoffs.
But parlaying experience and lessons from the spring into the fall could provide a critical launching pad for those teams not in the championship race.
"This spring season is unique. We are going out and we want to win a football game on Saturday, and we want to win one game a week," said Elon coach Tony Trisciani. "That is our absolute goal. But player development and growth and better is very important to us."
Quarterback Question
Elon's spring season was thrown an immediate curveball with quarterback Davis Cheek sustained a foot injury that sidelines him until the fall. Joey Baughman, who played meaningful snaps in the previous campaign and looked solid in the Phoenix's season-opening win over Davidson.
Baughman then went down with injury against Gardner-Webb. Freshmen JR Martin and Justin Allen have played in the eight-and-a-half quarters since.
"Those two freshmen I think are good players, and we're going to continue to develop them. But for us to win games, we have to do it as a team," said Trisciani. "Our entire team has to play well. When you [play] back-up quarterbacks, you still have to be able to run the ball and stay balanced. You have to protect them from the third-and-longs. Defensively, we have to step up and keep us in games."
While seeking offensive balance, the Elon run game is limited to 3.7 yards per carry through four outings. On defense, Omar Rogers has two interceptions and Torrence Williams has racked up 2.5 sacks, but Trisciani is looking for more production to get the defense off of the field.
Elon opponents are averaging more than 35 minutes of possession, and extending drives in part due to a 10-of-16 fourth-down conversion rate.
William & Mary comes in with just the one game to its credit — one in which the Tribe offense converted 2-of-3 on fourth down, but lost the time-of-possession battle, 32:01 to 27:59.
Quarterback Hollis Mathis showed good command of a new scheme under first-year offensive coordinator Christian Taylor, completing 18-of-28 pass attempts with a touchdown and no interceptions. Mathis also rushed for a score against Richmond.
The quarterback's continued development from game 1 to game 2 in the system will shape Saturday's contest.
Special Teams Impact
One of the breakout performers of the 2019 CAA season was then-freshman Bronson Yoder. A do-everything playmaker for William & Mary, Yoder made a considerable mark on special teams with two kickoffs returned for touchdowns.
Yoder's return output was limited against Richmond, both on kickoffs and punts. Elon will have to be leery of kicking him to, though. Not only is the sophomore capable of swinging a game on a single return, but the Phoenix are looking to cut down on their own miscues on special teams.
The Gardner-Webb loss swung on a 41-yard punt return touchdown. A block given up to James Madison's MJ Hampton a week later proved critical in the Dukes' comeback win.
Special teams have also been a positive for Elon, however, in the play of placekicker Skyler Davis. He's a perfect 5-of-5 on field-goal attempts for the season.