2021 Maine vs Stony Brook
Dre Day: Maine's Andre Miller Is The Real Deal
Dre Day: Maine's Andre Miller Is The Real Deal
It didn't take Maine quarterback Joe Fagnano long to find his go-to receiver in the form of senior Andre Miller.
Mar 19, 2021
by Roger Brown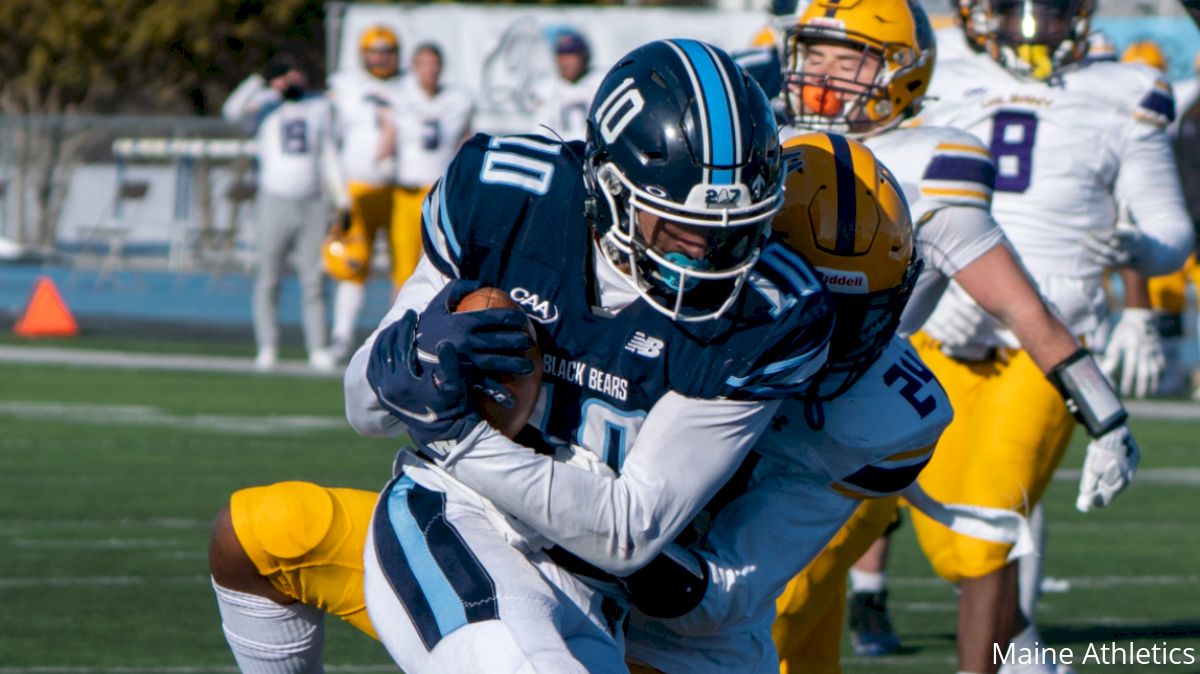 It appears Maine quarterback Joe Fagnano has found his go-to receiver.
One week after the Black Bears failed to score against Delaware, Fagnano connected with senior wide receiver Andre Miller eight times in Maine's 38-34 triumph over Albany last Saturday. Miller's eight receptions were good for a career-high 144 yards and three touchdowns.
His day got off to a slow start as he dropped a pass and misjudged another throw early in the game
Watch Maine vs Stony Brook LIVE on FloFootball
"I hate letting my teammates down," Miller said. "When they look at me to make plays, I've got to go out and make plays. I'm hard on myself, as we all are. I hold myself to a high standard. And when you mess up you have to move on to the next play."
Miller's receptions included a 10-yard TD catch that allowed Maine to erase a 34-31 deficit with 3:58 to play. The TD was the game's seventh lead change, and the fourth time the lead changed in the fourth quarter.
Miller also had a 5-yard TD catch in the third quarter, and hauled in a 37-yard TD pass with 10:13 to play. Fagnano completed 17 of 29 passes for 249 yards and four TDs in the win. He was not intercepted.
"(Miller) is a talented player," Maine coach Nick Charlton said. "He's still stepping into this role, so naturally you have to empower him. And I think that's a big part of what we do as coaches. It's the players who are playing, so they deserve all the credit in the world, but I feel a lot of responsibility to empower these young men so when they go out there they feel like it's a great plan and that they are going to go win the game.
"For (Andre), right after the first quarter -- I think it was the first time he made a play on one of the offsides where we had a free play -- right after that play his confidence, his mentality just changed. … It got everybody going."
Plenty of highlights to go around from today's win over UAlbany and we have them all right here for your viewing pleasure! ⤵️#BlackBearNation | #ChampionshipMentality | #CAAFB pic.twitter.com/pf3dgQbqBf

— Maine Football (@BlackBearsFB) March 13, 2021
Maine (1-1) will be looking to build on the win against Albany when it plays at Stony Brook (0-2) on Saturday.
Miller attended Old Town High School, which is a short drive from the Maine campus. He grew up wanting to play at Maine, but at first didn't qualify academically. He played one season at Division III Husson College in Bangor, Maine, but then transferred to Eastern Maine Community College.
He caught 13 passes for 152 yards and a touchdown during his one season at Husson, but had to deal with an injury late in the year and was limited to one catch in his final five games.
He joined the Maine program in 2018 and appeared in each of the team's 14 games (one start) that year. He completed the season with 16 catches for 287 yards and one touchdown. His most productive game came against Eastern Washington in the NCAA semifinals, when he caught nine passes for 129 yards and a TD.
Miller had 28 receptions for 52 yards and four TDs during the 2019 season. He was named a team captain this season.
Miller had three catches for 32 yards in Maine's spring opener, a 37-0 loss to Delaware.
"We had a totally different feeling last week," Miller said. "So we can't get too high, we can't get too low. We've got to watch the film, take care of the errors and (move) on to Stony Brook."