2021 Rhode Island vs UAlbany
UAlbany Eyes Redemption With Rhode Island In Town
UAlbany Eyes Redemption With Rhode Island In Town
After opening the spring with a dramatic victory over Villanova, Rhode Island is set to face another '19 playoff team in UAlbany on Saturday.
Mar 19, 2021
by Kyle Kensing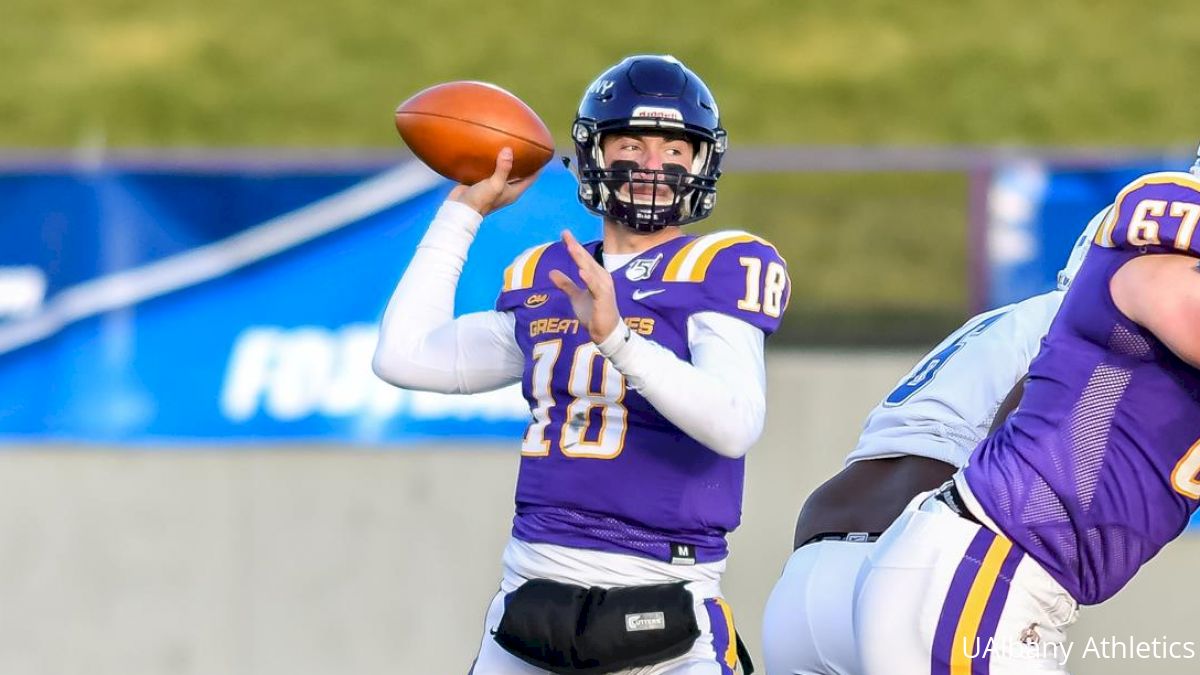 After opening the spring 2021 schedule with a dramatic, overtime win at Villanova, Rhode Island travels to face another 2019 playoff participant in UAlbany.
The Rams' 40-37 win was their first in the Colonial Athletic Association since 2018. With another at UAlbany, they can join Delaware atop the North division.
Watch Rhode Island vs UAlbany LIVE on FloFootball
The Great Danes, coming off a 38-34 loss at Maine, enter a likely must-win situation to remain in contention for back-to-back Playoffs. That, coupled with their first home game of the spring season, promises a motivated UAlbany bunch ahead of Rhode Island's visit.
Big Time Ball Carriers
UAlbany's Karl Mofor proved himself as one of the nation's premier running backs in 2019, and he's suffered zero letdown following up on that in 2021. Mofor went for 155 yards and two touchdowns at Maine, gaining a healthy 5.2 yards per carry.
"He's just a great football player," said UAlbany coach Greg Gattuso. "He carried us for a lot of the game."
Gattuso said that extended beyond Mofor's ball-carrying, citing his pass-protection of Jeff Undercuffler for "cutting down on hits on the quarterback."
How much that will factor into blocking of Rhode Island's defense should make for a defining development in Saturday's matchup. The Rams got one sack in the opener from linebacker Evan Stewart, but it could have been more if not for the mobility of Villanova quarterback Dan Smith.
Were it not for Mofor, Rhode Island's Kevin Brown Jr. would have produced the most rushing yards of the CAA's second full week. Brown had quite the debut, rolling up 141 yards. He did post a league-high with four touchdowns.
"He's met every expectation," Rams coach Jim Fleming said. "He's a big back, he can run, he's got some vision. He's a power dude. He really gave us a big lift."
Rhode Island's "power dude" is not the type of ball-carrier to go down after the first hit. Big Jared Verse, coming off a two tackle-for-loss showing at Maine, will be among those looking to test Brown in the backfield — but the Great Danes must beware quarterback Kasim Hill using that threat to open up option opportunities.
Getting To The Finish Line
In 2019, Rhode Island dropped five games by a touchdown or less. The Rams' season opener at Villanova started to have a sense of deja vu — in particular, according to Fleming, the CAA-opening, triple-overtime loss to Delaware.
Fleming cited Rhode Island's inability to get a stop at the end. Things were different in 2021.
"We were able to go two 3-and-outs in a row at the end of a game, which is really what our games came down to in 2019," Fleming said. "We haven't spent a lot of time talking about the last time we played, 'cause it seems like an entirely different squad and entirely different feel to the whole deal, but those games were heartbreaking."
The tenuous difference between a disappointing finish and historic success is underscored in the difference between Rhode Island's 2019 and UAlbany's. On the way to the best Div. I season in program history, the Great Danes won as many games by a touchdown or less, five, as Rhode Island lost.
And all of two games into spring 2021, UAlbany's experienced both sides of the narrow gap with its four-point loss at Maine following a four-point win at New Hampshire.
"It's a game I felt we were in position to win," said Gattuso. "We lost the lead three times in the fourth period, which is very unusual for our team. But we answered the bell on offense, and just could not get off the field on defense."
Give Or Take
UAlbany's Undercuffler is off to a strong start in his redshirt sophomore campaign, throwing five touchdowns without an interception. On the flipside, the defensive Great Danes have yet to make an interception.
A familiar face from the CAA picked off Villanova's Smith last week for Rhode Island, with Towson transfer Cody Tippett making his presence felt in the win. Hill, meanwhile, threw one interception in his URI debut.
Tyler Carswell picked off a Rhode Island pass for one of the four takeaways UAlbany generated in its 2019 win over the Rams — which was both one of the Great Danes'five single-possession victories, and one of Rhody's five single-possession defeats.
Undercuffler, meanwhile, let loose for four touchdown passes without a pick. That performance was also noteworthy for Undercuffler connecting with tight end LJ Wesneski for two scores. Wesneski has yet to make a significant impact as a pass-catcher this spring.