2021 Maine vs Stony Brook
Fresh Off First Win, Maine Heads To Stony Brook
Fresh Off First Win, Maine Heads To Stony Brook
Maine will aim to build off its first win of the spring when it travels to Stony Brook for CAA football action on Saturday.
Mar 18, 2021
by Kyle Kensing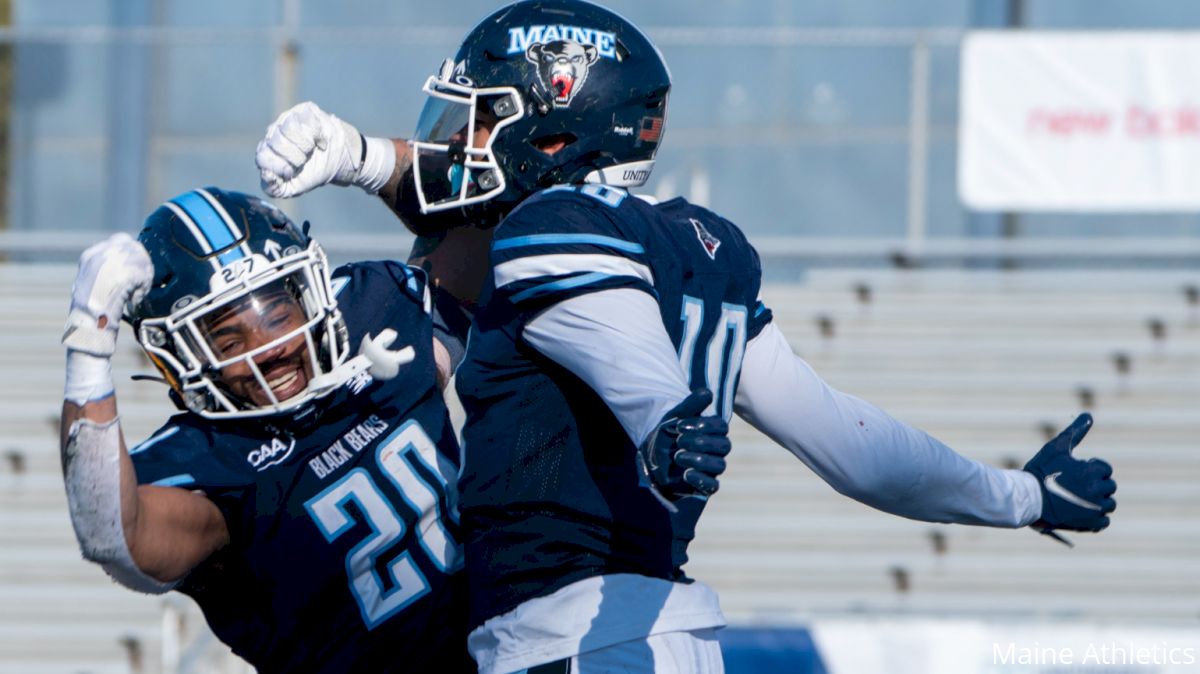 One week can change everything in the Colonial Athletic Association. Such is the byproduct of having the depth the conference boasts, and it's already been reflected through two full weeks of play.
Just look at Maine. The Black Bears opened with a 37-0 loss at Delaware, but just seven days later, beat a ranked playoff hopeful in UAlbany, 38-34.
Maine aims to build off its first win of the spring when it travels to Stony Brook, a talented team seeking its own reversal of early fortunes. The Seawolves opened the spring season taking a top 10-ranked Villanova team to the final possession, but struggled in a 31-3 loss last week at Delaware.
Watch Maine vs Stony Brook LIVE on FloFootball
"Being in this business for 38 years, you always get one of those every so often that you just want to throw in the garbage. That was Saturday's Stony Brook side," Seawolves coach Chuck Priore said.
The March 20 matchup with Maine and opportunity for a fresh start marks Stony Brook's first meeting with the Black Bears in more than three years. A 20-19 win in the 2017 regular-season finale propelled the Seawolves into that season's FCS Playoffs.
Although it's been some time since the programs faced, Maine coach Nick Charlton knows what to expect of Stony Brook.
"I'm always impressed any time we watch them on film, whether we're playing them or not, just with the physicality and speed they have defensively," Charlton said.
Offensive Contrasts
Key to Maine turning around its results from the first week to second was the emergence of the passing attack. Quarterback Joe Fagnano's playmaking had been well established in 2019, but Delaware limited his production to open the spring slate.
Against UAlbany, Fagnano found both his rhythm, and a new No. 1 target after losing record-setting receiver Earnest Edwards. Andre Miller, second in production during the 2019 campaign, was electric with three touchdown receptions.
"Between him and the quarterback, they're on the same page. Coach Charlton and his offensive staff create scenarios to get [Miller] the ball," Priore said. "The one thing Delaware did successfully is keep the ball in front of them, making sure they had the zones covered and didn't give big plays. It's going to be the same for us.
"When you worry about one person," Priore added, "You can get yourself in trouble.
So while the Stony Brook defensive strategy requires limiting Miller, Maine features enough weapons in the passing attack that the Seawolves will have to be active across the field.
STILL D.R.E.@Dre_Miller6 goes for 8 receptions, 144 yards and 3 touchdowns!#BlackBearNation | #ChampionshipMentality | #CAAFB pic.twitter.com/M50ETtgUE2

— Maine Football (@BlackBearsFB) March 13, 2021
It's a similar situation but at a different position that faces the Black Hole Defense. In surrendering more than 30 points in its first two games, Maine's D seeks to live up to that moniker against a multifaceted rushing attack.
Jadon Turner did not play against Delaware, but Ty Son Lawton — a central figure in the Seawolves' 2019 run game — got his first carries of the season in the second game. With Jayden Cook in the backfield, as well, Stony Brook will look to eat up clock and exhaust the defense when it has the ball.
Tyquell Fields came out of the Delaware game, but Priore said the dual-threat quarterback returned to practice and was ready to go come game day.
"[It's] going to be very challenging in terms of what they can do on offense with running the football," Charlton said.
While Stony Brook lacks that potential NFL back like UAlbany's Karl Mofor, who went for 155 yards against Maine, the Seawolves more closely resemble Delaware. The Fightin' Blue Hens went for 224 rushing yards against the Black Bears, with three ball-carriers who gained at least 35 yards and a mobile quarterback who scored a touchdown.
Risk & Reward
Both Maine and Stony Brook have flourished in recent years with two of the more aggressive defenses in the CAA. But with the unusual circumstances of this spring season — which Chuck Priore described as part of a "17-game" schedule when running into next fall — there are factors to consider.
Two of Stony Brook's premier defensive players, defensive lineman Sam Kamara and safety Augie Contressa, both missed the Delaware game. With another season kicking off less than six months from now, balancing aggressiveness can be a challenge.
Likewise, Maine comes into Stony Brook without a sack yet on the season. Compare that to 2019: The Black Bears averaged more than two per game then, and racked up a whopping 47 in the 2018 campaign.
That consistent pressure resulted in 18 interceptions in '18. So far in the spring, Jordan Swann's red-zone pick against Villanova is the only interception for the Black Bears.
Balancing pressure and takeaway opportunities with Fields' rushing ability is the risk-reward equation Charlton and defensive coordinator Michael Ryan must balance at Stony Brook.