CAA
Delaware's Defense Has Emerged As One Of The Biggest Stories Of The Spring
Delaware's Defense Has Emerged As One Of The Biggest Stories Of The Spring
Delaware's defense has been one of the biggest stories in the FCS during the spring 2021 college football season.
Mar 17, 2021
by Roger Brown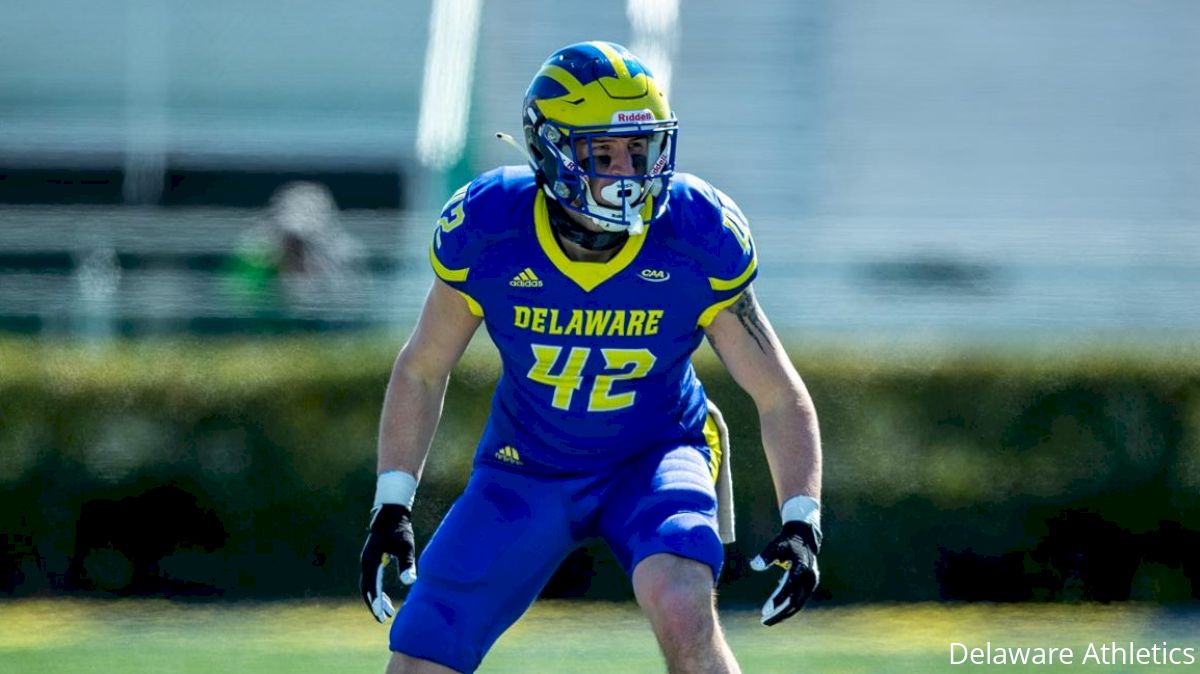 If Delaware coach Danny Rocco tells you he expected more from his team's defense through the first two games of the CAA's spring season he's probably not telling you the truth.
Defense has fueled Delaware's 2-0 start. The Blue Hens have allowed a total of three points in victories over Maine (37-0) and Stony Brook (31-3). It's the first time Delaware hasn't allowed a touchdown in its first two games since 2010.
One week after holding Maine to 112 yards of offense, Delaware limited Stony Brook to 272 yards (98 on the ground) last Saturday. The Blue Hens also created five turnovers against the Seawolves, whose only points came on Angelo Guglielmello's 24-yard field goal after Delaware fumbled the ball away on its own 16-yard line.
Delaware safety Andrew Pawlowski was named the CAA's Defensive Player of the Week after he recorded a team-high nine tackles against Stony Brook.
Credit this one to the whole unit 🤝

📰 https://t.co/GVXI2tJRGh#BleedBlue302#BlueHens pic.twitter.com/RlW6dczVQb

— Delaware Football (@DelawareFB) March 15, 2021
"We talked all week about how when we played them (in 2019) we gave up 296 rushing yards, so we made it (stopping the run) our goal," Pawlowski said. "'We said, 'That's not gonna happen again. We're gonna shut down the run, force them to throw the ball,' and I think we have some of the best (defensive backs) in the whole country."
The next challenge for Delaware's defense was supposed to come Saturday, when the team traveled to face New Hampshire, but that game has been postponed due to COVID-19 protocols at UNH.
New Hampshire coach Sean McDonnell spoke for nearly two minutes when he was asked what impresses him the most about the Delaware defense.
"I don't know where to start," he said. "It's impressive from top to bottom. The other thing that's impressive about the Delaware football team defensively is how many people they play. I think it starts from the front guys -- the three down lineman that they've been playing. And what's amazing is that they're playing eight or nine guys in that (defensive) line. (Frank) Berton and this kid (Chase) McGowan really jump out at me. They play very well.
"You look at the second level they (use) four linebackers and they play seven or eight of those guys. … And I think the best two players on their defense are (Kedrick) Whitehead and (Noah) Plack, the two safeties that they have. Not saying their corners aren't any good, but look what they've done in the two games that they've played against Stony Brook and against Maine."
Rocco said being less predictable than in past years has been among the reasons for Delaware success on defense so far this season.
"We've created more looks and more variables for the offense to have to look at, and to have to decipher," he said. "There's a lot of ways to play defense, but I do think the one thing that's happening right now with us defensively -- and I've been in this league a pretty long time -- is people are looking at us pre-snap and they're not really sure what we're in. Whereas I think in previous years it was more of, 'Yeah, I've seen that. This is what we've been practicing against. I know what to call.' And they call it. Because you know today no one calls a play in the huddle, right? They all wait until you get lined up and then they call a play.
"All we've done is we've just created more looks that align similar or even the same, but then play differently. So we're putting a lot more stress on the offense to go through what would be recognized as their post-snap reads, not just pre-snap reads. And in doing that the probability of them being in sync -- that the tight end and the slot receiver and the quarterback are all seeing it the same -- it begins to lessen a little bit."
The Blue Hens, who forced 10 punts against Maine, enter Saturday's game ranked No. 12 in the FCS Top 25. The Wildcats are No. 20.
"They don't give up big plays," McDonnell said. "They attack downhill. They get pressure from their three-man rush. They get pressure when they bring people off the edge. This is a really impressive defensive football team."