2022 CAA Football
CAA Rewind: Spiders' Strong Start Continues
CAA Rewind: Spiders' Strong Start Continues
Highlighting the second week of CAA competition were a pair of single-score contests that rival the drama seen on the hardwood this time of year.
Mar 15, 2021
by Kyle Kensing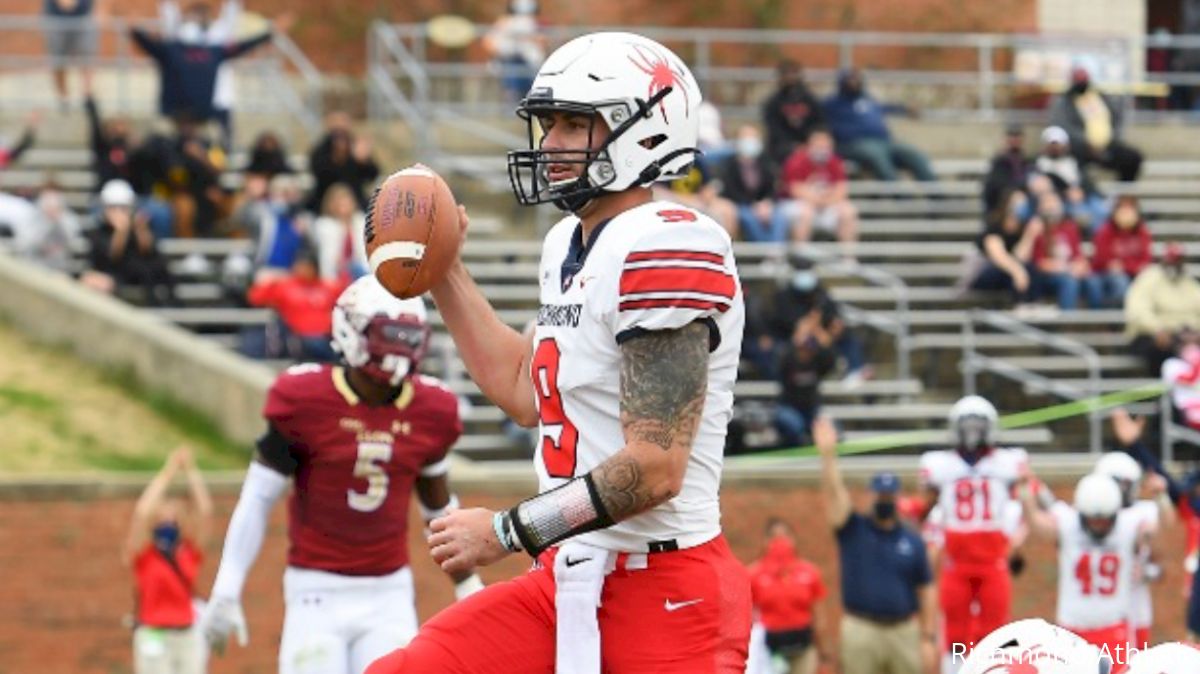 Wild, back-and-forth games decided on the final possessions, carrying weighty implications in the pursuit of conference and national championships: No, it's not March Madness.
Not in the traditional sense, anyway.
Highlighting the second week of Colonial Athletic Association competition were a pair of single-score contests that rival the drama seen on the hardwood this time of year. One featured the most compelling Cinderella story of this very young football season.
Rhode Warriors
The first half of Rhode Island's 2019 season saw the Rams lose to Delaware in three overtimes, New Hampshire on a field goal as time expired, and Stony Brook when Tyquell Fields broke a fourth-down run of 50 yards for a touchdown.
A new season may not mean a reprieve from nail-biting contests, but the first outing of the spring 2021 campaign provided a new finish in one such outing.
Rhody rallied from down 10 points in the fourth to No. 6-ranked Villanova to force overtime, scoring a touchdown and field goal in the final five minutes of regulation. In the extra frame, Kasim Hill's goal-line touchdown run completed the comeback and ended the Rams' eight-game losing streak in the CAA.
After finishing at the bottom of the Colonial more than a year ago, Rhode Island made an emphatic statement to begin this new campaign. Look for the Rams to turn some of those heartbreaking finishes into wins on the way to contention in the CAA North.
Defeating a playoff hopeful and top 10-ranked opponent on the road is difficult. Doing so in the first game after replacing two different 1,000-plus-yard receivers and more than 2,800 receiving yards while scoring 40 points? Unfathomable, at least without some outstanding reinforcements.
Rhode Island has just that. Both Hill and UMass transfer running back Kevin Brown Jr. shined in their Rams debuts: Hill went 18-of-28 passing for 248 yards and rushed for the winning touchdown, while Brown rolled up 141 rushing yards and four touchdowns.
Brown's powerful running style can turn short gains into sizable chunks of yardage. On one such play that extended a Rams scoring drive, he delivered one of the most impressive stiff-arms of the season.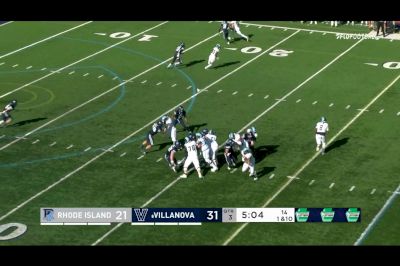 Combined with veteran Zoe Bryant Jr., Rhode Island has an intriguing backfield rotation to watch throughout the season. The duo teamed up on one critical drive with Bryant taking a reception 10 yards on a first-and-15, then Brown hammered away until converting a fourth down and ultimately getting into the end zone. Cayvian Holmes made a spectacular play set up by Jordan Jones' coverage on a Villanova fourth-and-short that proved game-saving.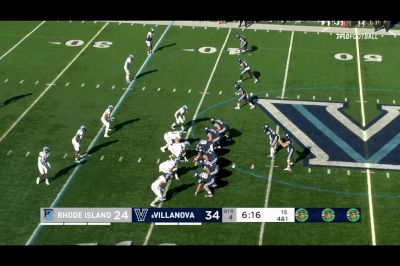 Brown was one of three ball-carriers to go for more than 100 yards on the day: Justin Covington scored two touchdowns for Villanova, and he and quarterback Dan Smith both averaged more than a first down per touchdown.
Ironically enough in a game that it surrendered 37 points and more than 300 yards rushing, Rhode Island's defense deserves a shoutout for its performance down the stretch.
Black Bear Bounce Back
The Maine offense had some catching up to do after it went scoreless in the season-opening loss at Delaware. The Black Bears responded with 38 points in a Game of the Week-caliber shootout win against UAlbany.
In this time of the year marked by hoops heroics, a fourth quarter in which both teams scored two touchdowns a piece had the feel of Tournament teams exchanging 3-pointers. Andre Miller was especially clutch.
STILL D.R.E.@Dre_Miller6 goes for 8 receptions, 144 yards and 3 touchdowns!#BlackBearNation | #ChampionshipMentality | #CAAFB pic.twitter.com/M50ETtgUE2

— Maine Football (@BlackBearsFB) March 13, 2021
History-making wide receiver Earnest Edwards' exploits in 2019 perhaps overshadowed how good Miller was. Against a playoff-caliber UAlbany team, he proved himself a star-quality No. 1 option.
He showed off surprising breakaway speed from a 6-foot-2, 220-pound frame to make this crucial play: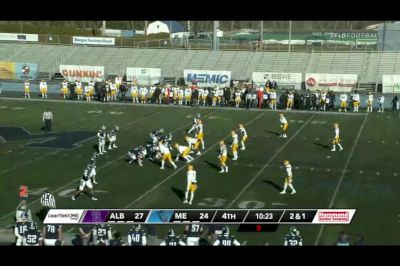 Then with the cornerback playing off Miller to counter his speed, the Black Bears senior runs a savvy route to get free for what proved to be the game-winner: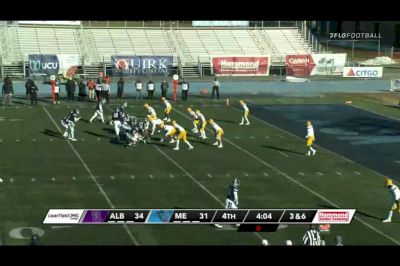 Saturday's rebound against UAlbany suggests the offensive struggles in the opener are an aberration — from the Black Bears' end, anyway. Further evidence from the second full Saturday of the spring points to the shutout their first-week opponent pitched was indicative of a trend.
D For Delaware
Eight quarters, zero touchdowns. That's the defensive yield allowed by Delaware through its first two games.
The Fightin' Blue Hens followed up their 37-0 rout of Maine with a 31-3 win over Stony Brook, which included five takeaways. The two dominant wins have Delaware as the lone 2-0 team in the CAA North, an indication of just how competitive the division promises to be all spring.
Spiders' Strong Start
Like Delaware in the North, Richmond became the only CAA South to move to 2-0 in conference play in the Colonial's second full week. With James Madison's scheduled date against William & Mary postponed due to COVID-19 protocols, the Spiders took over the division's top spot in a 38-14 win at Elon.
Richmond forced three turnovers with Tyrek Funderburk, Tyler Dressler and Xavier Marshall all picking off passes.
"That's a big part of our defense now, just emphasizing turnovers, takeaways," Funderburk told the Spider Sports Network radio show. "Last week, [we were] getting the jitters out, playing [for the first time in] a year-and-a-half, we feel a lot better now, a lot more comfortable as a team."