2021 Rhode Island vs Villanova
New-Look Rhode Island Opens Its Spring Season At Villanova
New-Look Rhode Island Opens Its Spring Season At Villanova
Rhode Island will kick off the 2021 spring season with a visit to highly-touted Villanova on Saturday.
Mar 13, 2021
by Kyle Kensing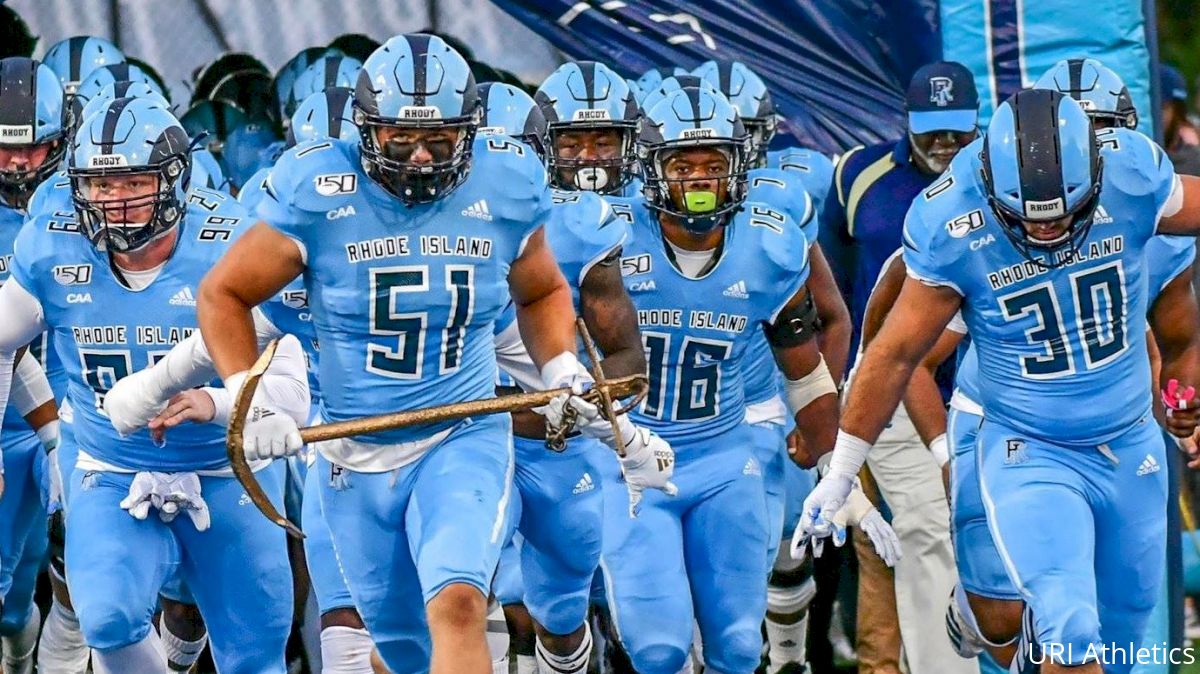 While the rest of the Colonial Athletic Association ushered in the spring 2021 season, and Elon and James Madison continued theirs, Jim Fleming joked that Rhode Island "went to the beach."
OK, so Fleming was having some fun with his answer about how the Rams spent their opening-week bye. But Rhode Island will be all business when it kicks off the campaign at Villanova, a top 5-ranked opponent and frontrunner in the CAA North.
"Really looking forward to it," Fleming said. "It's a quality opponent."
Watch Rhode Island vs. Villanova LIVE on FloFootball
Indeed, coming off an appearance in the FCS Playoffs, Villanova reloaded for the spring with Walter Payton Award-contending quarterback Dan Smith, a veteran offensive line, and defensive playmakers like cornerback Christian Benford and end Malik Fisher.
The Wildcats opened the spring with a 16-13 defeat of Stony Brook on the road.
"A lot of jitters, a lot of anxiety, a lot of enthusiasm to start the game," Wildcats coach Mark Ferrante said, hitting on the emotions prevalent in a season opener. He also touched on another trait common for first games: "A lot of mistakes throughout the game. I don't think I've ever been involved with as many penalties as we had."
Villanova committed a staggering 16 penalties for 154 yards in the win.
Having that first outing to examine issues like penalties might put Villanova at an advantage. On the flipside, the Wildcats have little to study on a Rhode Island team that underwent some significant offseason changes.
Revamped Passing Games
Rhode Island's passing game will take a whole new look compared to 2019. Vito Priore transferred to Austin Peay in the offseason, while Kasim Hill steps in. Hill, a 4-star prep recruit, had stops at Power Five-conference programs Maryland and Tennessee before landing at URI.
Also gone are a trio of outstanding receivers in Isaiah Coulter, Aaron Parker and Ahmere Dorsey.
"Those were three of the premier guys in the league, so we've got some work to do," Fleming said.
Villanova underwent its own changes. While Smith returned, top 2019 target Changa Hodge transferred to Virginia Tech in the summer. Enter Rayjoun Pringle.
Pringle won CAA Offensive Player of the Week, catching for 171 yards and a touchdown on a 49-yard dime from Smith.
Fleming also cited tight end Todd Summers as a threat in the passing game the Rams defense will have to contain.
Getting Offensive
Points came at a premium for Villanova in its opener at Stony Brook. The 16 points the Wildcats scored were almost 20 fewer than Villanova's 2019 average, and the fewest a Wildcat team scored since being shut out by New Hampshire in October 2018.
Faced with a Rhode Island defense that surrendered more than 36 points per game in 2019, look for Villanova to try pushing the pace early.
Rhode Island replaces a variety of key contributors to its 2019 defense, including tackles leader Branyan Javier-Castillo, and Momodou Mbye, who picked off five passes.
Villanova's defense gave up just 240 yards to Stony Brook in the opener, and posted a goose egg on third-down attempts: 0-for-7. That was with Forrest Rhyne out due to injury.
Rhode Island's new-look offense will try to gain more run-game traction than Stony Brook mustered. Veteran running back Zoe Bryant Jr. is one of the few skill-position players back for the Rams with significant numbers produced in 2019, having gone for 493 yards and four touchdowns.