2021 Stony Brook vs Delaware
Henderson, Blue Hens Set To Host Stony Brook
Henderson, Blue Hens Set To Host Stony Brook
Stony Brook travels to Delaware to face the Blue Hens in CAA spring football action — live on FloFootball.
Mar 13, 2021
by Kyle Kensing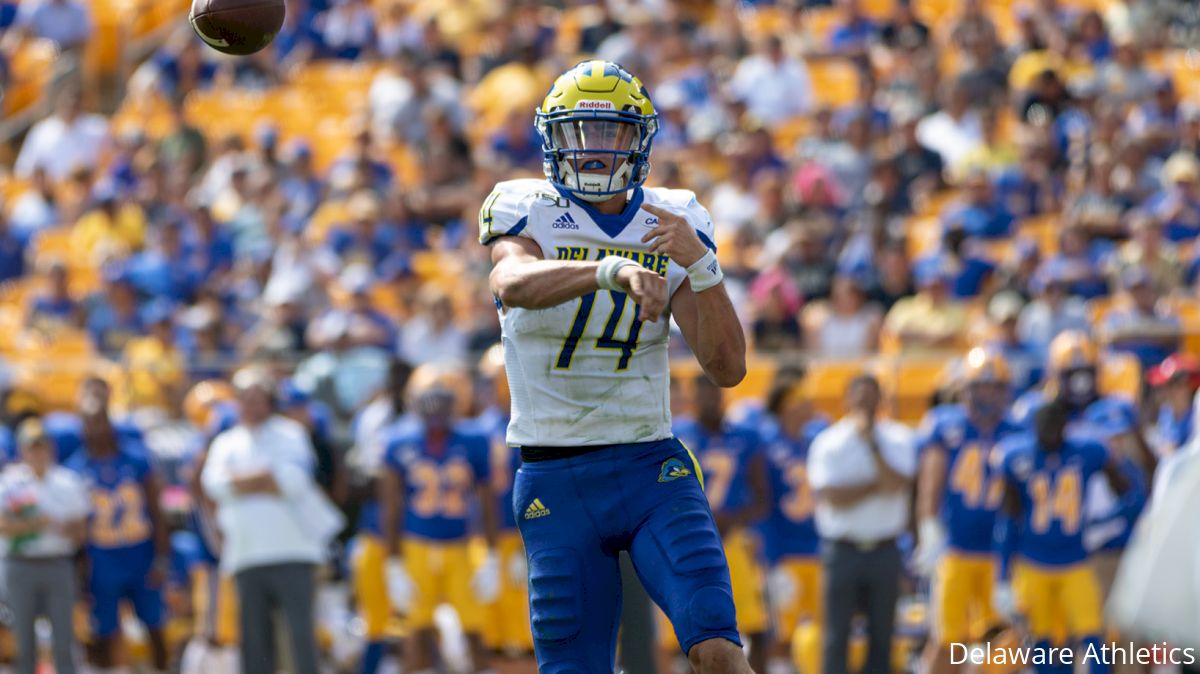 Delaware opened the spring 2021 Colonial Athletic Association season with an emphatic statement. Count Stony Brook coach Chuck Priore among those who heard the message.
"Danny Rocco...has those kids playing really hard right now," Priore said. "Physical, well-coached."
The Fightin' Blue Hens return to Delaware Stadium for a second straight week, coming off a 37-0 rout of Maine and welcoming Stony Brook to town. Delaware will be hard-pressed to match its open from a week ago, when Dejoun Lee ran back the first kickoff for a touchdown.
Watch Stony Brook vs. Delaware LIVE on FloFootball
"He had an outstanding game," Blue Hens coach Rocco said. "The opening kickoff really, I think, just put everybody at ease on our sideline."
Equaling their defensive prowess from Week 1 of Colonial competition will also be a tall order. The Blue Hens held Maine to just 112 yards of total offense.
"Really impressed with [defense on quarterback Joe Fagnano]," Priore said. "Maine's got some skill players, so really impressed with that."
Stony Brook, coming off a 16-13 loss to Villanova, comes into Delaware Stadium with some positive momentum. The Seawolves went scoreless in the first half, but battled back from a two-touchdown, halftime deficit to take the final outcome down to their last possession.
Defense Rules The Day
Noticeable in the stat line from Delaware's season-opening win is that no one Blue Hen dominated. Rocco's bunch put together an all-around outstanding effort, and did so without linebacker Colby Reeder in the lineup.
Joe Zubillaga forced a fumble, Matt Palmer made a tackle for loss and recovered a fumble, while Johnny Buchanan and Liam Trainer each made a team-high five tackles. None are eye-opening numbers alone, but the sum of the parts were as good as it gets.
Despite its loss to Villanova, Stony Brook showed out defensively. The Seawolves held the Wildcats almost 20 points below their 2019 season average, and kept Villanova out of the end zone for the entire second half.
Priore noted Reidgee Dimanche's five tackles and tackle for loss, and Makye Smith racking up 11 tackles and 3.5 tackles for loss from the end position. Preseason All-American Sam Kamara also came through with a sack and forced a fumble.
Stony Brook held Villanova below 100 yards rushing, and will aim to replicate that effort against the Delaware tandem of Lee and Khory Spruill. The shifty and elusive Lee's ability to "get yards where there aren't yards," as Rocco described, promises to test Stony Brook's defensive activity.
Fields Day
In the same vein as Lee for Delaware — a triple-threat able to run back kicks, carry and catch the ball — Stony Brook leans on the multifaceted Tyquell Fields to make plays.
Fields completed 14-of-25 pass attempts against Villanova. He was intercepted in the red zone on a first-half drive, but helped key the rally in the second half with a rushing score.
His explosiveness out of the pocket was central to the Stony Brook offense in the 2019 campaign, keeping defenses off-balance to hit with a three-man rotation of running backs against out-of-position linebackers assigned to spy the quarterback.
The Seawolves' rushing options around Fields changed since the last campaign; against Villanova, Jadon Turner and Jayden Cook combined for the most yards and the other touchdown.
Next Up For Nolan
On the opposite side, Delaware's own two-way threat quarterback Nolan Henderson built on a promising 2019 with a passing and rushing touchdown in the opener.
Henderson spreading the ball among seven targets was an especially encouraging development for the Delaware offense. Gene Coleman built off a sensational end to the previous season, catching five passes against Maine after breaking the century-mark in November 2019 vs. Villanova. Thyrick Pitts, a proven standout, had a relatively quiet performance but can go off when given the opportunity.