2021 Rhode Island vs Villanova
Rayjoun Pringle's Breakout Performance Didn't Surprise Everyone
Rayjoun Pringle's Breakout Performance Didn't Surprise Everyone
Villanova wide receiver Rayjoun Pringle's breakout game against Stony Brook may have come as a surprise to some, but it didn't surprise his head coach.
Mar 12, 2021
by Roger Brown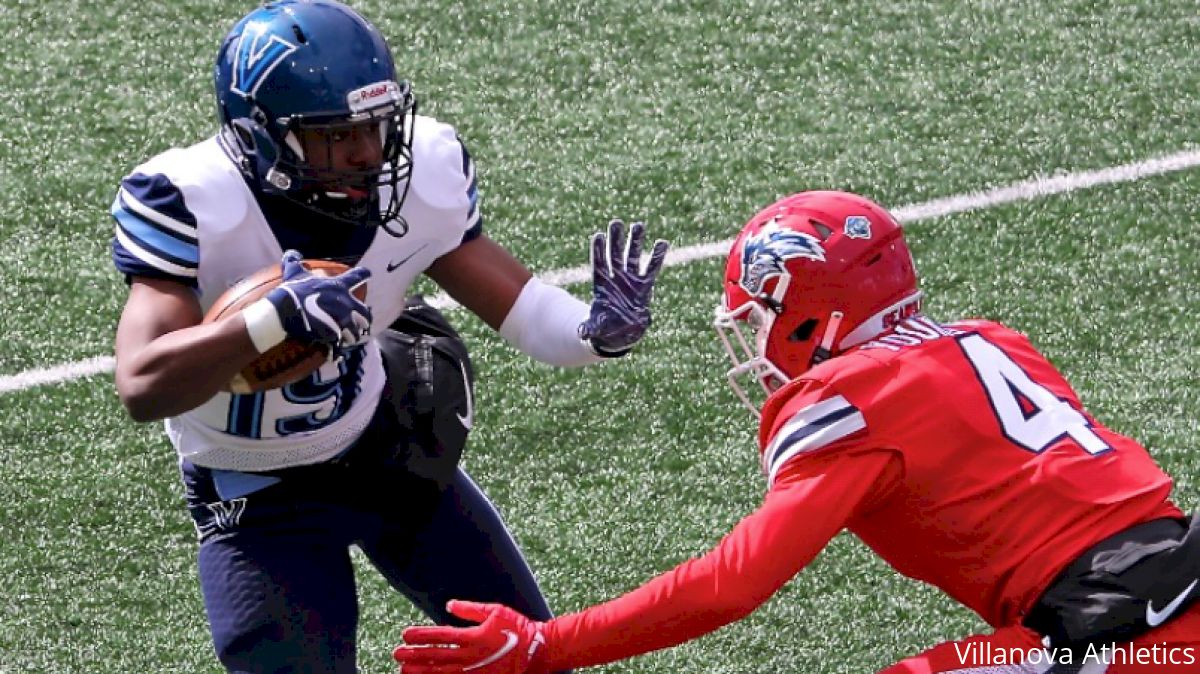 Villanova wide receiver Rayjoun Pringle's breakout game against Stony Brook on Saturday may have come as a surprise to some, but it didn't surprise Villanova head coach Mark Ferrante. It definitely didn't surprise Pringle.
After catching five passes for 32 yards as a freshman in 2019, Pringle exploded for nine receptions for 171 yards and a touchdown during Saturday's 16-13 victory. His 49-yard touchdown catch -- the first TD of his college career -- helped Villanova take a 13-0 lead in the second quarter.
"I'm pretty confident in myself and my teammates are pretty confident in me, so I had the confidence coming into the game," Pringle said. "I knew if they came out in the defense we were practicing against all week I was the first read, so I was confident the numbers could be pretty high."
Watch Rhode Island vs. Villanova LIVE on FloFootball
Pringle was named the Colonial Athletic Association's Offensive Player of the Week for his performance against Stony Brook.
Pringle's nine receptions accounted for nearly half of Villanova's 394 yards of total offense.
"Rayjoun Pringle on offense was a real bright spot for us with the best performance of his career so far," Ferrante said. "I don't know if I want to say it was surprising because we really felt after his freshman year and through the fall preparation and into this past spring preseason he's been doing some really nice things. Really pleased with his performance because what you're doing in practice is always different and hopefully it can carry over into a game. Some of the things he was able to do that we've seen in the offseason, he was able to bring to the game on Saturday."
Pringle, a 5-foot-9, 170-pound sophomore, said he focused on the mental part of his game during the long layoff that came when COVID-19 wiped out the 2020 fall season. He described himself as a much more confident player this season, and a player who's much more comfortable in Villanova's offense as well.
"Last year I got my feet wet a little bit, but I really wasn't that good on the smart side of the ball -- like reading coverages and just knowing what to do, route running against different coverages," he said. "That's what I did with all this time off because of COVID -- just got better off the field with my mind, and that helped me a lot. It made the game slow down for me."
Congrats to sophomore wide receiver 𝐑𝐚𝐲𝐣𝐨𝐮𝐧 𝐏𝐫𝐢𝐧𝐠𝐥𝐞 on being named @caafootball Offensive Player of the Week! 🏈✌️

Pringle made eight receptions for a career-high 133 yards and a TD in Saturday's win over Stony Brook.

Release: https://t.co/SIMDrYke4x pic.twitter.com/vbAJBfsEfv

— Villanova Football (@NovaFootball) March 8, 2021
The victory over Stony Brook was Villanova's first game since a 45-44 loss at Southeastern Louisiana in the first round of the 2019 FCS playoffs. Villanova will be at home against Rhode Island on Saturday (1 p.m.). It will be Rhode Island's first game of the spring season.
"As a team we wanted to get out there and get our feet wet, so it was very exciting," Pringle said. "We knew we had a special team coming back. We couldn't wait."
Pringle benefits from having one of the CAA's top quarterbacks throwing him passes. Senior Daniel Smith completed 236 of 396 pass attempts for 3,274 yards and 35 touchdowns (10 interceptions) during the 2019 season, when he also carried the ball 84 times for 457 yards and 12 TDs.
Smith completed 19 of 31 passes for 242 yards against Stony Brook. Most of the passing yardage came on competitions to Pringle.
"He can definitely put the ball in special places," Pringle said. "Even if you're covered he can put the ball away from the defense where you can get it. It's nice having a quarterback like that.
"I always talk to him and make sure we're on the same page so we can get the job done."