2021 Richmond vs Elon
Richmond Heads To Elon For First Of Two Meetings
Richmond Heads To Elon For First Of Two Meetings
After claiming the Governor's Cup in its season opener, Richmond will travel to Elon to face the 1-2 Phoenix.
Mar 11, 2021
by Roger Brown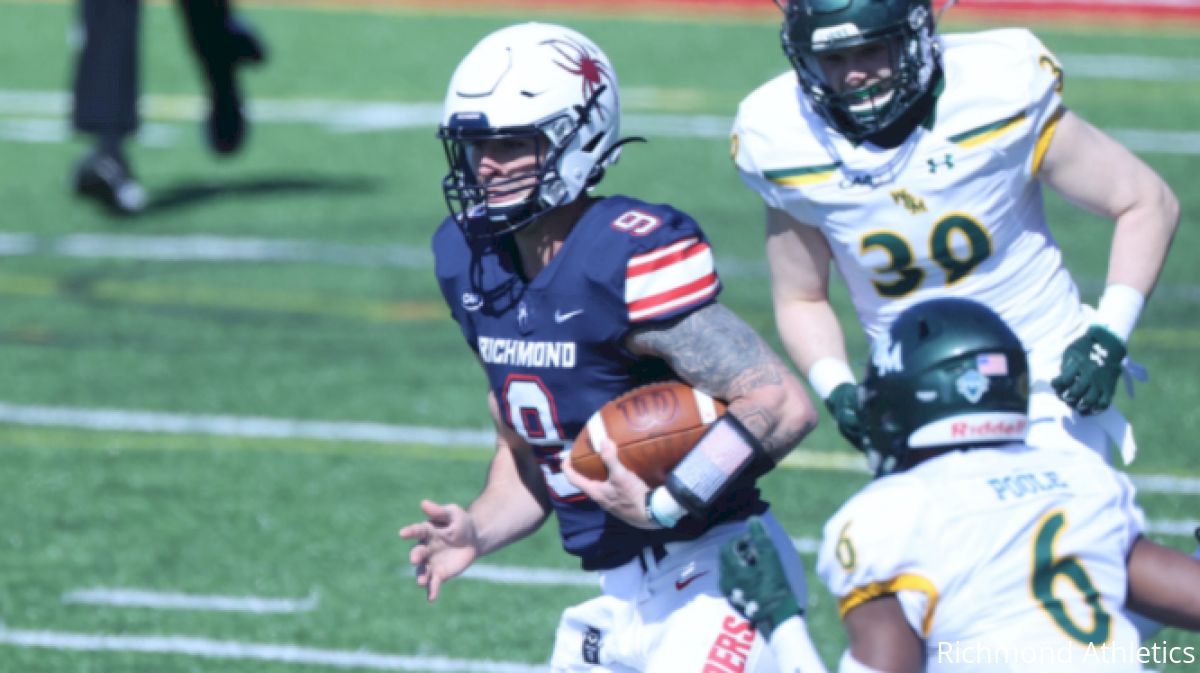 Elon will have at least one advantage over Richmond entering Saturday's Colonial Athletic Association matchup at Elon's Rhodes Stadium: Elon has played three games, and Richmond has played one.
"You get better at football by playing football," Elon coach Tony Trisciani said. "I do feel like we're starting to come together on both sides of the ball."
Elon has suffered back-to-back losses against Gardner-Webb (42-20) and James Madison (20-17) since opening its season with a 26-23 victory over Davidson. Richmond kicked off its spring season with a 21-14 win against William & Mary last Saturday.
Watch Richmond vs Elon LIVE on FloFootball
"We made mistakes (on defense), but we played fast," Richmond coach Russ Heusman said. "We played physically. We can run on defense. We have a lot of team speed there."
Injuries at quarterback have been the storyline for Elon this season. The Phoenix lost starting quarterback Davis Cheek -- a three-year starter -- to a foot injury before the season began, and then No. 2 QB Joey Baughman sustained a knee injury that will keep him off the field for the remainder of the spring season.
True freshman JR Martin was Elon's starting quarterback for last Saturday's loss to James Madison. Martin completed 12 of 26 passes for 129 yards with one TD and one interception in the loss.
Brought home the Capital Cup! 😎#OneRichmond pic.twitter.com/w76g07vqhi

— Richmond Athletics (@SpiderAthletics) March 6, 2021
"JR played better in the first half -- we played better in the first half offensively," Trisciani said. "It really was a tale of two halves when you look at what our first down and second down efficiency was, and what our third downs looked like and our third-down efficiency in the first half versus the second half. In the second half we had the interception, and the blocked punt and the short field. Momentum really affected the outcome of that game."
Saturday's game will be the 11th meeting between the programs. Richmond leads the series 7-3, but Elon has won the last three games.
"A play here, a play there and they might have won that game (against JMU)," Huesman said. "You can take the second half of the Gardner-Webb game out (Elon was outscored 35-0 in that half) -- that's not what Elon is -- and how they played other than that half is the kind of team that we're going to expect. A really good, well-coached team with weapons on both sides of the ball."
End Of The Line
Tight end John Fitzgerald, a graduate transfer from Cornell, led Richmond with five receptions for a team-high 44 yards in Saturday's victory over William & Mary. Richmond trailed 14-13 when Fitzgerald caught a 6-yard TD pass from quarterback Joe Mancuso with 6:20 to play.
Richmond tight ends had eight receptions for 81 yards during the 2019 season. Fitzgerald's TD catch was the Spiders' first from the tight end position since Stephon Jacob had a touchdown reception against James Madison in 2018.
"He had a really nice game for us with five catches, the one touchdown, but the one thing he did too, he blocked really well," Huesman said. "He was physical. He was assignment sound and that's what you're looking for there. … He made some big plays for us."
No Finishing Kick
Elon had a 17-3 lead in last week's loss to James Madison, but the Dukes outscored the Phoenix 17-0 in the second half. James Madison scored the game's final touchdown following a blocked punt, one of many kicking miscues in the CAA last weekend.
Trisciani on the loss: "Close will never be good enough around here, but I am proud of the courage and effort from our guys. We had a good plan and put ourselves in position to win the football game. Our guys played with passion and went toe to toe with the No. 1 team in the country. When we watch the film, there will be a handful of plays we'll want back that could have changed the outcome of that football game. We needed to sustain drives in the second half and finish the game in all three phases."