2021 UAlbany vs Maine
New Week, New Opportunity As UAlbany Travels To Maine
New Week, New Opportunity As UAlbany Travels To Maine
Maine is in desperate need of a bounce back performance, but UAlbany likely won't be in the mood for that when the teams meet in CAA action Saturday.
Mar 10, 2021
by Roger Brown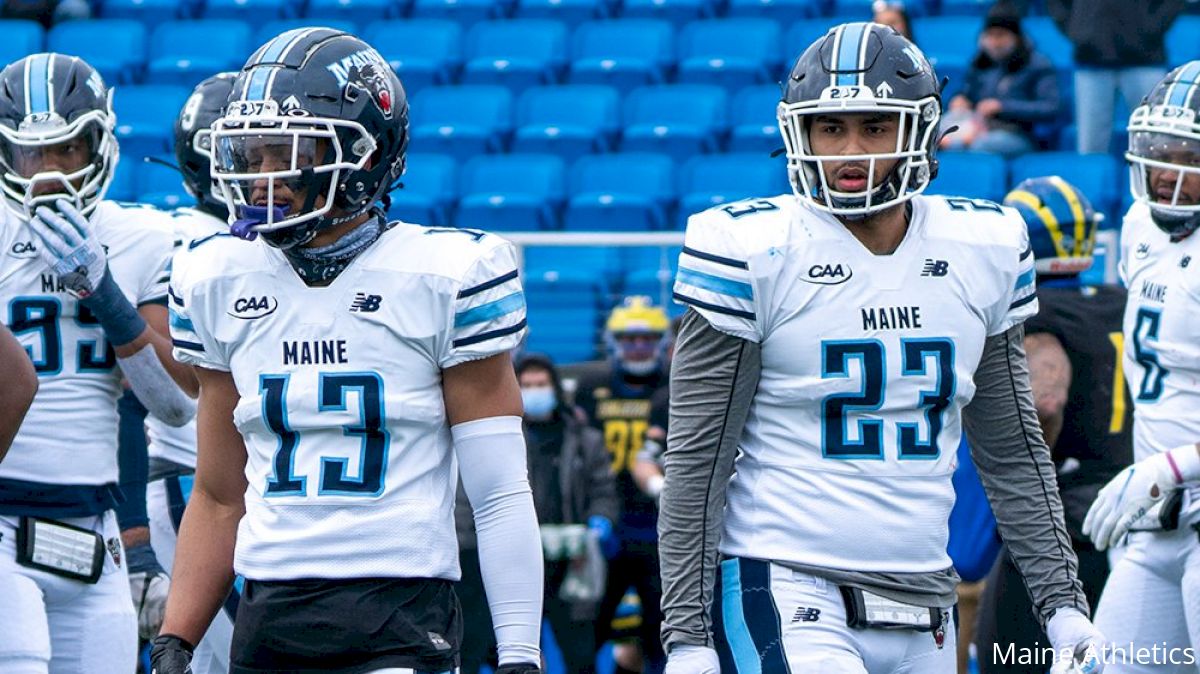 Maine left lots of room for improvement in last Saturday's 37-0 loss to Delaware. There's little doubt about that.
The area that needs to improve the most when Maine plays UAlbany at home Saturday? Offense.
Delaware held Maine to six first downs and 112 yards of offense. The Black Bears rushed for 51 yards on 24 carries, and Maine quarterback Joe Fagnano completed 10 of 23 passes for 61 yards.
Watch UAlbany vs. Maine LIVE on FloFootball
"We didn't do the things we needed to do to move the football," Maine coach Nick Charlton said. "That's where it started.
"(Fagnano) didn't play his best game. We know that. He knows that, but he needs the people around him to make plays as well. There's certainly plenty of people who need to step up.
"We didn't play up to our standard last week, but we feel like we have some pieces here and need to play better. We need to coach better, we need to play better. It's all across the board."
It was Maine's most lopsided loss since a 45-3 setback at Toledo in 2016. It was also the first time the Black Bears were shut out since a 31-0 loss at Villanova in 2017.
Delaware returned the opening kickoff for a touchdown and forced Maine to punt 10 times.
WELCOME BACK TO FOOTBALL!!!@DejounL takes the opening kickoff to the HOUSE!#BleedBlue302#BlueHens pic.twitter.com/Z1xZX2PRAP

— Delaware Football (@DelawareFB) March 6, 2021
"That was a game that I think just got away from them early," UAlbany coach Greg Guttoso said. "That can happen to you sometimes, where the other team gets a lot of success early and then you're chasing the rest of the game. They're physical and tough. I didn't see anything on tape that tells me otherwise.
"We know one thing in this conference is that no matter who you're playing every week it's a reshuffling. It doesn't matter if you won or lost last week. It matters how you show up and play that week."
Maine will be facing an UAlbany defense that held New Hampshire to 186 yards of offense in last Friday's 24-20 victory. New Hampshire picked up 123 of those 186 yards on its first two drives.
"We know we're gonna get their A-game," Gattuso said. "They're at home and it's kind of a back-against-the-wall situation. They need a win. We need a win. Hopefully it will be a great football game."
Kicked Out
UAlbany will be looking for better things from its kicking game during Saturday's contest.
The Great Danes had a punt blocked and returned for a touchdown against New Hampshire. UAlbany also botched a punt late in the fourth quarter that gave New Hampshire possession on the UAlbany 7-yard line.
It wasn't all bad, however. Dylan Burns kicked a 37-yard field goal in cold and windy conditions, and the Great Danes blocked the point-after kick following New Hampshire's third touchdown.
"It was a crazy day, but the good things outweighed the bad things," Gattuso said. "The punt block was really a mistake on us, the coaches. We put our punt team in a situation where they could not be successful. Should never have been in that situation. … We'll do a better job of that in how we protect in that situation.
"It was a little up and down, a little irregular in the kicking game, but certainly something we can fix."
On The Run
UAlbany running back Karl Mofor led the CAA in rushing during the 2019 season with 1,290 yards and 10 touchdowns on 264 carries. He averaged 4.9 yards per carry and 92.1 yards per game.
Mofor gained 79 yards on 28 carries against New Hampshire. He also caught two passes for 15 yards and a TD in that win.
UAlbany quarterback Jeff Undercuffler on Mofor: "Karl, in my opinion, is the best back in the FCS -- he's the best back in the country, hands down. No doubt about it. He's great in all phases. He'll run you over. He'll juke you. He's great in pass (protection) and all that kind of stuff. Great teammate. Just happy to have him on the team."