2021 Maine vs Delaware
CAA Rewind: Delaware Rolls During Wild First Weekend
CAA Rewind: Delaware Rolls During Wild First Weekend
Conference play in the Colonial Athletic Association officially kicked off in this first weekend of March.
Mar 8, 2021
by Kyle Kensing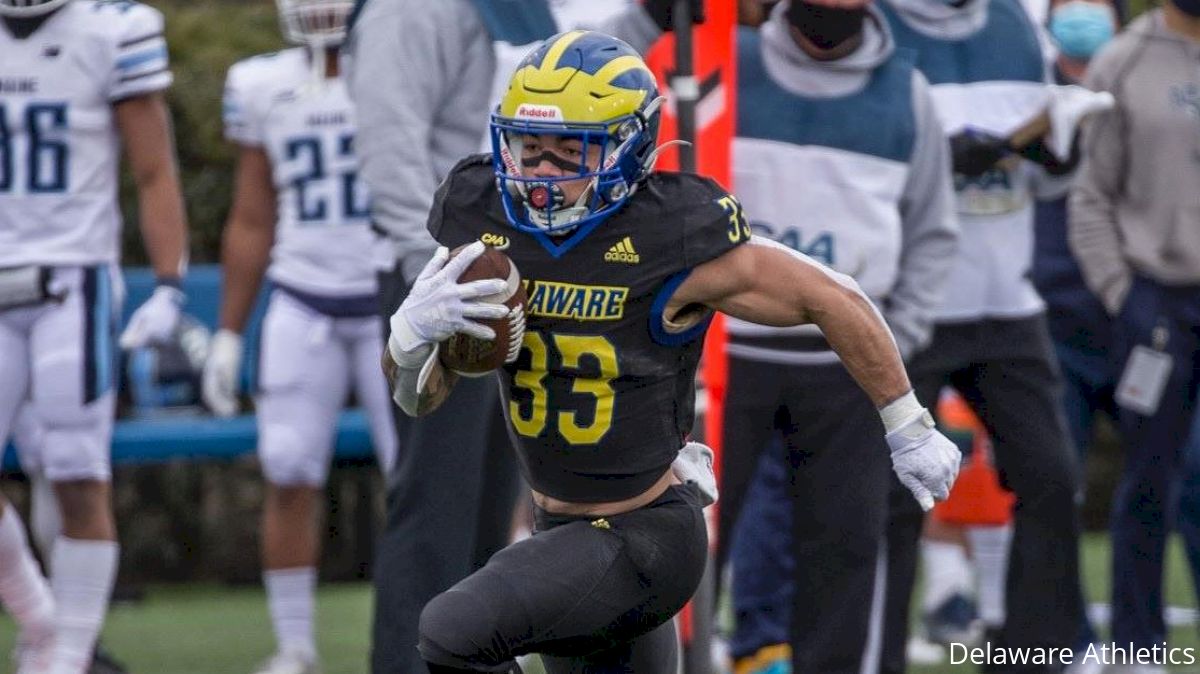 Conference play in the Colonial Athletic Association officially kicked off in this first weekend of March — and what a way to kickoff.
If Delaware's Dejoun Lee sets the tone for league competition, buckle in for a wild spring.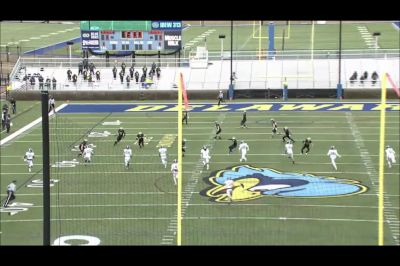 Regardless if Saturday's first score foreshadows the entire, historic CAA season, it certainly set the Fightin' Blue Hens on the right path in their debut. Lee's touchdown return marks the first such season-opening play in 88 years…
First time since '3⃣3⃣@DejounL was tired of waiting 😤#BleedBlue302 #BlueHens https://t.co/GEsD8NJ8vA pic.twitter.com/SgGalMAT7g

— Delaware Football (@DelawareFB) March 6, 2021
...and put the Blue Hens on pace to a rout. Delaware cruised past Maine, 37-0, getting 85 yards and another rushing score from Lee and a touchdown pass from Nolan Henderson to Gene Coleman.
But the most significant headline out of Newark came from the Delaware defense. The Blue Hens held Maine quarterback Joe Fagnano to just 10-of-23 passing for 61 yards, and rendered the Black Bears run game a non-factor with 51 yards.
Delaware's lopsided win was the only CAA matchup in the conference-opening weekend decided by more than one possession. Perhaps more than Lee's kickoff return touchdown, Friday night's first Colonial game established a fitting theme for the campaign to come.
Fighting Like Cats & Dogs
The modified FCS Playoffs format, reduced from 24 bids to 16, sets a high premium on every win. In a top-to-bottom loaded conference like the CAA, in which any of the 11 teams competing this spring have a realistic shot at being one of the 16 best teams in the nation, the value of every win is especially pronounced.
That sense of urgency defined Friday's 24-20 nail-biter between UAlbany and New Hampshire.
No longer underdogs after their nine-win 2019, the Great Danes acquitted themselves well as potential front-runners in the North division with one of three road wins thus far among CAA teams in the young season.
But in Sean McDonnell's return to the sideline, New Hampshire gave UAlbany all it could handle and then some.
A game that included Jeff Undercuffler throwing three touchdown passes to three different targets — Karl Mofor, Tyler Oedekoven and Mike Gray — came down to special-teams plays.
In New Hampshire's case, the Wildcats took possession in the final minute from the UAlbany seven-yard line thanks to a Great Danes punting misfire. Sean Ralls recovered from a low snap to slide-kick the ball forward — an impressive play, but not legal.
However, UAlbany coming through with a difference-making special-teams play earlier in the fourth quarter forced New Hampshire to play for a touchdown in the red zone rather than a potential, overtime-forcing field goal.
After Max Brosmer found Sean Coyne for a touchdown to cut UAlbany's lead from 24-14 to 24-20, Jared Verse blocked the PAT.
Verse's play factored into not one, but two Great Danes' fourth-down stops in the red zone. First, A.J. Mistler made a spectacular diving deflection to bat down a pass, while a would-be touchdown to take the lead caromed out of a leaping Nick Lorden's hands.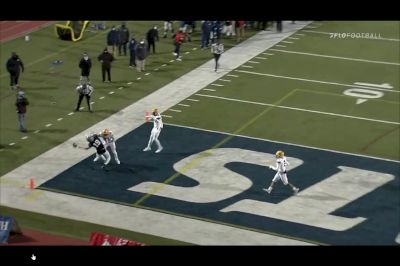 Could there be a more perfect distillation of the thin line between wins and losses in the CAA?
Getting Back Up
The answer to the above rhetorical question could be a yes, and that is six points.
Six points are all that separated Stony Brook and Villanova in each of the last three meetings between the Seawolves and Wildcats, including Saturday's 16-13 Villanova win.
The fifth-ranked Wildcats gained enough separation before halftime to hold on, including one score on a Dan Smith pass to Rayjoun Pringle. This dime serves as a reminder that Smith — who Stony Brook coach Chuck Priore called "a game-changer" ahead of Saturday's matchup — is one of the best quarterbacks in the FCS.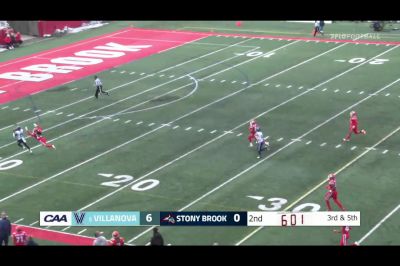 Villanova going on the road to beat a tough and experienced Stony Brook team justifies the lofty expectations set on the Wildcats, particularly given they were pulled into a game more conducive to the host's style.
That the Seawolves essentially shut down the high-powered Villanova offense after intermission speaks to Stony Brook's potential. They will travel to Delaware next week with an opportunity to make some of Priore's comments look prophetic.
"You're going to have a slip-up. This league's a competitive league," Priore said on Monday. "The way you can get over that slip-up, then you can really call yourself a good football team."
Diving Right In
The circumstances of this season are so unique, ostensibly packing the stakes of an 11-game slate into six. While the significance of each matchup is heightened, the timeline necessary for a team to reach its full potential can't really be accelerated at double-speed — especially coming off a layoff of more than 400 days.
Richmond coach Russ Huesman offered a reminder following the Spiders' 21-14 win over William & Mary. He cited both teams making "mistakes that could normally cost you a football game."
While it may be a conference game — and in the case of Richmond and William & Mary, one played for the Capital Cup, a trophy typically rewarded at season's end — it's still the first in the season. Game 1s are typically dedicated to ironing out errors, like the Spiders coming out shorthanded on a punt formation.
The spring season offers no such luxury.
Meanwhile, in fashion befitting the sped-up timeline of the campaign, the Oldest Rivalry in the South followed a roller-coaster track. Richmond seemed poised to win going away early when Aaron Dykes reached pay dirt twice, one on a reception and again on a rush.
Then, after halftime, Hollis Mathis ran and passed for scores that turned a two-touchdown deficit into a one-point Tribe lead.
Joe Mancuso ultimately leading Richmond on a 77-yard drive, capped with his touchdown pass to John Fitzgerald, and the Spiders' subsequent clock-killing possession were "tremendous," per Huesman.
Up next, Richmond draws an Elon team with two losses but plenty of fight.
Heavy Lies The Crown
In less than a month of FCS competition, being ranked No. 1 has proven true an old cliche.
Around the same time current No. 1 James Madison was getting a fight from Robert Morris a week ago, defending national champion and then-No. 1 North Dakota State sustained a multiple-score beating from Southern Illinois.
The crown that now sits on Duke Dog's head looked equally weighty for more than two quarters Saturday at Elon.
Coming off a rough second half at Gardner-Webb, and the loss of Joey Baughman — the second Phoenix quarterback scratched in 2021 — Elon would have had reason to no-show against James Madison.
Instead, the Phoenix defense flew around the field and held James Madison without a touchdown for more than three quarters. Jalen Greene broke up three passes and forced a fumble, Omar Rogers went up on the Get The Ball Wall for a second straight week, and Devonte Chandler got through for a sack.
JR Martin played fearless football despite facing arguably the best defense in the nation. It all translated into a 17-3 Elon lead before James Madison stormed back.
Percy Agyei-Obese eclipsed 100 yards for the second time on the season, and Gage Moloney was steadying upon coming in for Cole Johnson at quarterback in the second half.
Coupled with Mike Greene's stellar second half on defense and a critical M.J. Hampton blocked punt, it was enough for the Dukes to rally for a 20-17 win.
Stiff challenges in the CAA aren't new for James Madison. Even in its dominant 2019, the Dukes went to overtime with Stony Brook and needed a monster fourth quarter to pull away from a stalemate with Villanova.
But the atmosphere of the spring season suggests tight contests await for the duration of the schedule. Among the challenge ahead for the Dukes will be replacing All-American offensive lineman Liam Fornadel.
James Madison coach Curt Cignetti said following Saturday's contest, which Fornadel missed, that the talented guard will have shoulder surgery that ends his season.