2021 Maine vs Delaware
The CAA Is Loaded At The Quarterback Position This Spring
The CAA Is Loaded At The Quarterback Position This Spring
Quarterback play in the CAA promises to be excellent as we embark upon the spring 2021 season.
Mar 4, 2021
by Kyle Kensing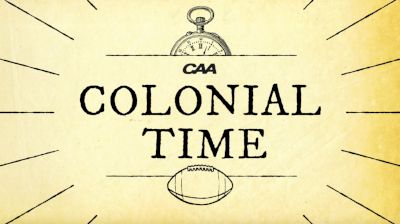 The unknown has defined the past 12 months, evident in no small part with the 2020 Colonial Athletic Association football season unfolding in spring 2021. The historic spring campaign offers some certainty, however: Quarterback play around the CAA promises to be excellent.
Watch Every CAA Game LIVE on FloFootball
Eight of the CAA teams competing in the spring return starting quarterbacks from the 2019 campaign, all with the potential to build on their efforts.
Jeff Undercuffler, UAlbany
2019 Statistics: 244-427, 3,270 yards, 41 touchdowns and eight interceptions; one rushing touchdown
A finalist for the 2019 Jerry Rice Award, Jeff Undercuffler proved crucial to UAlbany's run to the FCS Playoffs. Coming off a long layoff due to COVID-19 delays has the quarterback itching for his return to action, according to Great Danes coach Greg Gattuso.
"He's such a gym rat, football guy, it affected him worse than probably a lot of our other players," Gattuso said. "He's one of those guys who it's just fun to be around out on the field, because he just enjoys it so much."
6'6 Univ of Albany QB Jeff Undercuffer working Gun 3 and Reset while holding MIKE on drop playing boundary Hammer Concept throwing 12-14 Speed Cut Dig in 1st window to NFL FA TE Shawn Clark of Monmouth. @TEST_Football @Jcuff13 @CL8AR6K @GeirSven79 #qb pic.twitter.com/UiPBlYXhSn

— Tony Racioppi (@Tonyrazz03) May 7, 2020
Undercuffler's exuberance translates to touchdowns; so many touchdowns. His 41 passing scores were most in the FCS in 2019 by a considerable margin. The next-most prolific passer was fellow CAA returner Dan Smith of Villanova with 35.
While Undercuffler has shown he can find teammates in the end zone, the next step in his development is to be more accurate. Kicking up his completion percentage to 60 percent, for example, would have resulted in 256 completions in 2019.
"We're asking Jeff to manage the game better. We know he has talent, we know he understands the offense," Gattuso said. "If he can eliminate the rookie mistakes he made last year at times, I think he can have a great year for us."
Nolan Henderson, Delaware
2019 Statistics: 71-126, 933 yards, nine touchdowns and one interception; 75 carries, 189 yards, one touchdown
Nolan Henderson took over during the North Dakota State game in September 2019, and immediately showed his potential. He passed for two touchdowns against the Bison, then matched that output the next week in the Fightin' Blue Hens' near-upset of Pitt.
Henderson faced consistent pressure in 2019, which limited the Delaware offense. With a more experienced offensive line in 2021, Henderson should have an opportunity to progress both in his passing and with his low-key rushing ability.
Joe Fagnano, Maine
2019 Statistics: 121-184, 1,835 yards, 17 touchdowns and three interceptions; 86 carries, 192 yards
As a freshman, Joe Fagnano stepped in after Chris Ferguson sustained a season-ending foot injury. Fagnano made an immediate impact. His accuracy was outstanding, approaching a 66 percent completion rate.
Joe Fagnano arrived @BlackBearsFB in 2019 without a scholarship... he has the tools to evolve over time into another CAA QB to play in the NFL pic.twitter.com/pGzTweUVFa

— Rich Cirminiello (@RichCirminiello) August 20, 2020
Black Bears coach Nick Charlton said definitively Fagnano is Maine's starter again in 2021, a season that opens against Delaware.
"Certainly, a very talented quarterback. They were dynamic last year throwing the football; big play after big play," Delaware coach Danny Rocco said, describing Fagnano's impact on the Maine offense.
Max Brosmer, New Hampshire
2019 Statistics: 183-311, 1,967 yards, 12 touchdowns and 12 interceptions; three rushing touchdowns
Max Brosmer endured the fluctuation common for plenty of freshmen in their first college football seasons. When he was rolling, though, Brosmer was electric.
New Hampshire's game-winning drive against Rhode Island was a prime example. Brosmer ran for a first down on the possession, then immediately followed it with a 41-yard completion that set up the Wildcats' field goal as time expired.
"I'm waiting to see if the growth I've seen in Max Brosmer has continued to show up and that showed up in his freshman year through last fall and into this spring," Wildcats coach Sean McDonnell said.
Joe Mancuso, Richmond
2019 Statistics: 164-259, 2,128 yards, 13 touchdowns and 10 interceptions; 136 carries, 647 yards, 10 touchdowns
Labeling Joe Mancuso merely as a dual-threat does not do his rushing ability justice. Mancuso was both the most active and most productive ball-carrier in Richmond's offense a season ago, leading the Spiders in carries, yards and touchdowns.
Mancuso's rushing ability complemented a completion rate that exceeded 60 percent. Cutting down on turnovers in 2021 will elevate Mancuso, and the Spiders offense, to another level.
Spiders coach Russ Huesman said Mancuso has played well in preseason spring practices.
Tyquell Fields, Stony Brook
2019 Statistics: 147-286, 2,471 yards, 16 touchdowns and 11 interceptions; 87 carries, 331 yards, four touchdowns
When he was on his game, Tyquell Fields was one of the most electrifying quarterbacks anywhere in college football. Not bad, considering that as Seawolves coach Chuck Priore noted, Fields "hadn't played very much" prior to 2019.
A RED FRIDAY stiff arm courtesy of @TyquellFields #HOWL | #BelieveInTheSeawolves pic.twitter.com/x9p6uqVZqT

— Stony Brook Football (@StonyBrookFB) February 26, 2021
"2019 was his first year of being a starter," Priore said. "When he went back and looked at what his strengths are and what his weaknesses were, it really came down to efficiency."
Fields used the lengthy offseason to work on what Priore called "mechanical" elements of the game. In 2021, the dynamic playmaker could show a savvy level of game management in his repertoire.
"He's way more efficient. He's gone through practices and only thrown one interception," Priore said.
Dan Smith, Villanova
2019 Statistics: 222-367, 3,069 yards, 35 touchdowns, 10 interceptions; 84 carries, 457 yards, 12 touchdowns
Putting up two-way numbers that approached those of Villanova's Walter Payton Award winner John Robertson, Dan Smith led the Wildcats to the Playoffs with a remarkable 2019.
The record-setter at his former home, Campbell, returns in 2021 as a potential Payton Award candidate in his own right.
Hollis Mathis, William & Mary
2019 Statistics: 69-154, 976 yards, four touchdowns, three interceptions; 141 carries, 546 yards, eight touchdowns
Hollis Mathis was part of the brigade of freshmen quarterbacks in 2019 who are now ostensibly juniors. In Mathis' case, the introduction of a new offensive coordinator presents an additional learning curve.
But, as William & Mary transitions from the go-go offense, a scheme built on multifaceted rushing, and adopts new coordinator Christian Taylor's more passing-based attack, Mathis is adjusting nicely.
𝗧𝗿𝗶𝗯𝗲 𝗦𝗰𝗿𝗶𝗯𝗲: With the season finally here, @WMTribeFootball QB Hollis Mathis (@hollywoodmathis) is determined to make the most of it | by @DaveJohnsonWM

📰 https://t.co/3UDQ8xyXLG#GoTribe pic.twitter.com/5kFdTR0qLU

— William & Mary Tribe Athletics (@TribeAthletics) March 3, 2021
"He's done a tremendous job. He's a football guy. Notwithstanding, he's a great young man of character, he's an excellent student, but he's a football junkie," said Tribe coach Mike London. "The relationship he and coach Taylor have developed — and with coach [Matt] Johns...having played the position — he's the first guy to meetings, last to leave, making extra throws."
Mathis was one of several Tribe members in 2019 who were freshmen and sophomores, and now assumes a leadership role with his experience.