2021 UAlbany vs New Hampshire
Undercuffler Leads UAlbany Into Showdown At New Hampshire
Undercuffler Leads UAlbany Into Showdown At New Hampshire
Jeff Undercuffler leads UAlbany into its season-opening CAA matchup against New Hampshire on Friday.
Mar 4, 2021
by Roger Brown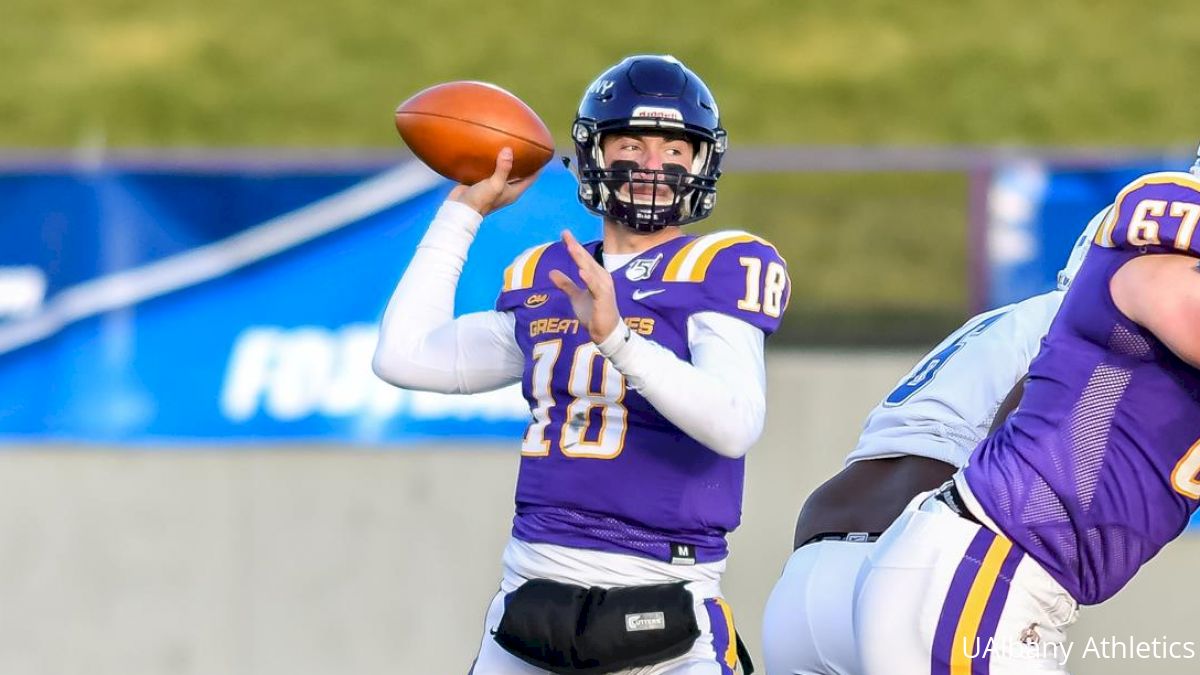 Jeff Undercuffler was a name mentioned a lot during the University of New Hampshire football team's virtual press conference Wednesday afternoon.
Undercuffler, a redshirt sophomore quarterback, and his UAlbany teammates will travel to New Hampshire on Friday night for a game that will kick off the Colonial Athletic Association spring season for both teams. UAlbany enters the game ranked No. 13 in the FCS Top 25, one spot ahead of New Hampshire.
Watch UAlbany vs. New Hampshire LIVE on FloFootball
"It starts with Undercuffler," UNH coach Sean McDonnell said. "The guy's a great quarterback in this league and in 2019 he was unbelievable in getting that team to the playoffs. He was dynamic in throwing the ball deep."
Undercufler appeared in 14 games during the 2019 season, when he completed 262 of 464 pass attempts for 3,543 yards and 41 touchdowns. His 41 TD passes were the most of any FCS quarterback, and he led the CAA in pass attempts and passing yards.
Undercuffler set the program record for TD passes in a game when he threw for six touchdowns in an FCS playoff victory over Central Connecticut. He passed for at least 300 yards if five games during the 2019 season, when he also had five games with at least four TD passes.
Game Week... Let's Gooooo 💜 pic.twitter.com/c5shJVk1iO

— K$ MOFOR (@MR__PLAYMAKER) March 2, 2021
The UAlbany offense, which has two players with starting experience, will be facing a UNH defense that returned seven starters: three defensive linemen, one linebacker and three defensive backs.
"It all starts up front with Niko (Kvietkus) Eli (Elijah Lewis), Gunner (Gibson) and myself, and a couple of the up and coming guys that we have," New Hampshire defensive end Brian Carter said. "And then on the back side just making sure our coverage is good back there, too."
UAlbany also has one of the CAA's top running backs in Karl Mofor, who led the conference with 1,290 yards rushing on 264 carries (4.9 ypc) in the 2019 season. He ran for 10 TDs.
"We've got two really great pieces there," UAlbany coach Greg Gattuso said. "I like to use a baseball analogy: I like to be strong down the middle. I think on offense and defense we're really strong down the middle. Defensive tackle, middle linebacker and safety are our strengths on defense and we'll rely on those guys."
Mirror image
New Hampshire has a 5-3 edge in the series with UAlbany, but the Great Danes have won three of the past four meetings. Gattuso said he used New Hampshire as a model when he began to rebuild the UAlbany program.
"Similar football teams," Guttoso said. "I'd be lying if I said that's not on purpose. I've always had great respect for Sean (McDonnell) and the New Hampshire football program. I remember when I was at the University of Pittsburgh we played them in one of the FCS games and when I walked off the field at halftime I was like, 'Man, this is way too big of a battle.'
"That's how they are -- tough, physical. They play the game the right way. We know what we're in for going in there. They're tough at home. We went in there a few years ago and won a game, so we know it can be done. They play great defense. Very, very sound. They don't give you many opportunities for big plays. … Anytime you play UNH you're the underdog when you go in there and play. We know that."
On the run
New Hampshire returns seven offensive starters and McDonnell said the team's strength on that side of the ball is at running back.
"I'm really pleased with Carlos Washington and I'm really pleased with Dylan Laube," he said. "I think they're two very good football players. I think they'll be able to share the task. Last (season) we had three, and sometimes when you have three they don't get enough touches. Dylan and Carlos, if they can stay healthy, give us a great one-two punch."