2021 UAlbany vs New Hampshire
UNH Legend Sean McDonnell Returns To The Sideline Friday
UNH Legend Sean McDonnell Returns To The Sideline Friday
For the first time since Nov. 17, 2018, New Hampshire head coach Sean McDonnell will return to the sildeline for the Wildcats on Friday.
Mar 4, 2021
by Roger Brown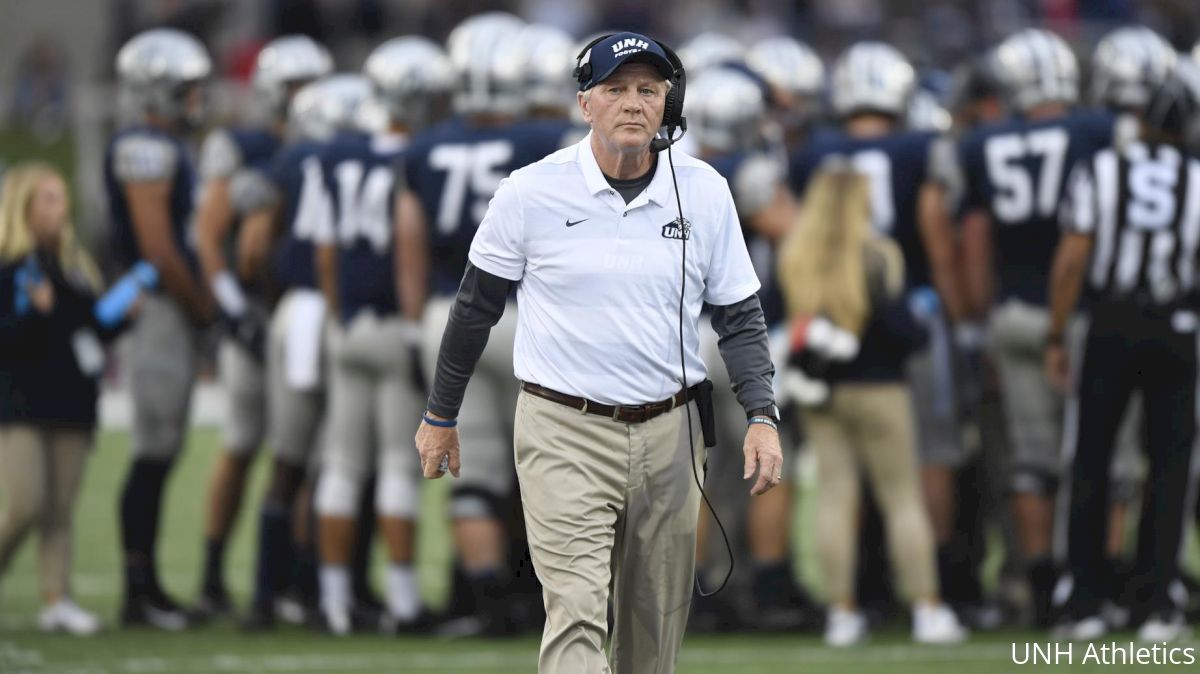 It's been a long time since the New Hampshire football program participated in a Colonial Athletic Association game. The wait has been even longer for New Hampshire coach Sean McDonnell.
The Wildcats haven't played a game since they beat rival Maine on the final weekend of the 2019 regular season, but McDonnell hasn't been on the sideline since New Hampshire was on the short end of a 24-21 decision at Rhode Island on Nov. 17 of the 2018 season.
McDonnell, 64, distanced himself from the program while dealing with cancer treatment during the 2019 season, and the 2020 CAA fall season was cancelled because of COVID-19.
McDonnell's wait will be over Friday night, when New Hampshire opens its spring schedule with a home game against Albany (7 p.m.).
Watch UAlbany vs. New Hampshire LIVE on FloFootball
"I'm sure it's going to be like riding a bike," McDonnell said. "Get back on and get going. Looking forward to it. I was connected to the team during 2019, but from afar in the press box watching games. Got to be in the locker room after the wins at home. Got to meet them when they came back on the bus after some tough losses and wins on the road.
"It's special because it's something I've been doing for a real long time. Good to have another shot at doing something that's pretty special in my life and I want to make sure I enjoy every minute of it right now."
Associate head coach Ricky Santos, a former quarterback at New Hampshire, served as the team's interim head coach in 2019, when he guided the Wildcats to a 6-5 record (5-3 CAA).
UNH running back Carlos Washington said McDonnell hasn't changed much -- if at all -- since he stepped away from the job for health reasons. McDonnell returned to work on March 1 of last year.
"Same guy definitely, but obviously he's way excited," Washington said. "He didn't get the chance to coach us last year so he's definitely been stressing to us how excited he's been. He's been on us a little harder, but we're all excited to be back together."
McDonnell, one of three two-time recipients of the Eddie Robinson Award as the FCS Coach of the Year, played defensive back at New Hampshire from 1975 to 1978. He was an assistant coach at New Hampshire under Bill Bowes, who was McDonnell's college head coach. McDonnell was elevated to head coach when Bowes retired in 1999.
"I'm excited to get back out there," McDonnell said. "I'll let you know how it feels after Friday night's game. Having the opportunity to get back out there and compete, be with the kids, the other coaches … looking forward to doing that. It's been a long time. Thursday night there will be a lot of butterflies on 71 Madbury Road (McDonnell's address)."
McDonnell has a career coaching record of 154-95 and led the Wildcats to the playoffs in 14 straight years, from 2004 to 2017. New Hampshire reached the FCS semifinals in 2013 and 2014.
"He's super fired up," UNH defensive end Brian Carter said. "You can just see the whole team is feeling that and is getting energy off that. It's a good presence to have back."
McDonnnell Year by Year
1999: 5-6 (3-5 Atlantic 10)
2000: 6-5 (4-4 Atlantic 10)
2001: 4-7 (2-7 Atlantic 10)
2002: 3-8 (2-7 Atlantic 10)
2003: 5-7 (3-6 Atlantic 10)
2004: 10-3 (6-2 Atlantic 10) NCAA quarterfinals
2005: 11-2 (7-1 Atlantic 10) NCAA quarterfinals
2006: 9-4 (5-3 Atlantic 10) NCAA quarterfinals
2007: 7-5 (4-4 CAA) NCAA first round
2008: 10-3 (6-2 CAA) NCAA quarterfinals
2009: 10-3 (6-2 CAA) NCAA quarterfinals
2010: 8-5 (5-3 CAA) NCAA quarterfinals
2011: 8-4 (6-2 CAA) NCAA second round
2012: 8-4 (6-2 CAA) NCAA second round
2013: 10-5 (6-2 CAA) NCAA semifinals
2014: 12-2 (8-0 CAA) NCAA semifinals
2015: 7-5 (5-3 CAA) NCAA first round
2016: 8-5 (6-2 CAA) NCAA second round
2017: 9-5 (5-3 CAA) NCAA quarterfinals
2018: 4-7 (3-5 CAA)
2019: Medical leave of absence
Career: 154-95 (.618) | CAA Record: 98-65 (.601)