2021 Robert Morris vs James Madison
CAA Rewind: Big Second Half Sends JMU Into League Play Riding High
CAA Rewind: Big Second Half Sends JMU Into League Play Riding High
James Madison and Elon saw their games go in opposite directions one week before the foes will meet during the CAA's opening weekend of conference play.
Mar 1, 2021
by Kyle Kensing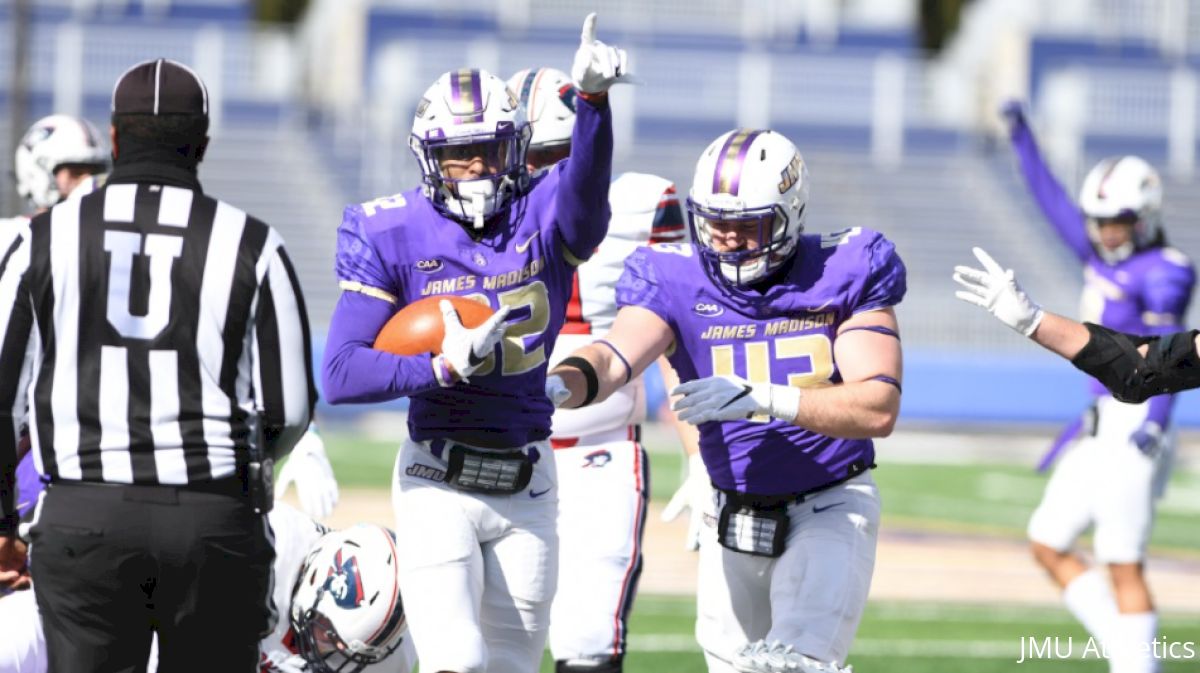 Contrasts in the importance of finishing stronger than a team starts shaped the final weekend before Colonial Athletic Association competition kicks off in the 2021 spring season.
James Madison came out sluggish in its win over Robert Morris, falling behind by a touchdown on two occasions in the first half. A dominant second half in which the Dukes looked...well, like the Dukes...flipped the course of the 36-16 game.
"My greatest fear happened, and that was the other team would come out and play with more energy than we would," said Dukes coach Curt Cignetti. "We're lucky, when you got 1-to-3 in the turnover ratio in the first half, that it's a tie ballgame and you're not down 24-0, and that's where we were."
The 16-16 halftime tie might have been worse after Cole Johnson threw three interceptions if not for the James Madison defense limiting a Robert Morris drive that started at the Dukes 11-yard line to a field goal, and forcing a turnover-on-downs on another Colonials possession starting in JMU territory.
Once the Dukes offense got rolling in the second half, the defensive intensity that limited RMU on short fields translated into a scoreless couple of quarters.
M.J. Hampton credited Robert Morris for successfully "scheming off our blitzes" in the first half, but halftime adjustments completely flipped the script.
The message at intermission?
"Some things, I can't say," Hampton said, alluding to the fiery and perhaps R-rated conversations had after a disappointing opening half. "But it was like, 'C'mon, punch 'em in the mouth.'"
Robert Morris' second-half drives:
Seven plays, 38 yards, ending in a punt
First-play fumble Hampton forced behind the line of scrimmage
Five plays, 10 yards, ending in a punt
Three plays, two yards, ending in a punt
Five plays, -8 yards, ending in a punt
Three plays, -3 yards, ending in a punt
The Dukes' dominance in the second half makes 6-of-8 quarters this season in which they have not given up a point.
Second Half Struggles Doom Elon
Elon's last non-conference tune-up before opening CAA play — against James Madison — followed the exact opposite trajectory of JMU's win.
The Phoenix came out on fire at Gardner-Webb, building a 17-0 lead in the first half and 20-7 edge at halftime. Elon struggled to mount consistent offense after intermission, which led to a 35-point Runnin' Bulldogs second half.
Elon was snake-bitten for the final 30 minutes, enduring a fumble deep in its own territory and surrendering a punt-return touchdown on a short field. These two plays bookended a fake punt that came just short of converting a critical first down.
The fake-punt call was gutsy, coming in the third quarter of a then-one-point game and on the far side of the 50-yard line. While momentum swinging, it's the kind of high-risk, high-reward decision that surprisingly has not been more prevalent in this unusual spring season.
Gambling in such a way may not always pay off, but is the kind of bold approach necessary in tough situations — and a good primer for Elon's conference opener.
A Familiar Face
Cignetti returns to Elon next week for the second time since leaving for JMU. He coached the Phoenix to consecutive postseasons in 2017 and 2018, and a landmark upset of the Dukes in 2018.
Cignetti's defensive coordinator, Tony Trisciani, took over head-coaching duties.
The Dukes won at Elon in the 2019 season, 45-10. With that first return trip to Rhoads Stadium already behind Cignetti, any sense of nostalgia or other such emotions take a backseat to the measures necessary for James Madison to play its first road game of the spring.
"The biggest right thing is our first away game with COVID and all the protocols, how we're going to get to the stadium, where we're going to tape and how many people can be in the locker room," Cignetti said.
Special Teams Standouts
While James Madison struggled early with Robert Morris, it got a starring performance from an unsung part of its defensive prowess in recent years: the punting unit.
Punter Harry O'Kelly boomed three kicks in the first half that were pinned inside the 20, including one in the first quarter that resulted in a safety.
Another downed inside the Colonials 10-yard line turned Hampton's forced fumble and a game-changing touchdown.
Placekicker Ethan Ratke, meanwhile, booted through the 61st field goal of his career to become the second-most prolific kicker in CAA history and 15th in FCS history.