2021 Robert Morris vs James Madison
Led By A Disruptive Defense, Dukes Set To Host Robert Morris
Led By A Disruptive Defense, Dukes Set To Host Robert Morris
Despite the loss of eight starters, James Madison's defense looked just as elite as it typically does in last week's decimation of Morehead State.
Feb 26, 2021
by Roger Brown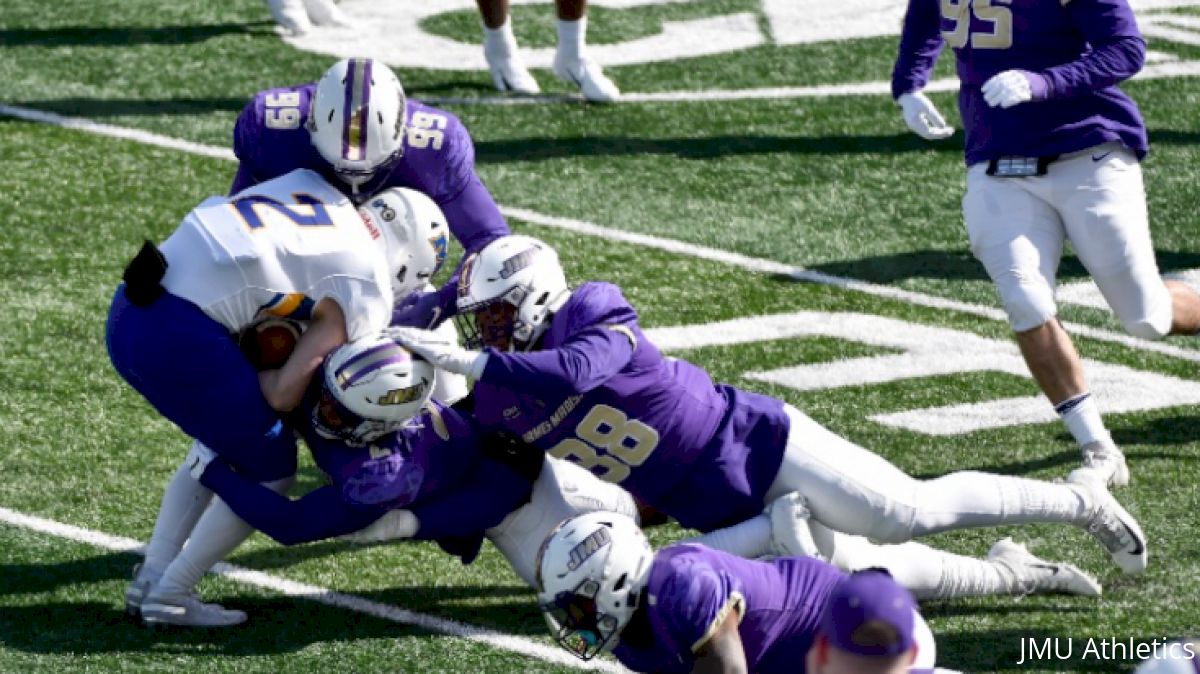 Rarely does a defensive performance get overshadowed when it produces a shutout, but that seemed to be the case with the James Madison defense following Saturday's 52-0 triumph over Morehead State.
Although most of the headlines touted JMU's 369-yard rushing performance in Saturday's win, the Dukes were just as impressive in stopping the run. Morehead State was limited to minus-6 yards on the ground and 98 yards of offense overall. Not a bad start for a defense that had to replace eight starters from the 2019 season.
JMU coach Curt Cignetti will be looking for another strong defensive effort when JMU (1-0) faces Robert Morris (0-0) Saturday at Bridgeforth Stadium.
Watch Robert Morris vs. James Madison LIVE on FloFootball
"Thought we started strong, just like we did as a team," Cignetti said. "The pads were cracking. Second quarter there was a little lull. Some of it may have been the targeting stuff -- one was reversed, one wasn't. Did what they had to do in the third quarter, and then we got to play a lot of guys in the fourth quarter.
"There's going to be things that we'll see on tape that are going to be good, and there's going to be some things we're not going to like. The main thing is that we just keep improving."
Linebacker Daimonte Tucker-Dorsey had a team-high eight tackles for JMU.
"Tucker Dorsey in my mind is a guy who has the ability to be a really, really great football player," Cignetti said. "Really maturing a lot in a lot of different ways. He's a smart player. He's athletic. He's instinctive. He can move. He's a good communicator. Tucker Dorsey has a voice -- people listen to him. … Glad we got him."
First career start. First career sack. First career 🏅.

Mikail Kamara is your CAA Rookie of the Week!#GoDukes pic.twitter.com/4NMkMOZ8j0

— JMU Football (@JMUFootball) February 22, 2021
Defensive lineman Mike Greene, defensive lineman Mikail Kamara, linebacker Mateo Jackson and defensive lineman Sean Johns each had a sack in Saturday's win. Davis, who had 7.5 sacks in 2019, has moved inside from defensive end. Kamara, who also collected three tackles, was named the CAA Rookie of the Week.
"We were pretty much playing a base defense and trying to fly around and make plays," Greene said. "We're definitely gonna try to carry the momentum into this weekend."
Scouting Robert Morris
The Colonials return 12 starters from a team that finished 7-5 overall and 6-1 in the Northeastern Conference during the 2019 season. Since then, Robert Morris has joined the Big South as a football-only member. The Colonial were picked fourth (tie) in the Big South Preseason Coaches' Poll.
Running back Alijah Jackson and linebacker Aniello Buzzacco are among the returning starters. Jackson finished second in the NEC in rushing (88.3 yards per game) and third in all-purpose (103.5 ypg) in 2019. He rushed for at least 100 yards in five games.
Buzzacco was named to the 2019 All-NEC Second Team after leading the league and ranking fifth among FCS players in tackles with 131, an average of 10.9 per game. He recorded at least 13 tackles in a game seven times, including a career-high 18 stops in a 24-20 win over Bryant.
Robert Morris also returned four starters on its offensive line. Redshirt junior quarterback George Martin completed 52 percent of his passes (102 of 196) for 1,348 yards and 11 TDs in 2019.
Noise Please
JMU announced Wednesday that 1,000 spectators will be allowed at Bridgeforth Stadium for the team's CAA game against William & Mary on March 13. Currently, only friends and family members are permitted to attend JMU home games.
Saturday's game will be the second meeting between JMU and Robert Morris. The Dukes won the first matchup 73-7 in 2018.
JMU will begin the CAA-portion of its schedule March 6 when it plays at Elon, which will also air live on FloFootball and the FloSports app.