2021 Villanova vs Stony Brook
Stony Brook's Sam Kamara Is Back & He's Ready To Wreak Havoc
Stony Brook's Sam Kamara Is Back & He's Ready To Wreak Havoc
After a shoulder injury ended his 2019 season, Stony Brook's Sam Kamara is finally back where he belongs: starring for the Seawolves.
Feb 25, 2021
by Kyle Kensing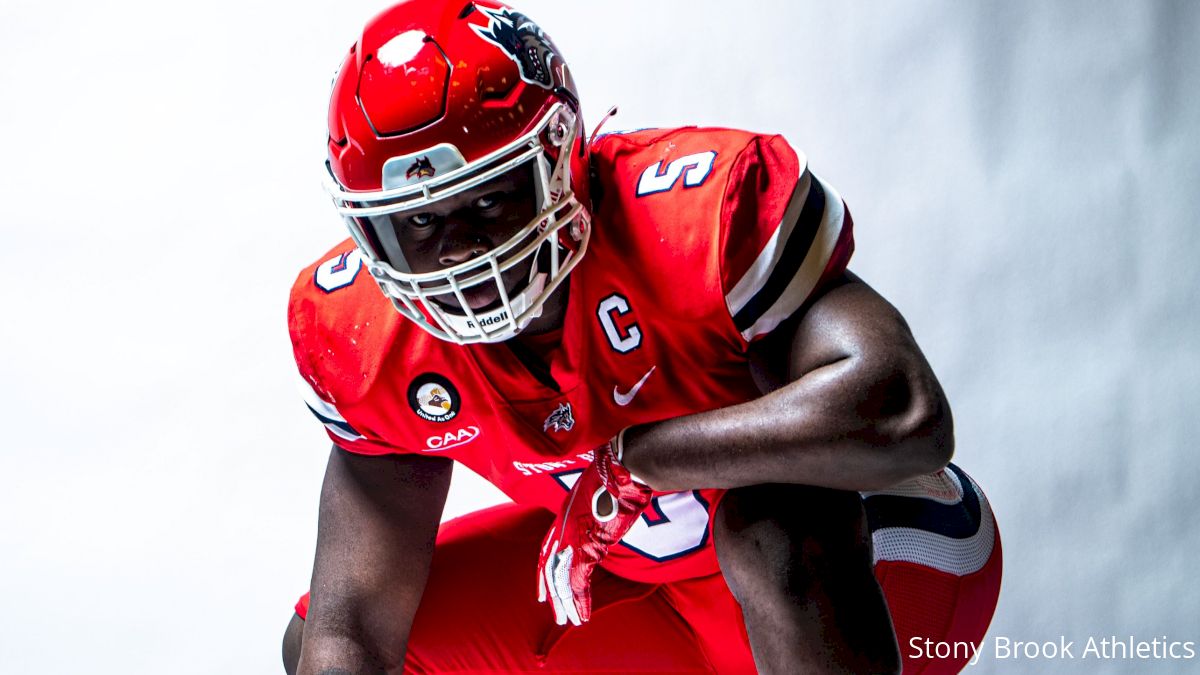 Sam Kamara plays with a rarely matched ferocity on every snap, in total control of his place in the trenches. But the Stony Brook defensive lineman spent a portion of the past year in a situation beyond his control.
A shoulder injury midway through the 2019 campaign, just a few snaps in the fifth game — one game past the NCAA's four-game benchmark for redshirts — left Kamara's eligibility in doubt.
Watch Stony Brook vs. Villanova LIVE on FloFootball
"It was an absolutely nerve-racking time, not knowing if I was getting it back," Kamara said. "Especially the way I went out. I just felt like that's not the way to end it."
Fortunately for Stony Brook — and unfortunately for Seawolves opponents — Kamara gets to write a more fitting ending to his college career. His waiver petition for an additional year of eligibility was granted, an undeniable boon for his team.
Well ... some of his team, anyway.
"It's not good for our offense," Stony Brook coach Chuck Priore said with a laugh, describing Kamara's impact back on the practice field.
A terror for opposing backfields in 2018, Kamara racked up nine sacks and 11.5 tackles for loss. He came back for 2019 poised to lead one of the most talented defenses in the Football Championship Subdivision, earning preseason Colonial Athletic Association 1st Team recognition and All-American buzz.
Almost 18 months will have lapsed since Kamara's promising 2019 ended prematurely and his return to game play, the result of the COVID-19 pandemic pushing the Football Championship Subdivision season to the spring.
A delayed 2020 campaign was not necessary for getting Kamara back up to speed — "If the season was to happen in the past fall, I would have been ready. Being that the season is happening now? I'm still ready," he said — but Priore detailed how the standout pass-rusher used the extra time away.
"YOU CAN FEEL THE ENERGY."
🗣 @Samkay_11 #HOWL | #BelieveInTheSeawolves pic.twitter.com/QoLgKt5uTA

— Stony Brook Football (@StonyBrookFB) January 27, 2021
"He had to get healthy from the injury and surgery," the coach said. "Now he's 14 months out of surgery instead of playing seven months out of surgery. That added time of working out, he's 295 and chiseled."
At 6-foot-2 and now 295 pounds, Kamara has NFL size to match his impressive stats. He can line up on the interior or on the edge with equal effectiveness.
Losing that versatility impacted the Stony Brook defense, "more than you realize, just how he affected schemes and caused havoc," according to Priore.
The exclusivity of the spring football season offers Kamara a spotlight beginning March 6 against Villanova, at which time scouts and the football-watching nation alike will get to see him operate. Expect Kamara to be a fast-riser among 2022 NFL prospects — though that's not his sole motivation in his comeback year.
"It's a credit to the kid, he's certainly excited about the opportunity at the next level, [but] you wouldn't know that's part of his life if you watched our practice," Priore said. "It's all about playing football, getting better and being a good teammate."
As the catalyst for the team around him, Kamara is poised to lead a productive Seawolves in 2021. Stony Brook welcomes back veterans Reidgee Dimanche and Justin Burns, and features a fearsome front with Casey Williams and Brandon Lopez alongside Kamara.
The unit has plenty of lost time to catch up on, Kamara in particular.
"I'm going to pick up right where I left and be causing havoc with my brothers," Kamara said. "We're all ready to go, we're all ready to attack this season, so I say people need to watch out for us."