2021 Robert Morris vs James Madison
JMU Running Game Flashes Depth & Dominance In Opener
JMU Running Game Flashes Depth & Dominance In Opener
James Madison flexed its backfield depth during a 52-0 thrashing of Morehead State in its season-opener on Saturday.
Feb 24, 2021
by Roger Brown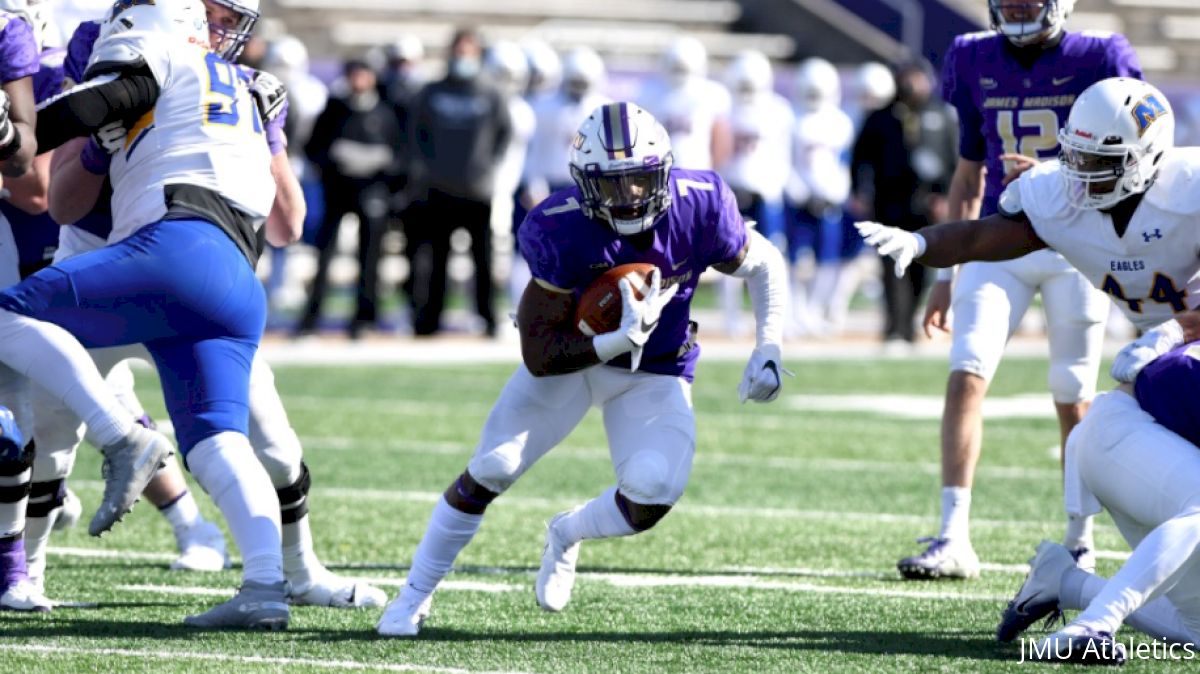 Numerous Colonial Athletic Association teams have featured multi-pronged rushing attacks through the years, but perhaps no CAA program has enjoyed the depth at running back that James Madison has this season.
That depth was on display in James Madison's 52-0 triumph over Morehead State on Saturday. The Dukes rushed for 369 yards -- an average of 6.4 yards per carry -- and six touchdowns in the victory.
Watch JMU vs. Robert Morris LIVE on FloFootball
Four JMU running backs – sophomore Latrele Palmer, sophomore Solomon Vanhorse, senior Jawon Hamilton and senior Percy Agyei-Obese – all received significant playing time in a rotation through the first three quarters before JMU coach Curt Cignetti put some clean shirts in for the game's final 15 minutes. Each player had at least one rushing touchdown.
"Normally the rule is three carries in a row and then you're out," Cignetti explained. "Today we went with two. We did run Percy one time three times in the second half. That's pretty close to the plan. ... We're trying to keep them fresh and keep hammering fresh guys at people.
"The line was doing a great job. We wanted to establish our physicality early in this game and I thought we did."
Agyei-Obese rushed for a game-high 116 yards and a touchdown against Morehead State.
Vanhorse finished the game with 82 yards and a TD on five carries.
Palmer ran for 90 yards and two TDs on 14 carries.
Hamilton had 10 carries for 68 yards and two TDs.
It was the fifth time JMU has surpassed 300 yards rushing in a game since Cignetti took over as the program's head coach after the 2018 season.
See ya! ✌️

🐶 14, 🦅 0 | 6:40 1Q#GoDukes pic.twitter.com/SRDpW9rlir

— JMU Football (@JMUFootball) February 20, 2021
Morehead State coach Rob Tenyer said the talent that was on display in the JMU backfield was impressive.
"They've always had some (running backs), but now they've got some depth," Tenyer said. "[Hamilton] is pretty darn good and they've got some players there."
Robert Morris is the next team that will attempt to slow down JMU's rushing attack. The Colonials will play at JMU on Saturday (noon).
Hamilton and Agyei-Obese had 2,135 rushing yards between them in 2019, when JMU averaged a CAA-best 242.8 yards on the ground per game. Vanhorse had 382 yards rushing and five TDs on 88 carries in 2019, when Palmer finished the season with 400 yards and four TDs on 60 rushing attempts.
Vanhorse said sharing the workload won't be an issue for the JMU running backs this season.
That extra effort at the end paid off! 👏

🐶 49, 🦅 0 | 2:58 3Q#GoDukes pic.twitter.com/TwGA0VUAxm

— JMU Football (@JMUFootball) February 20, 2021
"We'll do whatever to get wins," he said. "It does really matter to us how many carries we get, how many touches we get. We'll do whatever to win.
"It's competition. It hypes us up. For one person to do that (have success) the next person has to go and do the same thing. We're always competing with each other in practice whatever we do -- lift, run … we always want to better each other."
In addition to Agyei-Obese, Hamilton, Palmer and Vanhorse, the Dukes have two other capable running backs in freshman Kaelon Black and redshirt freshman Austin Douglas.
Palmer gave most of the credit for Saturday's success on the ground to JMU's offensive line.
"They were opening up the holes for all the running backs all day," he said. "I think it will be very successful keeping us all fresh. We can keep rolling."