2021 Morehead State vs James Madison
Despite Oddity Of Spring, JMU's Title Aspirations Remain Unchanged
Despite Oddity Of Spring, JMU's Title Aspirations Remain Unchanged
Curt Cignetti and James Madison embarks upon a spring season on the heels of a run to the 2019 FCS National Championship.
Feb 17, 2021
by Kyle Kensing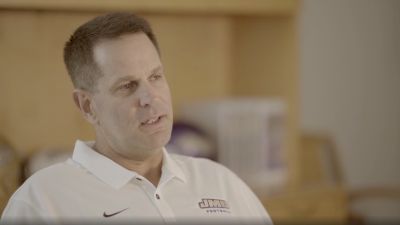 James Madison's first season under coach Curt Cignetti came just a few yards shy of the pinnacle. The Dukes' 2019 campaign ended at the goal line with a chance to force overtime against North Dakota State in the FCS Championship Game.
While JMU's last contest may have ended in defeat, the season was an undeniable success. The Dukes steamrolled competition en route to a Colonial Athletic Association title, and in the playoffs, blew out top-tier competition like Northern Iowa and Weber State.
Watch JMU Open The Spring 2021 vs. Morehead State LIVE on FloFootball
COVID-19 denied James Madison another crack at Frisco in the fall, and the unusual circumstances of the spring 2021 campaign complicate the process of pursuing the title. However, James Madison boasts the talent and depth to balance competitive ambitions and preparations for the fall as a unique second season to the Cignetti era begins.
---
Head Coach: Curt Cignetti (Second year at James Madison, 14-2; 10th season overall, 81-28)
Offensive Coordinator: Shane Montgomery
Defensive Coordinator: Corey Hetherman
2019 Record: 14-2; lost FCS National Championship Game to North Dakota State
---
Defense
James Madison's dominance en route to the CAA championship and National Championship Game in the 2019 season started with overwhelming defense.
Gone from the national runner-up defense are standouts including defensive ends John Daka and Ron'Dell Carter, cornerback D'Angelo Amos and linebacker Dimitri Holloway. For plenty of programs, replacing that group would be a borderline untenable. At James Madison, however, it's an opportunity for new stars to emerge.
Because of the short turnaround between the spring season and kickoff of fall 2021, the upcoming season could put the spotlight on some of the younger Dukes. Cornerback Antonio Webb, a 3-star signee in the 2020 recruiting class, is one such player to watch. Keep an eye on returning Dukes, as well, like defensive end Tony Thurston.
The spring season won't be without some familiar faces, either. Mike Greene, arguably the best interior lineman in the country in 2019, will get to show off his rushing ability at end.
Offense
The Dukes put up a whopping 40 points per game in 2019, hammering away on opponents with a physical style that dared defenses to stop them; none really could. Veteran quarterback Ben DiNucci was outstanding, and his departure for the NFL leaves a considerable hole.
Cole Johnson will get an opportunity to make his mark on the position, while Gage Moloney returns after having made an impact in last January's National Championship Game.
No matter who lines up at quarterback, they'll operate behind one of the most dominant front fives in college football. Liam Forndel is back anchoring a line that was critical to the success of a talented and multifaceted running-back rotation.
Percy Agyei-Obese, Juwan Hamilton and Solomon Vanhorse all showed out in 2019. With the depth at the position, no one back will have to shoulder too much of a workload in the spring.
Development of a new crop of pass-catchers will be the most intriguing storyline for this offense. Brandon Polk is gone after a historic 2019. Dylan and Riley Stapleton are also out. Kyndel Dean is the most productive returner, having caught 15 passes for 263 yards.
Special Teams
Special teams may not have garnered as much attention for James Madison as it did other CAA programs in 2019, but various Dukes were as significant to the dominant season as the offense and defense. Garrett Groulx, for example, keyed the rout of Monmouth in the Playoffs with a field-goal block.
Harry O'Kelly played his part in the defense's dominance, setting the table with some outstanding punting. Twenty-one of his 49 attempts were downed inside the 20-yard line, extending his mark to 70 for his career.
Placekicker Ethan Ratke, meanwhile, holds program records with 59 field goals made and 319 total points scored.
The Schedule
Feb. 20 vs. Morehead State | WATCH LIVE
Feb. 27 vs. Robert Morris | WATCH LIVE
March 6 at Elon | WATCH LIVE
March 13 vs. William & Mary | WATCH LIVE
March 20 vs. Richmond | WATCH LIVE
March 27 at William & Mary | WATCH LIVE
April 3 at Richmond | WATCH LIVE
April 10 vs. Elon | WATCH LIVE