CAA
Richmond's Beau English Turns Pandemic Into Law School Opportunity
Richmond's Beau English Turns Pandemic Into Law School Opportunity
Richmond quarterback Beau English is parlaying the pandemic into a head start into law school.
Feb 16, 2021
by Kyle Kensing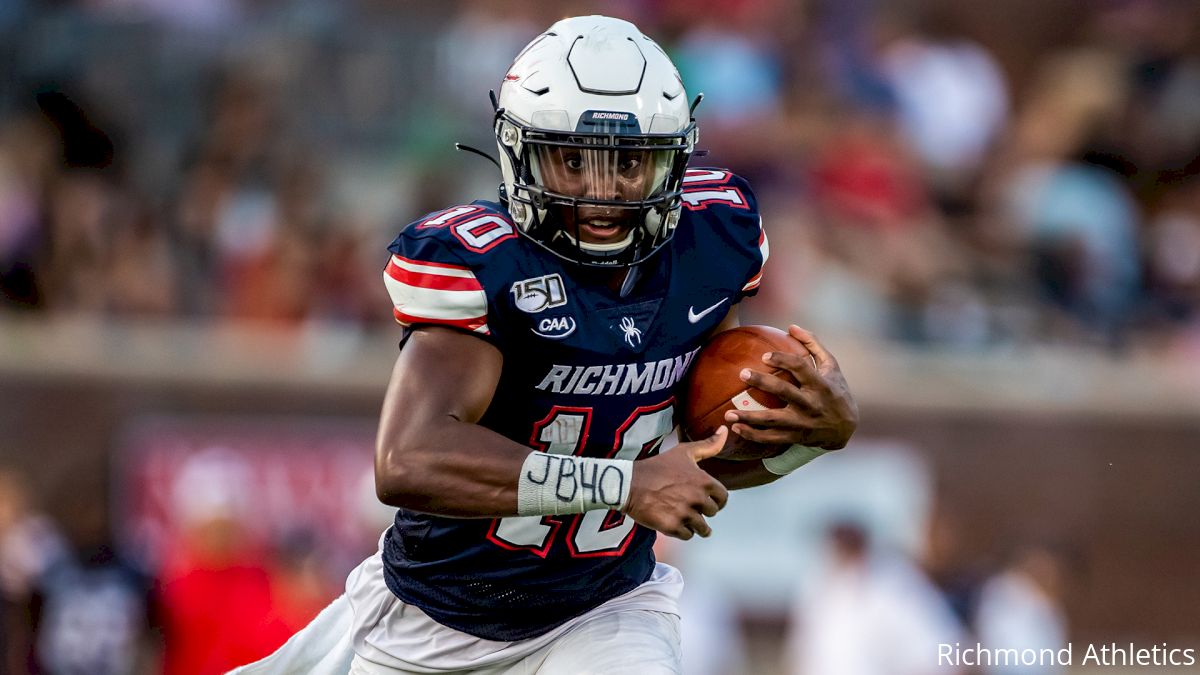 Plenty of us set lofty goals during the forced downtime brought on by COVID-19, but how many can say they reached an especially ambitious milestone?
Richmond quarterback Beau English can, and it's one of the most remarkable accomplishments of the pandemic era. In the coming season, English will balance playing Division I college football with law school — two undertakings that, on their own, are some of the most taxing commitments a student can face.
But it's through football that English chose to pursue law.
"When I heard we were getting an extra year of eligibility because of COVID — I graduate this year, so I figured I'd have a good chance to make some progress on my next degree — law school is only three years, and I'll be playing football for two of them," he said. "I'll be pretty much wrapping up law school by the time I finish up football."
English may not complete his law education with playing eligibility remaining, so we'll likely miss out on seeing college football's only jersey that includes "ESQ." on the back. But if English were to finish law school before the end of his Richmond playing career, it would fit the whirlwind process by which he made it to The T. C. Williams School of Law at the University of Richmond.
English said he "didn't know was going to apply to law school until July or August." Once he decided, English had just about four months to prepare for the LSAT — a process that a majority of aspiring law scholars begin a year to two years ahead of time.
For every broken quarantine resolution to learn a foreign language or get in better shape, English's accelerated LSAT prep is an exception.
"It definitely took a lot of discipline to make sure I was using my free time well," he said. "I had to make sure I was studying the right things and be efficient with my time."
Like watching film to break down a defense, English went to work familiarizing himself with the material at his disposal.
"The test is broken up into parts," he explained. "One of the parts is logical reasoning. I started off struggling with it, because I had never seen anything like it before. But I kept practicing and practicing, and by the time I took the test, I was ready."
The "really hectic process," as English described it, doesn't end in 2021. Football is its own chaotic situation in this calendar year, with the Football Championship Subdivision packing two seasons into nine months.
The truncated spring season kicks off for Richmond in March against Capital Cup rival William & Mary. It's the first of six Colonial Athletic Association games for the Spiders, excluding a possible Playoffs berth.
At most, Richmond will have about five months before it opens the 2021 season. To help alleviate the risk of injuries with the reduced downtime, Spiders coach Russ Huesman said he plans to play deep rotations.
"They're both going to play, no question about that," Huesman said of quarterbacks English and Joe Mancuso.
Both English and Mancuso played extensively in the 2019 campaign. English passed for two touchdowns and rushed for two in eight games.
With the spring season, fall 2021 and fall 2022 — afforded as a result of the additional eligibility the NCAA granted in response to COVID-19 — English should have plenty more opportunities to produce on the field.
Still, even if he never scores another touchdown for the Spiders, the pride Huesman takes in his quarterback would be no less.
"I'm so proud of him to get that opportunity to go to law school, that just tells you a little bit about him as a person," Huesman said.