2021 Tropical Bowl
Zac Thomas Defies Doubt On Way To The NFL
Zac Thomas Defies Doubt On Way To The NFL
The quarterback is on an odyssey over the coming months in pursuit of his pro aspirations, starting with the 2021 Tropical Bowl in Orlando.
Jan 15, 2021
by Kyle Kensing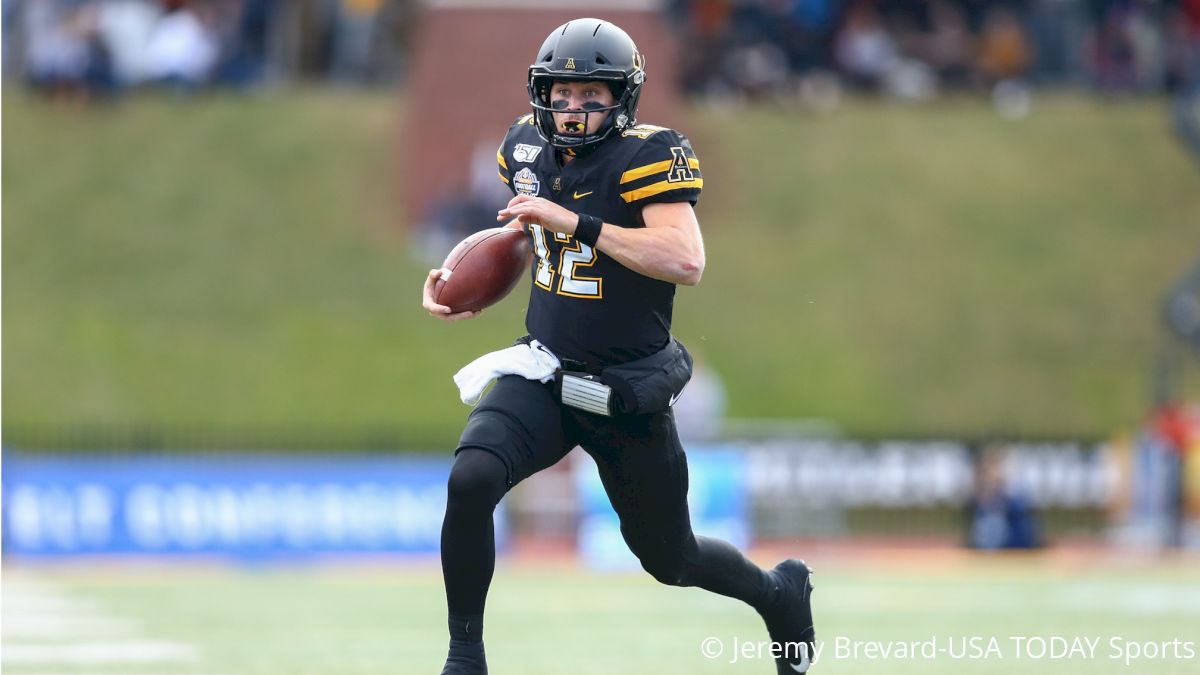 An audience of more than 100,000 rooting for you to fail isn't the most welcoming way in which to start a new job. For Zac Thomas, these conditions set a fitting tone.
Thomas made his first college start, quarterbacking Appalachian State at Penn State in 2018. Despite chatter of another Mountaineers game long past -- App State was in Big Ten Country exactly 11 years to the day of its historic win at Michigan, didn't you know? -- little was expected of the team from Boone.
The experts in the Mojave Desert deemed Appalachian State a four-touchdown underdog. The matchup didn't even make the cut for ESPN College Gameday's panel of picks.
Gone was Taylor Lamb, a four-year starter who passed for 90 touchdowns and almost 10,000 yards, rushed for more than 2,000 yards and scored another 23 times on the ground. Thomas took over as a relative unknown, a 2-star recruit from Hewitt-Trussville (Alabama) with just 10 collegiate pass attempts to his name.
In front of a Beaver Stadium crowd equal to the population of a mid-sized city, all Thomas did was pass for 270 yards, two touchdowns, and run for another 43 yards with a score en route to an overtime classic.
And, as Thomas put it, "We should have won the game."
That one might have gotten away from Thomas and the Mountaineers, but very few did in his three years as starting quarterback. The quarterback wrapped up a college career with two Sun Belt Conference championships, the league's Offensive Player of the Year award in 2018, and a Top 25 finish in 2019 (as well as finishing 26th in 2018 polling).
Thomas' college career was remarkable indeed, continuing the impressive quarterback legacy Appalachian State's established in recent years. Armanti Edwards won two Walter Payton Awards and two national championships at the FCS level; Lamb led the smooth transition to FBS; and Thomas helped establish the new standard for the program.
"The seniors paved the way for my class," Thomas said. "They passed us the torch and we kept it going."
Thomas also praised the "great head coaches" he played for at Appalachian State. The program's success provided new opportunities for Scott Satterfield (Louisville) and Eliah Drinkwitz (Missouri), and Mountaineers alum Shawn Clark this past campaign.
Before the program's FBS era, however, Jerry Moore was the picture of stability. The 23-year Appalachian State head coach has been another resource for Thomas on his football journey.
Thomas' is an especially impressive resume for a quarterback in his position, who said as far back as high school faced down doubters.
"It's the biggest blessing to me," Thomas said of being overlooked. " saying I wasn't going to be good enough to play in college. That's what's fueled me to be a better quarterback, to put in the work to be the best quarterback I can be."
Debuting in Happy Valley with low outside expectations was just par for the course, so it's small wonder Thomas fared so well. The same goes for his replacing Lamb in general, a job Thomas described as "hard shoes to fill."
And Thomas is again ready to prove himself as an NFL prospect.
The quarterback is on an odyssey over the coming months in pursuit of his pro aspirations, starting with the Tropical Bowl in Orlando. Thomas will take snaps for the National team and distribute the ball to such noteworthy fellow all-stars as Greg McCrae and Riley Lees.
He'll also have another outlet to display the qualities that make Thomas an intriguing NFL prospect. He cited his dual-threat playmaking as his strongest trait, particularly within context of where the pro game is trending.
Reigning Super Bowl champion Patrick Mahomes is a prime example, having rushed for 302 yards in the 2020 regular season. Last season's MVP, Lamar Jackson, just completed his second campaign running for more than 1,000 yards.
Having passed for a hair below 7,000 yards in three seasons, and rushing for more than 1,300 yards with 19 touchdowns, Thomas exemplifies a skill set the pros once shunned but now embrace.
Making that step from college to the NFL comes with inherent pressure, but Zac Thomas' entire career has been defined by his ability to defy expectations in pressure-packed situations. You can ask 105,000 people in Pennsylvania about it.