2021 Tropical Bowl
After Pit Stop At Charlotte, Tre Harbison Is Ready For A Shot At The League
After Pit Stop At Charlotte, Tre Harbison Is Ready For A Shot At The League
Tre Harbison rushed for nearly 2,700 yards at NIU and Charlotte. He will use the Tropical Bowl to further showcase his ability to NFL talent evaluators.
Jan 15, 2021
by Kyle Kensing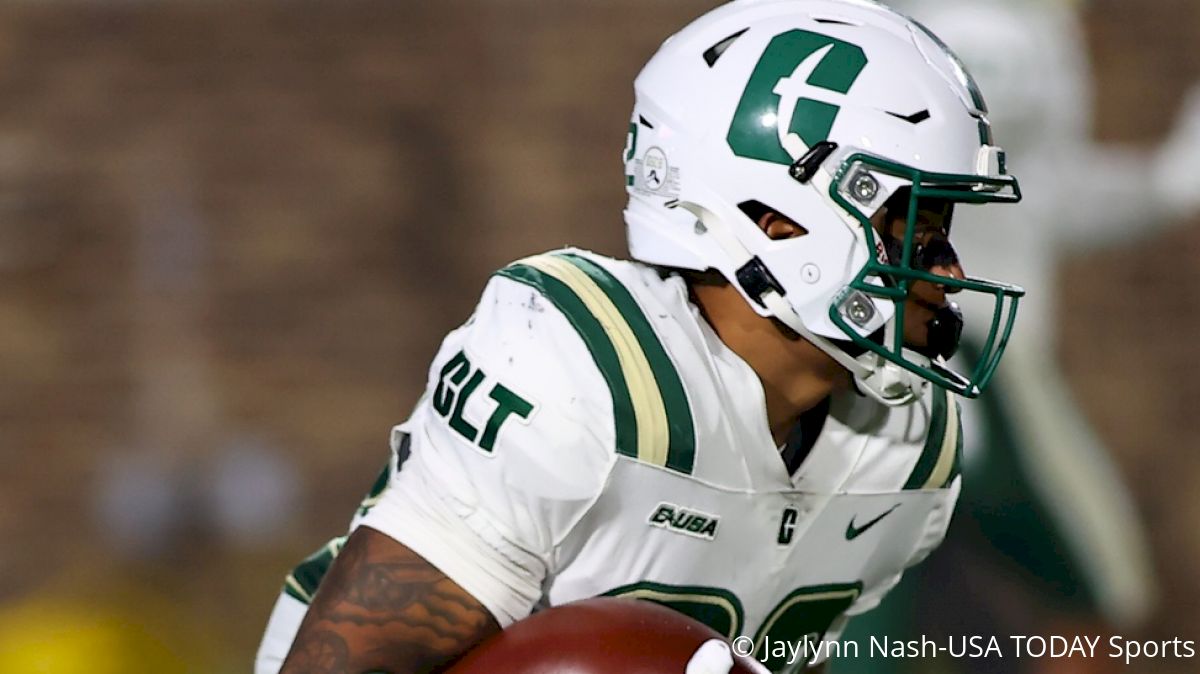 Perhaps you have known someone, or are that someone, who wishes they took greater advantage of the learning opportunities college offers. Charlotte 49ers running back James "Tre" Harbison III, on the other hand, soaked up learning opportunities.
A standout ball-carrier, Harbison didn't rest on his laurels as a two-time 1,000-yard rusher. Instead, he grabbed his notepad and pen to hit up special teams meetings, he took on new responsibilities in his final season at the college level, and prepped for the changes of the game.
Football is ever-evolving, but the game has undergone changes in the past decade with remarkable speed — and speed is the changes' catalyst.
In 2011, NFL media marveled as New England Patriots quarterback Tom Brady took a vast majority of snaps from the shotgun and the team attempted almost 200 more passes than rushes. One season prior, nine quarterbacks around the League attempted 500 or more throws in both the regular season and Playoffs combined.
Through the 2020 regular season, nearly half of the entire NFL's starting quarterbacks attempted 500-plus passes. The role of running backs has shifted, as well. In 2010, seven ball-carriers rushed more than 300 times compared to just two in the 2020 campaign.
Every-down backs who charge through the tackles are more luxury than necessity these days, but a back who can pick up blitzes or function as a fourth, fifth, sixth option in the passing game? He's a must-have for any pro roster.
It took a generation, but the NFL has made the collective shift that began in college football around the turn of the millennium. Harbison transferred to Charlotte ahead of the 2020 season, recognizing the direction the sport has trended and eager to prepare himself for the future.
"I was able to work on parts of my game I didn't necessarily ," Harbison said. "It gave me an opportunity to mold my game for the pro level."
🎦 WATCH: Tre Harbison scores his 2nd TD in as many games as a Niner.

CLT down 4. 13 minutes to play.

Game on.#PEEP • #GOLDstandard pic.twitter.com/tDqsPsijC2

— 𝗖𝗛𝗔𝗥𝗟𝗢𝗧𝗧𝗘 𝗙𝗢𝗢𝗧𝗕𝗔𝗟𝗟 (@CharlotteFTBL) October 3, 2020
Harbison gets to present his lessons in the lead-up to the 2021 NFL draft, starting in Orlando with the Tropical Bowl.
He's playing for the American team in the all-star showcase, culminating a career in which he repped Northern Illinois and Charlotte.
Harbison rushed for 2,682 yards combined in his four years and scored 20 touchdowns — four in the truncated, six-game 2020 season.
"I'm a powerful runner. I'm always looking for the tough yards," he said, describing his rushing style.
The game will always have a place for hard-running grinders, but only those who can also fit into the changing landscape reliant on a more wide-open passing game.
That's where Harbison's senior-year studies factor in.
"Pass blocking is very important to have in your arsenal. You have to keep the franchise player healthy," Harbison said. "Catching the ball out of the backfield, at Charlotte, they gave me the opportunity to work on my game being a pass-catcher.
"That's the best teacher, experience. We ran the ball a lot, but we were a spread, air-raid type of team," he said of Charlotte. "Getting the experience to work on outside zones ."
Harbison also had the opportunity to finish out college at home, contributing to the growth of a fledgling and fast-rising program. Charlotte launched football just seven years ago, and made its first bowl game in 2019.
The Shelby, N.C., native Harbison got to add his own signature to the still-growing history of 49ers football. If he's selected in this spring's NFL draft, he'll be known in Charlotte lore as the program's first skill-position player selected.
For Harbison, who said he has dreamed of playing in the pros since watching games with his father as a grade-schooler, the pursuit of the NFL is worth moment spent in meetings with notepad and pen in hand.