2021 Tropical Bowl
Ottawa's Dylan St. Pierre Ready For 2021 Tropical Bowl Opportunity
Ottawa's Dylan St. Pierre Ready For 2021 Tropical Bowl Opportunity
University of Ottawa wide receiver Dylan St. Pierre is ready for his opportunity at this year's 2021 Tropical Bowl.
Jan 14, 2021
by Kyle Kensing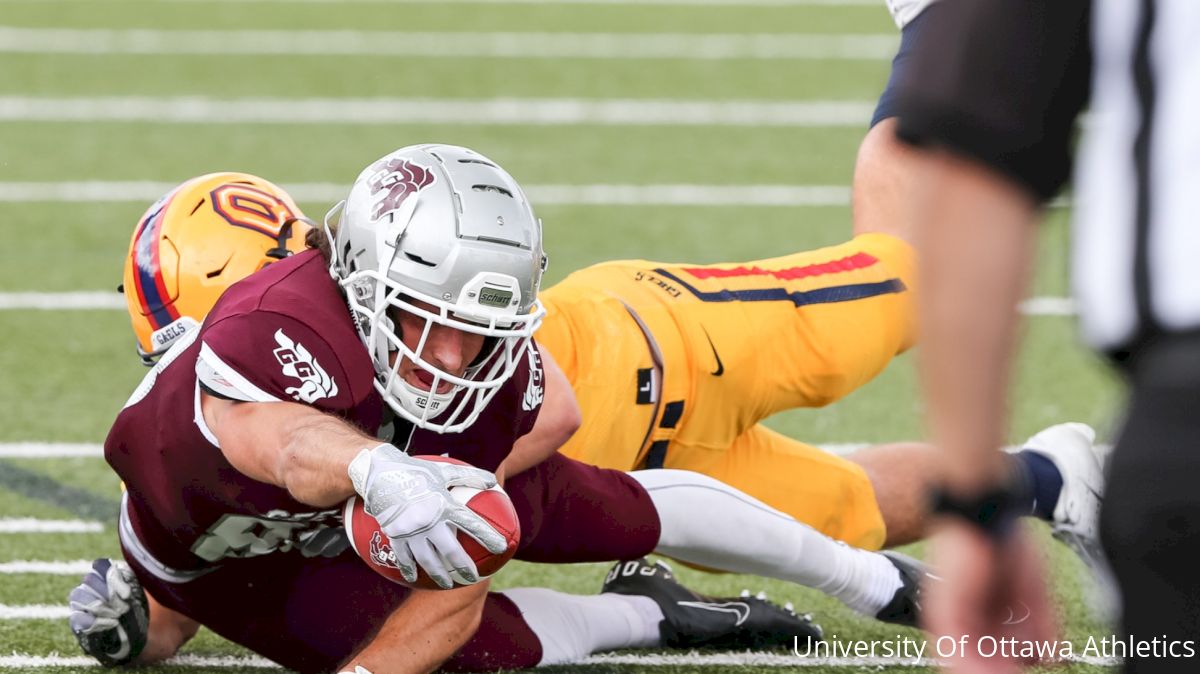 On June 8, 2020, U SPORTS announced the cancellation of its fall sports season in response to the COVID-19 pandemic.
"Taking into account the academic realities of university sport, we arrived at a point where a tough decision had to be made," said Lisette Johnson-Stapley, Chief Sport Officer of Canada's college sports governing body, in a statement released last spring.
While the U SPORTS season did not proceed, various plans for football after the 2020 season remain -- the 2021 NFL draft among them.
The Shield doesn't stop, not even for a pandemic, and neither has University of Ottawa wide receiver Dylan St. Pierre.
St. Pierre is one of five representatives of U SPORTS programs playing in the 2021 Tropical Bowl. The Tropical Bowl is an opportunity for pro aspirants to show out, regardless how their 2020 season went.
For the five U SPORTS players -- St. Pierre, Arjay Shelley (University of Manitoba), Tommy Roadley-Trohatos (University of Sherbrooke), Shelton Williams (Acadia University) and Pier-Olivier Lestage (Université de Montréal) -- and those from NCAA Div. II programs, the all-star game in Orlando offers a platform for a closing statement.
What St. Pierre has put on film is plenty impressive. He caught 23 passes with a touchdown for the Gee-Gees in 2019, and scored four touchdowns in 2018, combining size at 6-foot-2 that makes him a red-zone threat with plenty of speed to unleash the deep ball.
"Luckily, we've got a strength and conditioning coach at U. Ottawa, Joey Kwasniewski, and he really made himself for me and other guys willing to put in the work," St. Pierre said. "He was there to help me get ready for and get ready for the combine in the spring."
Staying sharp and game-ready even without games on the docket was crucial for pro hopefuls like St. Pierre. The benefits are obvious, but in doing so, those players who have waited amid a once-in-a-century event like this pandemic return to the gridiron prepared to transition right back into the parts of the game that matter most.
"The thing I missed most was just playing football. I love it all: I love the meetings, going to practice with my teammates and seeing my friends every day there. We're such a close-knit unit, it's like a family," St. Pierre said. "Not being able to see them as often, and not getting to suit up in front of our fans on game day, it's disappointing.
"But I'll get that opportunity in Florida," he added.
COVID-19 remains a very real and persistent concern in a new year. On Jan. 7, the Canadian government implemented regulations for travelers into the nation, including negative tests for anyone over 5 years old, as well as mandatory quarantining periods upon entry.
St. Pierre said he plans to return to Canada after the bowl game. With the NFL still deciding on the combine, but a tentative date of March 8 set, international prospects take on a unique challenge.
"Travel's a bit complicated, but I'm lucky I've got a gym setup at home. I'll be training there during my 14-day quarantine," St. Pierre said. "I'll get right back working with after that to get ready for the combine."
This three-month stretch of all-star games, the combine and team workouts is all about players showing off their tangible skills. In 2021, players like St. Pierre are demonstrating a quality that cannot always be so accurately measured: their dedication.