CAA
CAA Signing Day Rundown: JMU & Elon Bring In Biggest Classes
CAA Signing Day Rundown: JMU & Elon Bring In Biggest Classes
COVID-19's impact on the college football landscape reached far beyond the postponement of the 2020 FCS season until the spring.
Dec 17, 2020
by Kyle Kensing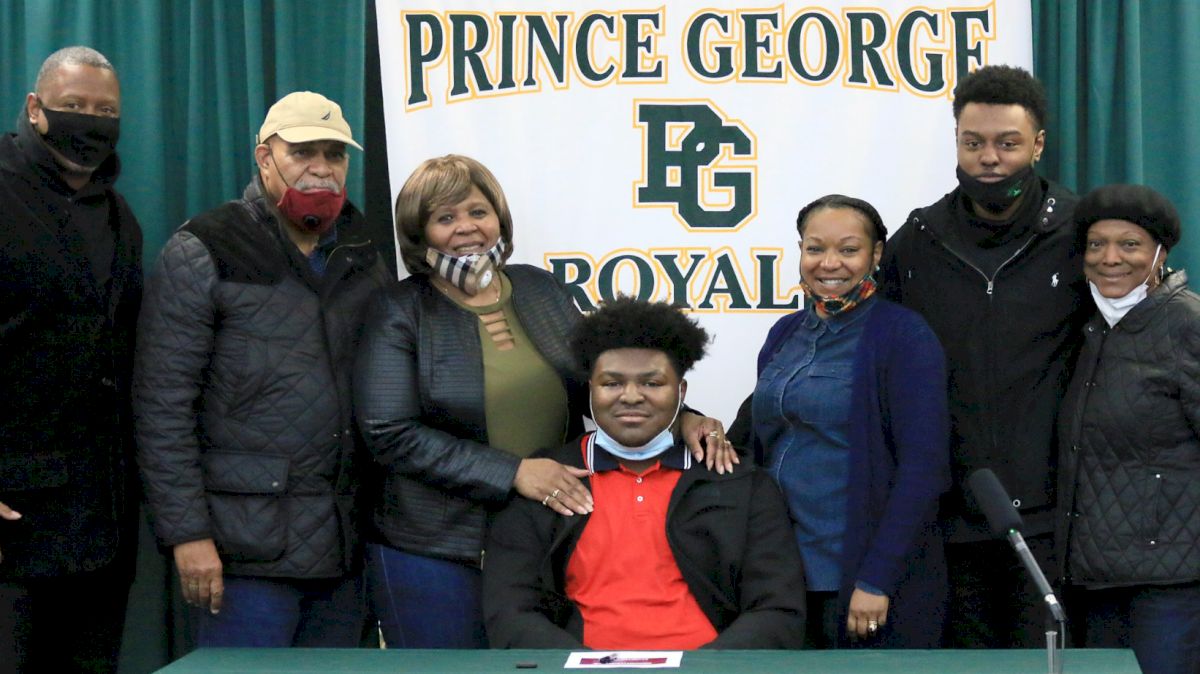 COVID-19's impact on the college football landscape reached far beyond the postponement of the 2020 FCS season until the spring. The early-period National Signing Day underscores the point.
"It's been an unusual recruiting process, mostly done electronically through Zoom," James Madison coach Curt Cignetti explained in his Signing Day press conference.
A Zoom background of Bridgeforth Stadium won't match the real thing, but the Dukes coaching staff and the rest of college football were all in the same situation. Elon coach Tony Trisciani noted in his statement that the Phoenix staff, "had to rely heavily on past camp evaluations, junior film and workout film."
"This was a strange, strange, strange year," said Richmond coach Russ Huesman in his press conference. "I feel for a lot of the 2,021 players are coming out. They didn't get all the opportunities that they should have gotten as far as official visits, unofficial visits, getting to know coaches, home visits from coaches."
Given the limitations the pandemic placed on this recruiting period, Colonial Athletic Association programs still made a splash on this, the third signing period since most last played. Indeed, little about this recruiting period has been normal -- but some of the new additions to the CAA still had an opportunity to celebrate the occasion in style, like James Madison signee Messiah Russell.
Officially a Duke! 🐶 @JMUFootball @JMUCurtCignetti @EddieWhitley37 #godukes pic.twitter.com/Jxu4HVa2Af

— messiah russell (@_siah3) December 17, 2020
Delaware
Players Signed: 8
Danny Rocco and his staff recruited the area surrounding Delaware well, landing seven players from Pennsylvania, Maryland, Virginia and New Jersey. Building a competitive recruiting class starts with keeping local prospects at home, any coach will tell you, but going outside the territory can help, too.
To that end, the Blue Hens add Texas-based defensive lineman Pete Melle. Melle told BlueHens.com, "Being from Texas, I didn't know much about UD until I was recruited. I had a lot of people contact me who had a relative or friend who attended UD. They all said they loved the campus and got a great education."
Elon
Players Signed: 12
Elon brings in an impressive early-signing class with 12 prospects, including in-state wide receiver Jamarien Dalton. Dalton's highlight reel might bring to mind recent Phoenix game-changer Kortez Weeks.
Big-time player making big-time plays @kingjamarien #YakBoyz#AED #PhoeniXXIgnite pic.twitter.com/d1GfD313NH

— Elon Football (@ElonFootball) December 16, 2020
And if Dalton does indeed become another Weeks at Elon, he could do so with a quarterback named Davis throwing to him. Davis LeDoyen out of Dunwoody, Georgia, will get a chance to follow the impressive legacy that Davis Cheek is still writing in the Elon quarterbacks room.
James Madison
Players Signed: 12
The pandemic tested the adaptability of recruiters. But as it's been on the field, James Madison proved a quick study handling a challenging set of circumstances off of it.
"Our guys had the vision and foresight to see early on in the process there probably wouldn't be camps," Cignetti said in his teleconference. "We were a little bit more aggressive early in the process than we probably would be."
Seven of the Dukes' additions come from the commonwealth, including linebacker Skylar Martin and tight end Zach Horton. Both check in the top 50 of 247Sports.com's rankings for Virginia prospects.
Maine
Players Signed: 8
Maine has had good fortunes with Canadian recruits in recent years, including All-CAA offensive lineman Liam Dobson, and the Black Bears added another in linebacker Darius McKenzie. The Ottawa product spent a prep season in Florida, along the way garnering interest from Big Ten programs Rutgers and Minnesota, per 247Sports.
Maine also adds tight end Antonio Corsi, a top 20 prospect from New York whose other suitors included Coastal Carolina.
New Hampshire
Players Signed: 1
With eyes on the February signing period, New Hampshire added a lone signee in Dylan Maciulewicz, who comes to UNH with a unique familiarity with the program. Maciulewicz played for former Wildcat assistant Matt Dawson, as detailed at UNHWildcats.com.
"Dylan is a long, athletic, tough offensive lineman who has the ability to play any spot on the offensive line. He'll be a great addition to our OL room!" - @CoachAlexMiller#GraniteStrong #NSD21 pic.twitter.com/Z7J0wc7YuD

— UNH Football (@UNH_Football) December 16, 2020
Rhode Island
Players Signed: 2
Coach Jim Fleming and his staff landed a loaded class last February, and added three intriguing names in the early-signing period for 2021. Quarterback Jackson Burkhalter spent a prep season in Massachusetts, but originally hails from Alabama, adding to the nationwide flavor of the Rhody roster. Burkhalter traveled a road with some detours that included SEC offers and a knee injury from which he's battled back.
Burkhalter will be in a quarterback room with Kasim Hill, a transfer from Tennessee (by way of Maryland), a former four-star recruit who played significant snaps in the Big Ten two years ago.
Rhode Island's early-signing haul also adds Michael Strachan out of Attleboro, Mass.
Richmond
Players Signed: 8
In recent years, Richmond has done the bulk of its recruiting work in preparation for the December signing period. This unusual year looks no different despite the abnormality.
"We identified the numbers we wanted to take at certain positions," Spiders coach Russ Huesman said in his signing-day press conference. "We'll probably sign two-to-three more high school guys at the February signing class.
Underscoring the peculiarity of this year, Huesman added: "Out of these eight guys, I haven't personally been in their homes, had them on campus or really met them or shook their hands. Everything was done via Zoom, telephone calls."
The Spiders went well outside of their territory to land some of this class, campus visit or no, including Louisiana quarterback Kyle Wickersham.
Heading to the Bayou once again! Welcome to the 🕷 family @Kylewick5! Big-time quarterback that went 22-2 as a starter! The 🕷 have had some success with quarterbacks named Kyle!#OneRichmond #NSD21 #URNext pic.twitter.com/WQsNFuwjEv

— Richmond Football (@SpiderFootball) December 16, 2020
Stony Brook
Players Signed: 8
Recruiters find gems anywhere they can in the process, and Stony Brook's efforts took them as far away from Long Island as Sweden. Offensive lineman Ludvig Burrell is one of the eight newly added Seawolves, signing out of Taby, Sweden.
"It's an interesting story. He graduated a year ago from his school and has been playing in what is a pro league over there -- which is amateur," Stony Brook coach Chuck Priore said in his signing day show. Priore added that Burrell was originally to play prep football in Connecticut this fall before COVID-19 intervened.
"We recruited him off of film over there, and we just developed a great relationship," Priore said.
Running back Ali Lee Jr., a standout from New Jersey with impressive vision and speed, will have an opportunity to add his name to the ever-growing list of star ball-carriers under Priore.
respect my decision💯 pic.twitter.com/lBM6U5ENzH

— Ali Lee Jr (@iam_ajlxiii) October 8, 2020
Towson
Players Signed: 8
Last year, Towson went heavier on February signees than in the early period. This year, however, Rob Ambrose and his staff picked up eight players in the December window.
"There are so many great high school seniors out there trying to get to the next level and COVID has created some of the most challenging of recruiting efforts in history," Ambrose said in his signing-day statement. "These future Tigers have found a way to set themselves apart on the field and in the classroom under the clouds of adversity."
One name sure to make a splash when the Tigers return to action in 2021 is wide receiver Isaiah Perkins. A 3-star recruit, Perkins chose Towson over a bevy of FBS interest -- including from Liberty and Buffalo, both of which are currently just outside of the Top 25 rankings at that level.
UAlbany
Players Signed: 10
Greg Gattuso and his staff hit Eastern states hard in this recruiting cycle, adding some difference-makers out of Pennsylvania -- including wide receiver Kristen McAdams, a high-potential prospect whose other suitors included Central Michigan and Coastal Carolina.
The Great Danes also add quarterback Tyler Szalkowski, who comes from Upstate New York high school powerhouse Aquinas Institute. CAA followers might recognize Aquinas for producing recent Maine star Earnest Edwards.
Villanova
Players Signed: 11
Villanova added some of the greatest numbers to their roster with the early-signing period, and is welcoming one of the more regionally diverse classes among CAA programs.
Mark Ferrante and Co. have recruits coming in locally from Pennsylvania, but also add prospects from Georgia and Texas -- including Houston-based offensive lineman Bryce Ganious.
December 16, 2020
William & Mary
Players Signed: 7
The Tribe finished the 2019 season on an upward trajectory with a strong final month in Mike London's first year at the helm. William & Mary was also one of the rare programs to finish out its 2020 spring practice slate before the pandemic hit.
With some positive momentum behind it, William & Mary continued its positive run with a solid haul in the early-signing period. Among the newcomers the Tribe adds is running back Martin Lucas, a 3-star, 6-foot-2, 245-pound thumper who also garnered interest from Arizona State.
The Tribe also add quarterback prospect Darius Wilson, who announced his commitment to London and Co. during the summer.
Next Chapter.....W&M 25 🟢🟡 @ionafootball @CoachMikeLondon @CoachChristianT @CoachMJohns @SimmsCompleteQB @PhilSimmsQB pic.twitter.com/vhtEsbGqYj

— Darius Wilson (@Darius_W11) June 28, 2020