2022 CAA Football
Dean Marlowe, Nasir Adderley Star During NFL's Week 8
Dean Marlowe, Nasir Adderley Star During NFL's Week 8
Dean Marlowe and Nasir Adderley starred at the safety spot during Week 8 of the NFL season.
Nov 3, 2020
by FloFootball Staff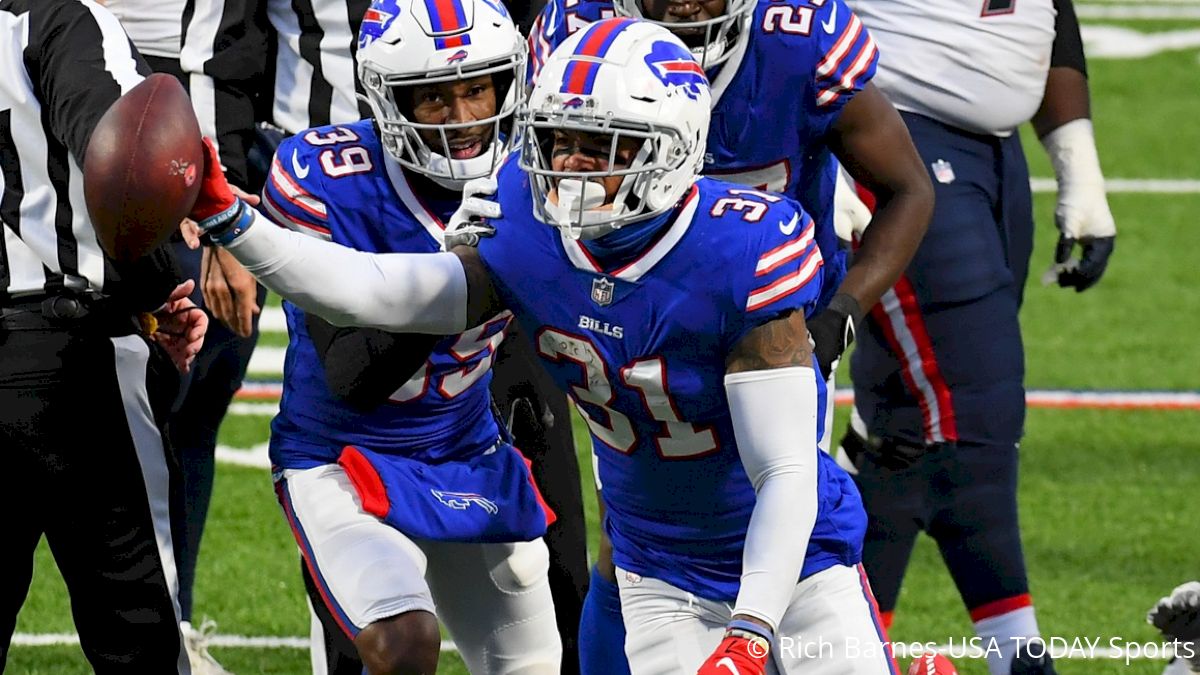 Former James Madison safety Dean Marlowe set a season-high for tackles and made a fumble recovery that clinched the win for the Buffalo Bills last Sunday, highlighting the group of CAA Football players competing during Week 8 of the NFL season.
Marlowe was Buffalo's second-leading tackler with six stops in an important 24-21 victory over the New England Patriots that kept the Bills atop the AFC East with a 6-2 record. The former JMU standout's biggest play, however, was recovering a Cam Newton fumble on the Buffalo 13-yard line with just 31 seconds remaining.
Former Delaware safety Nasir Adderley turned in a strong performance for the Los Angeles Chargers, recording seven tackles in a one-point setback to the Denver Broncos. Former JMU quarterback Ben DiNucci made his first career start for the Dallas Cowboys, completing 21-of-40 passes for 180 yards and also rushing for 22 yards on five carries. He's the first Dukes' quarterback to ever start an NFL game.
Seven former CAA Football players earned starts during Week 8. In addition to Adderley, DiNucci and Marlowe, tight end Nick Boyle (Delaware) of the Baltimore Ravens, defensive end Tanoh Kpassagnon (Villanova) of the Kansas City Chiefs, nose tackle Bilal Nichols (Delaware) of the Chicago Bears and fullback Patrick Ricard (Maine) of the Baltimore Ravnes were in the opening lineup.
Below is a list of how the 24 former CAA Football players fared in Week 8 action.
CAA Players On Active NFL Rosters
Nasir Adderley, S, Delaware – Los Angeles Chargers – started at safety – 7 tackles
Nick Boyle, TE, Delaware – Baltimore Ravens – started at tight end – no stats
Daniel Brown, TE, James Madison – New York Jets – played, no stats
Austin Calitro, LB, Villanova – Denver Broncos – injured reserve
Ron'Dell Carter, DE, James Madison – Indianapolis Colts – inactive
Isaiah Coulter, WR, Rhode Island – Houston Texans – injured reserve
Jordan Dangerfield, S, Towson – Pittsburgh Steelers – inactive
Ben DiNucci, QB, James Madison – Dallas Cowboys – started at quarterback – 21-of-40 passing, 180 yards; 5 rushes, 22 yards
Joe Flacco, QB, Delaware – New York Jets – active, didn't play
Raven Greene, S, James Madison – Green Bay Packers – inactive
Ethan Greenidge, OL, Villanova – New Orleans Saints – played, no stats
DeAndre Houston-Carson, S, William & Mary – Chicago Bears – played, 1 tackle
Zach Kerr, DT, Delaware – Carolina Panthers – inactive
Tanoh Kpassagnon, DE, Villanova – Kansas City Chiefs – started at defensive end – 3 tackles
Dean Marlowe, S, James Madison – Buffalo Bills – started at safety – 6 tackles, 1 TFL, 1 fumble recovery
Jimmy Moreland, DB, James Madison – Washington Football Team – bye week
Bilal Nichols, NT, Delaware – Chicago Bears – started at nose tackle – 4 tackles
Luke Rhodes, LS, William & Mary – Indianapolis Colts – played, no stats
Troy Reeder, LB, Delaware – Los Angeles Rams – played, no stats
Patrick Ricard, FB/DL, Maine – Baltimore Ravens – started at fullback – played, 1 tackle
Tye Smith, CB, Towson – Tennessee Titans – inactive
Aaron Stinnie, OG, James Madison – Tampa Bay Buccaneers – inactive
Oli Udoh, OT, Elon – Minnesota Vikings – inactive
Josh Wells, OT, James Madison – Tampa Bay Buccaneers – played, no stats