2020 IMG Academy vs Duncanville High School
Roll Tide: IMG-Duncanville Looks Like A Miniature 'A-Day'
Roll Tide: IMG-Duncanville Looks Like A Miniature 'A-Day'
Alabama's Nick Saban has drilled a pipeline directly from IMG Academy to Tuscaloosa. Saturday's showdown vs. Duncanville is a showcase for the Tide.
Oct 8, 2020
by Kyle Kensing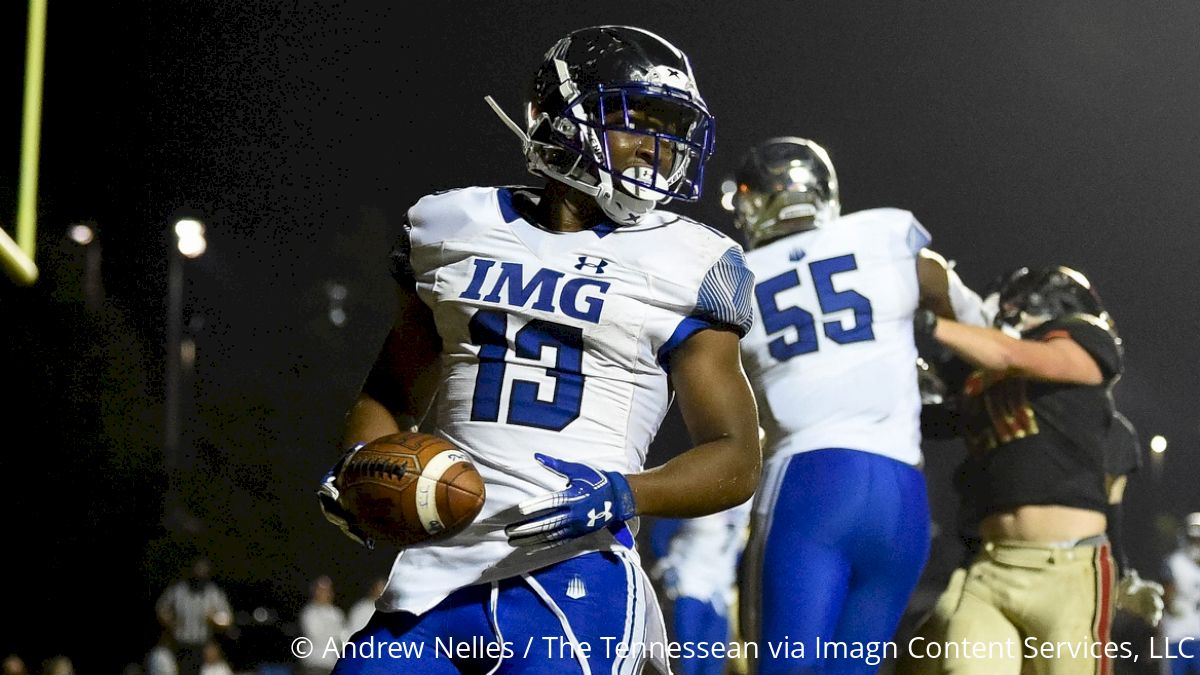 Nick Saban should consider temporary residency in Bradenton, Fla., with as many inroads to IMG Academy as he's built from Alabama.
Saturday's national prep football showcase pitting America's top-ranked IMG against No. 6-ranked Duncanville functions almost as a Crimson Tide preview. Three members of IMG Academy's historically excellent senior class — offensive lineman JC Latham, defensive end Dallas Turner and wide receiver Jacorey Brooks — are committed to the Tide's 2021 group of signees.
Watch IMG vs. Duncanville LIVE on FloFootball
Another, linebacker Xavian Sorey, is entertaining a host of SEC offers. 247Sports' predictions have Alabama a 100 percent favorite among the group.
Saban and his staff are also courting Ascenders 2022 prospects like running back Kaytron Allen and offensive tackle Dayne Shor.
The pipeline from Bradenton into Tuscaloosa isn't a new development, either. Alabama's 2020 roster features five IMG products: Stephon Wynn Jr., Evan Neal, Thomas Fletcher, Dylan Moses and Trey Sanders, and current Detroit Lion Bo Scarborough's path to the NFL took him through both schools.
As the foremost dynasty of the era in college football, Alabama's consistent recruiting of IMG Academy prospects is a reflection of the Ascenders' own prep dynasty. The 2020 football season may be unprecedented, but IMG Academy's No. 1 national ranking and inside track for a national championship provides some normalcy.
In the case of both Alabama and IMG Academy, championship pursuits build from the lines. Small wonder, then, that the Crimson Tide have pinpointed Ascenders recruits in the trenches.
Latham is the centerpiece in 2021. Ranked No. 1 in the state of Florida and seventh nationally, Latham anchors the stacked IMG offensive line at tackle, and has drawn comparisons to some of the most elite playing the position at higher levels.
Ascenders line coach George Hegamin told 247Sports this summer Latham's play is reminiscent of Tyron Smith, among others — including Alabama star Alex Leatherwood.
Having another blue-chip blocker ready to follow in the line of succession after Leatherwood leaves for a likely first-day selection in next spring's NFL draft speaks directly to the Tide's success under Saban. It becomes self-perpetuating, and IMG is helping to feed that.
Case in point, Evan Neal blasted out the following before Latham's commitment:
June 6, 2020
Roots run deep, and they'll produce some new branches Saturday in IMG's highly anticipated showdown with No. 6-ranked Duncanville.
The second-ranked team in Texas comes to Globe Life Park in Arlington without the same distinguished past contributing at Alabama — but not because Duncanville isn't rich with its own top-flight prospects.
On the contrary, one of the nation's other top-ranked tackles, Savion Byrd, lines up for the Panthers. His battles with IMG's pass-rushers, including Dallas Turner, will be one of the most important pieces to shaping Saturday's contest.
Flip side, Latham gets to clash with a future member of the Crimson Tide in Duncanville linebacker Kendrick Blackshire. The 6-foot-2, 240-pound Blackshire has a frame similar to IMG Academy-turned-Alabama star Dylan Moses.
The more fierce the competition between Blackshire and the Latham-led Ascenders offensive line, the better for Crimson Tide fans. It's like an A-Day come early.