2020 IMG Academy vs Duncanville High School
Top-Ranked IMG, No. 6 Duncanville Set To Face Off In Game Of The Year
Top-Ranked IMG, No. 6 Duncanville Set To Face Off In Game Of The Year
The stage is set for the high school football game of the year between top-ranked IMG and No. 6 Duncanville.
Oct 5, 2020
by Kolby Paxton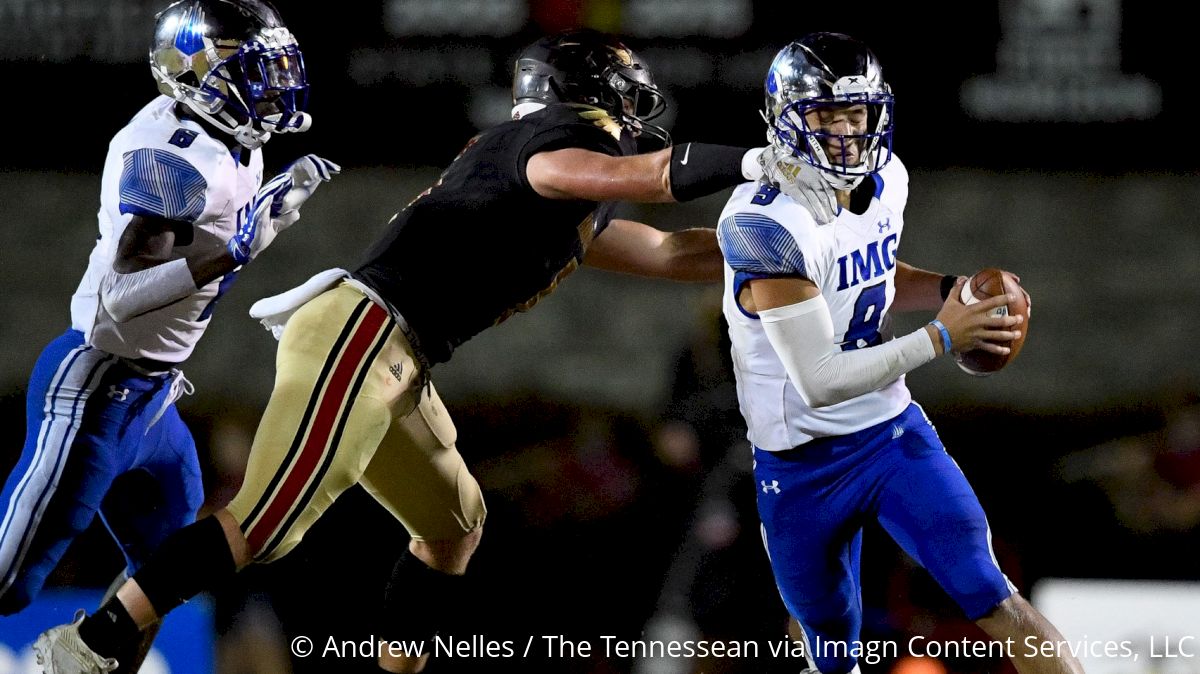 The stage is set for what figures to be the game of the year at the high school level, as top-ranked IMG Academy (FL) prepares to make the trip west to Arlington, Texas, to take on No. 6 Duncanville (TX) at Globe Life Park.
---
Who: No. 1 IMG Academy (4-0) vs. No. 6 Duncanville (1-0)
When: Saturday, Oct. 10, 12 PM CT
Where: Globe Life Park, Arlington, Texas
Watch: LIVE on FloFootball
---
Predictably, IMG has steam-rolled its way to this point in its season, averaging 48.5 points per game and outscoring opponents — Venice (FL), Edgewater (FL), Ravenwood (TN) and Life Christian (VA) — by an average of 38 points each week.
Head coach Bobby Acosta's roster is jam-packed with FBS talent, but Duncanville almost assuredly serves as the most challenging hurdle left to clear on his team's path to an otherwise pre-destined national title.
"It's a big time game," Acosta told the Herald-Tribune after cruising past the Eagles on Friday. "We have to play four quarters of football."
The need to put together four quarters will, indeed, be an adjustment from an elite version of normalcy that typically sees the game decided by halftime — but that's the threat posed by the Panthers.
The second-ranked squad in the state of Texas is built as has become typical: very big and very, very fast.
On Friday, Duncanville opened its season without head coach Reginald Samples, who was serving a one-game UIL suspension. The adversity began and ended right there. The Panthers suffocated South Oak Cliff, No. 6 in the Dallas Morning News Class 5A area rankings, allowing just 128 total yards on the way to a 41-3 statement win.
And while it's easy to get caught up in the flash scattered across the two-deep at IMG, Saturday's outcome will ultimately be determined by the unstoppable force (the Ascenders' offense) and the immovable object (the Duncanville defense).
An Embarrassment Of Riches
For the Ascenders, it all starts with five-star quarterback JJ McCarthy.
The 6-foot-3, 190-pound Michigan commit went 12-for-16 for 240 yards, with completions to seven different receivers in the first half of IMG's victory over Life Christian last week — and that was just another day at the office.
But it's the talent that surrounds McCarthy that takes IMG from 'great high school team' to 'whoa.'
The Ascenders senior class has 18 — eighteen — players rated three-stars-or-better, including:
OT JC Latham, five stars, top-rated player in Florida, headed to Alabama.
WR Jacorey Brooks, five stars, No. 2 wide receiver in the country, headed to Alabama.
OLB Xavien Sorey, four stars, fifth-ranked outsider 'backer, and, you guessed it, Roll Tide.
RB Lovasea Carroll, four stars, No. 6 running back in the country, headed to Georgia.
C Greg Crippen, four stars, fifth-ranked center in the country, joining his quarterback at Michigan.
That's six. Out of 18. One-third of IMG's FBS-bound seniors. We haven't even mentioned a junior.
Alabama WR commit @c7_brooks makes a house call pic.twitter.com/9HKCo0VOQ1

— Mason (@BamaBunker) October 4, 2020
If we were to mention the '22 group in Bradenton, we'd surely bring up Kamari Wilson, the top-ranked safety in the country, or Tyler Booker, a 6-foot-4, 290-pound, four-star offensive tackle.
We'd most certainly name-drop Kaytron Allen, also known as the most highly-touted backup running back in the country, with four stars to his name and offers in his back pocket from the likes of Alabama, Ohio State and Georgia.
In the interest of time, however, we'll stop there. You can see for yourself on Saturday. Embarrassment. Of. Riches.
Duncanville Can Spring The Upset
It probably seems ridiculous after everything you've just read, but Duncanville can leave Globe Life Park the victor on Saturday. The Panthers are a good enough team — and that matters.
Of course, emphasizing the word 'team' would seem to imply that the Panthers, the plucky underdogs from Duncanville, are devoid of elite talent. Suffice to say, that is definitely not the case.
Offensive tackle Savion Byrd can go toe-to-toe with any lineman on IMG's roster. Middle linebacker Kendrick Blackshire is on a trajectory to become the next great inside linebacker for Nick Saban's Crimson Tide, while standing right next to IMG's Sorey.
Simple but Hard 💪🏾🤩 #sicem #rdj pic.twitter.com/KWRrB8H6MZ

— Roderick Daniels Jr (@RDJ13_) October 4, 2020
Baylor-bound wide receiver Roderick Daniels is as good an offensive playmaker as the decorated IMG secondary will face this season. And, while Grayson James may not be JJ McCarthy, he is a capable, well-respected field general, with three stars next to his name and a handful of FBS offers in his mailbox.
On most days, Duncanville can overwhelm opponents with star-power. Just not this day. Not this opponent. But the Panthers have a level of cohesion and maturity that, coupled with those names above, do give them a shot. They aren't ranked No. 6 in the country for no reason.
With their head coach out in a delayed season-opener played during the single weirdest year any of us will probably (hopefully) ever experience, Duncanville came out with a steady hand, crushed a game opponent, and left no doubt.
The Panthers are a championship-caliber team with a championship-caliber mindset, and they're the one group standing between IMG and an undefeated run to a national title.