Independent
UMass Faces Unique Challenges, Advantages As 2020 Season Approaches
UMass Faces Unique Challenges, Advantages As 2020 Season Approaches
As the scheduled start to UMass' 2020 football season approaches, the only certainty for the Minutemen is uncertainty.
Aug 4, 2020
by Kyle Kensing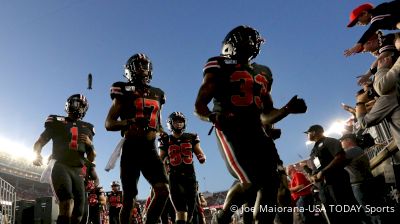 On a typical autumn Saturday, college football can feel like the most important thing on Earth. The year 2020, however, has been anything but typical — not that anyone needs reminders.
Just a few weeks out from its scheduled season-opener against Connecticut, UMass finds itself among the many programs around the nation faced with uncertainty.
"It's probably still too early to tell exactly what will happen with the fall," said UMass athletic director Ryan Bamford. "I don't know what it will look like three days from now, three weeks from now, three months from now. It is such a fluid environment, we're just trying to do the best we can with the information we have."
Underscoring the reality of Bamford's assessment — that thus far in the COVID-19 pandemic, plans can change in just a few days' time — the Minutemen had 11 of their 12 scheduled games for the 2020 season still in tact when he spoke to us on July 28.
The next day, the Southeastern Conference announced plans for a conference-only scheduling model. The Big Ten implemented the same plan on July 9, and the Pac-12 followed suit a day later.
Neither the Big Ten nor Pac-12 decisions impacted UMass, which had no games scheduled with teams from the conferences. The SEC adopting a conference-only model in response to COVID-19 concerns, however, costs the Minutemen a November matchup with Auburn.
The lost date marks the second scratched from the UMass schedule. The Minutemen were to host UAlbany on Sept. 19, but the Colonial Athletic Association's decision to delay conference play until the spring intervened.
Meanwhile, the delayed (if not cancelled) Auburn meeting adds the uncertainty of the $1.9 million payout UMass was to receive. Bamford told Matt Vatour of MassLive.com he hoped for an "amicable resolution."
The issues to work out there add to the overall uncertainty college athletic departments face. Hunter Sharpless took a dive into the unprecedented impact an autumn without football might have.
While the financial element demands conversation, it takes a backseat to the most pressing issue.
"We're intent on trying to provide opportunities for the young men in our football program," Bamford said. "But we're also mindful we're only going to do that if it's safe and healthy to do so."
Student-athlete safety takes precedent, and will ultimately dictate how UMass moves forward. In the meantime, the Minutemen are in a unique position as one of only seven FBS independents.
The others are Army, BYU, Connecticut, Liberty, New Mexico State and Notre Dame; all but BYU and Notre Dame appear on the 2020 UMass schedule.
"People think we're in a really challenging position -- and college football as a whole is in a challenging environment -- but I do appreciate our ability to be nimble; to make decisions that are in our best interest," Bamford said of independence.
Having the ability to decide internally offers UMass some flexibility other programs may lack. Not every conference is modifying its approach, either.
The Sun Belt announced on Aug. 3 it plans to proceed with non-conference games. That leaves two more opponents on the Minutemen's schedule, Appalachian State and Troy.
Looming decisions for the Mountain West (New Mexico), Conference USA (FIU), American (Temple) and MAC (Akron) will shape the rest of the 2020 slate. That adds some complexity.
So, too, does the geographic diversity. Bamford noted the Minutemen played opponents from nine different states. The loss of the Auburn and UAlbany games does not change that, with Troy and Army both on the docket.
Each state, however, has had its own experiences with COVID-19, as well as differing responses from local governments. In Massachusetts, the percentage of positive tests returned in April spiked near 30 percent. Save a spike in June, the state's percentage of positive tests dipped consistently below five percent -- including with a record number of single-day tests to begin August, per Johns Hopkins University data.
"I didn't know where we'd be back in the middle of June," Bamford said. "Now, we're well down on the list because we were really responsible and really conservative in how we closed and opened our state. While we keep some hard lines and it changed behaviors in our daily lives back in March, April, May and June, I really think that we've gained the benefit of that now."
Other variables come into play with other states, and even individual regions within states. Each graphic comes from the COVID Tracking Project.
Alabama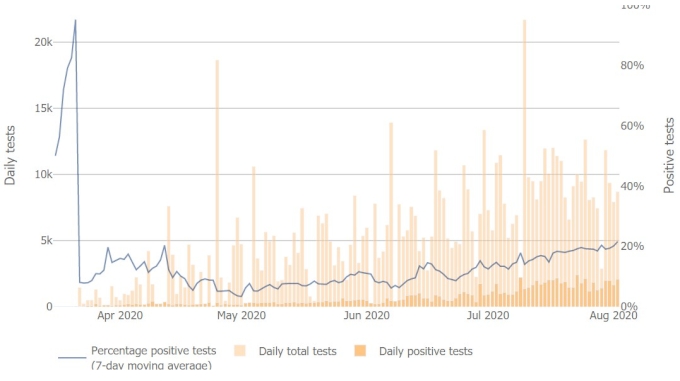 Connecticut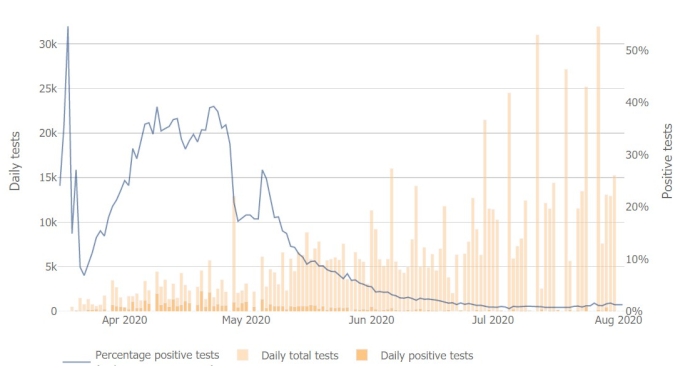 Florida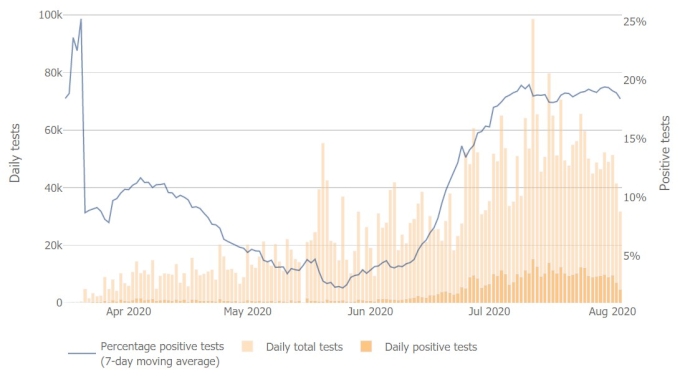 New Mexico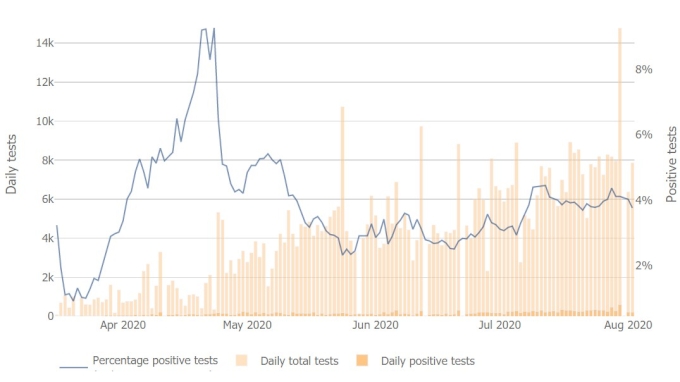 New York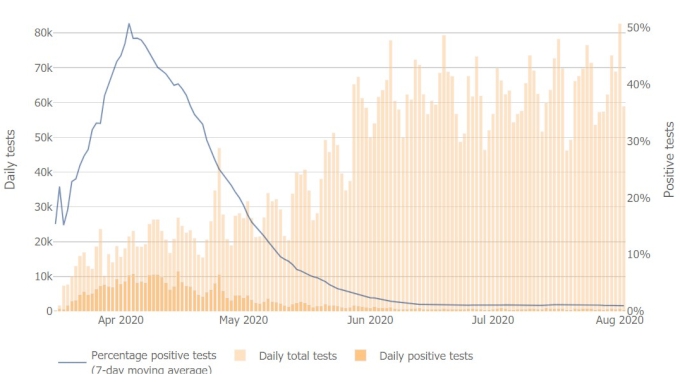 North Carolina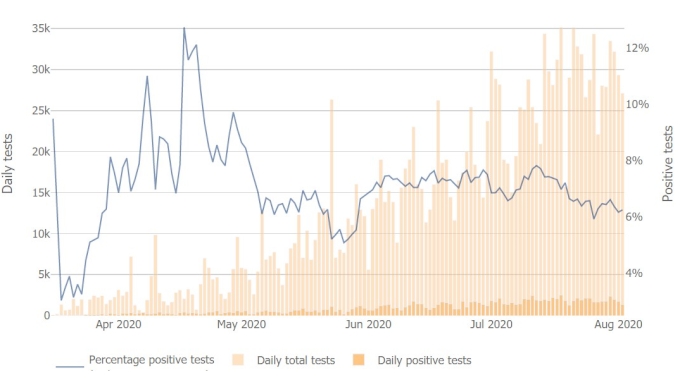 Ohio
Pennsylvania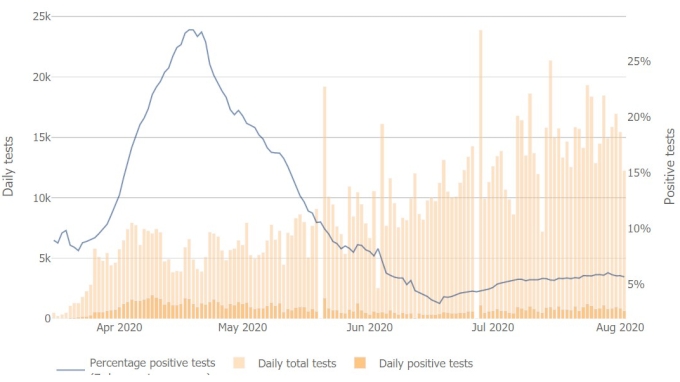 Virginia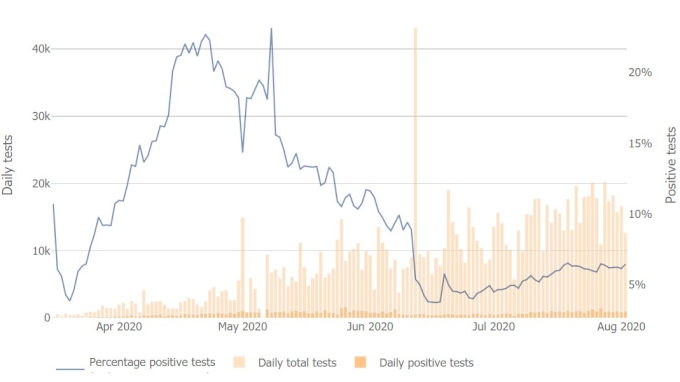 Indeed, the rates fluctuate between states -- and that's accounting only for the broader scale, not individual regions. Then add another layer with campuses, which are their own ecosystems.
"When students come back, and you repopulate, the campus environment changes considerably," Bamford said. "That worries me. We can only control our own student-athlete environment; we can't necessarily control some of the students when they come back. Obviously they're going to be integrated with our student-athletes.
"It's a really challenging scenario; we're going to be back in amongst 15-20,000 students on this campus, and when you have high-density in any enclosed space," he continued. "That's going to create different challenges that we haven't yet had to encounter because we sent our students home in March."
The UMass athletic director added that the most difficult aspect, beginning with initial quarantining in March, was the lost interpersonal connections.
"Athletics is an industry where success is built on good team dynamics and good team culture and working together," he said. "And it's really hard to do when you're apart."