FRISCO, Texas -- They came from the ACC, the American, the Big Ten to be here in Texas, by way of Harrisonburg.
James Madison reached its third FCS Championship Game in four years with pillars Ron'Dell Carter, who came from Rutgers; Jawon Hamilton, a transfer from UCF; Brandon Polk, a former Penn State Nittany Lion; and Ben DiNucci, who rediscovered his love for football becoming a Duke after his time at Pitt ended.
? @jawonhamilton is ready to lift off for Frisco‼️#GoDukes | #FCSChampionship pic.twitter.com/M6PHQ45iKP

— JMU Football (@JMUFootball) January 8, 2020
Playing football at the elite level, JMU players require profoundly competitive attitudes. A transfer coming into the program might seem like a potential catalyst for in-fighting, given the nature and desire of top-flight players to want to see the field.
But at James Madison, it owes its return to Frisco and the National Championship Game as much to its collectively welcoming approach as it does its competitiveness.
"The guys in the locker room treated me like a brother from the day I stepped in there," DiNucci said. "There's been no hard feelings, no bad blood between anybody. That's been huge for our success for the last few years."
James Madison quarterback Ben DiNucci (@B_DiNucci6) discusses the Dukes' title game matchup with North Dakota State. #FCSChampionship pic.twitter.com/o1LDyrPxH4

— FloFootball (@FloFootball) January 10, 2020
Talk to any Duke, and they exude as much pride when discussing the kinship within the locker room as they do the wins they have played up this season.
It's a reflection not only of James Madison football, but of Harrisonburg itself.
"The Harrisonburg community is a welcoming community," Carter said. "They love JMU football. When you go in that area, it's nothing but purple-and-gold around you. Every game, we have fans outside, waiting to embrace us. It's a great community."
Carter spent two seasons at Rutgers, the first as a redshirt with Kyle Flood at the helm, and the second in Chris Ash's debut campaign.
Carter opted to leave in the spring of 2017, and the next fall began a remarkable journey with James Madison that nears its conclusion.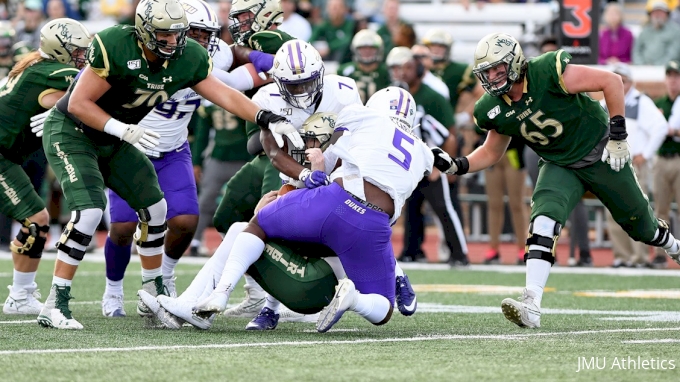 "I'm a leader on this defense, I'm an All-American, and now, I have a chance to play for a national championship and win this thing," he said. "This will be very special for me if I can do this and bring this championship back to Harrisonburg."
A national championship on his way out to the NFL draft would be a heckuva way for Carter to show his gratitude to Harrisonburg. The Buck Buchanan Award finalist has already paid forward the embrace he received when coming into James Madison from Rutgers with the way in which he approaches newcomers to the program.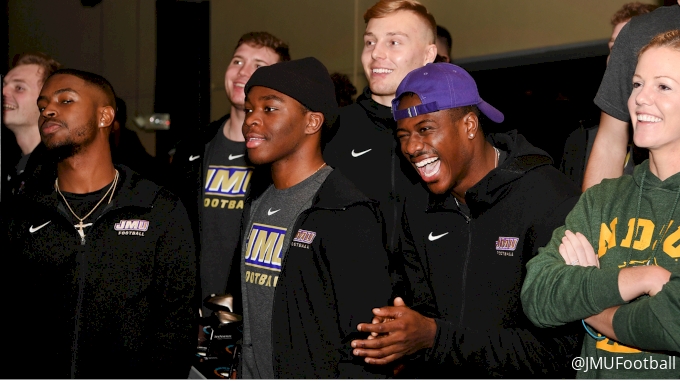 "When I first got here, just with the guys in the locker room, they took me in like I was one of their own. They didn't care where I was coming from, I didn't care where I was coming from. They were like, 'You're part of our family now,.'" Carter said. "It was only right when Jawon came in, I did the same; when Brandon Polk came in, I did the same thing. You've got to carry that tradition on, and it's only right I did the same thing."
But what about the competitive fire that drives a Div. I football player? Surely the possibility for animosity exists when a newcomer joins the team and has the potential of taking away snaps from a new teammate.
To that end, the chemistry relies as much on the transfer as the rest of the team.
For DiNucci in particular, he understood the careful balance between competitor and teammate, particularly at a position in which only one can play for a majority of the time.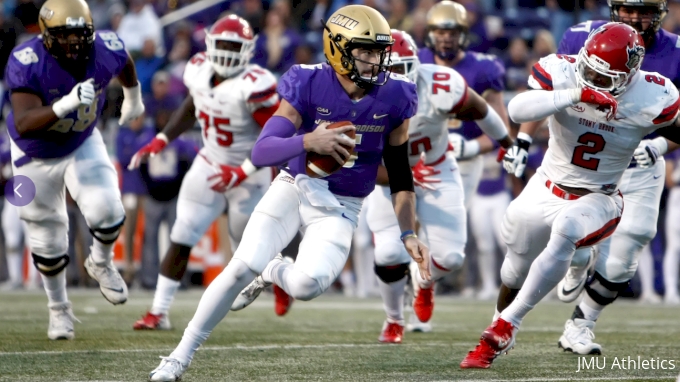 "That's hard on guys who have been here. It happened to me at Pitt, so I understand how that dynamic works," he said. "Pitt brought in Max Browne, who was a 5-star [recruit] from USC, and I had to battle it out with him.
"So when I came here, I knew what to expect. The biggest thing for me was coming in with no agenda, try to build relationships from the ground up and not even worry about football until spring ball started."
DiNucci's efforts to forge bonds on the team in the months from his transfer until spring practices started helped him ease into the quarterback competition.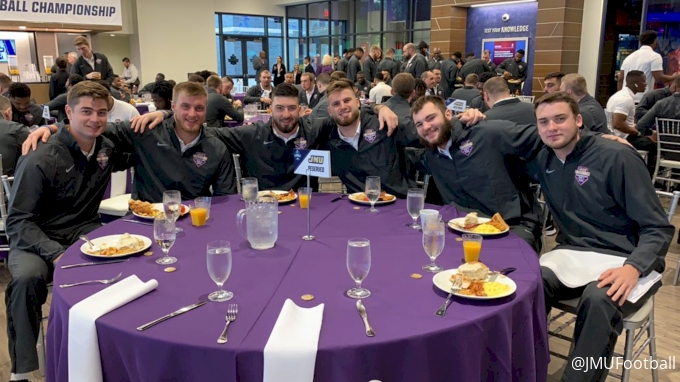 After two years captaining the Dukes offense, DiNucci's now taken on the role of mentor, something that Carter says is paramount to James Madison's sustained success: seniors investing in the long-term health of Dukes football.
One of this team's seniors, Polk, spent just the one season at James Madison. His contributions are unprecedented, however. JMU presented an opportunity for the wide receiver to reach his full potential.
"I was so excited when he was able to leave and go to JMU. We came in together at Penn State, and I'm so proud of that kid," Oregon wide receiver Juwan Johnson said following the Rose Bowl Game earlier this month. "That's one of my lifelong friends. Glad that he was able to find happiness where he was at."
Polk's tenure at James Madison crystallizes how competitive edge can actually help forge relationships within the team.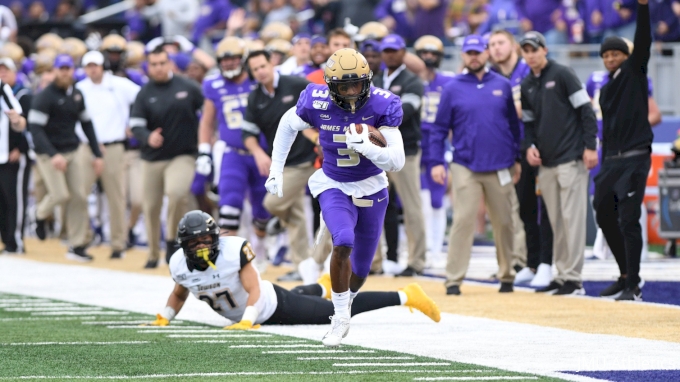 Wide receivers Polk and Riley Stapleton come into the National Championship with 73 and 55 receptions, totaling 1,173 and 688 yards respectively. Polk has 11 touchdowns in his historic 2019 campaign, while Stapleton's brought in eight scores.
The duo are the quintessential receiver pairing of the explosive speedster out on the edge in Polk, and the lengthy possession target in Stapleton. The two have made each other more productive, both as complementary parts on the field, and pushing one another in other facets of the game.
"Right when he first got here, one of the first things that stood out is he's extremely humble. He was trying to be the hardest worker in the room, and one of the first things I noticed was that he was like, who's going to outwork the other guy?" Stapleton said. "He was trying to outwork me, I was trying to outwork him, and it was almost a competition for who was going to be on the practice field first."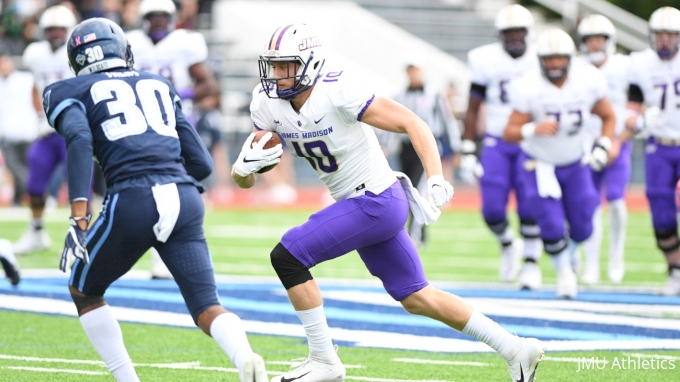 The two are now roommates for road trips, and Stapleton said they took classes together throughout the semester.
Outworking one another established a bond between James Madison's top two wide receivers, and made the Dukes offense that much more championship-worthy.
No matter where they came from, James Madison's transfers found a home in Harrisonburg. Without them -- or without their welcoming, Dukes teammates -- this team would not have made it here to Texas.