FRISCO, Texas -- Circumstances leading to an interception are unavoidable, even for the best quarterbacks. A receiver runs an incorrect route, a pass ricochets off someone's fingertips and a defender is in the right spot at the right time, even just a simple bad read out of the hundreds made in the course of a season.
Flukes.
But there's nothing fluky about North Dakota State's Trey Lance navigating the regular season and three FCS Playoffs games without throwing a single interception.
"How he prepares himself in practice, he's really hard on himself," said wide receiver Phoenix Sproles. "A bad read, bad throw, he taps himself on the chest and says, 'My bad.' He takes a lot of pride in what he does in practice, and that's where it all starts."
Quarterback Trey Lance has been named #FCS Offensive Player of the Year by the FCS Athletic Directors Association. He's a finalist for the STATS FCS Walter Payton Award to be announced Friday night. https://t.co/NgaM9q5Td9

— NDSU Football (@NDSUfootball) January 8, 2020
The freshman phenom Lance has attempted 277 passes. Twenty-eight have gone for touchdowns, 187 for completions, and none for picks. In James Madison, he is matched opposite a defense that has thrived on creating turnovers.
The Dukes picked off 17 passes in the 15 games leading up to Saturday's National Championship at Toyota Stadium. Their 26 turnovers tie for 11th-most in the country, and their plus-11 turnover margin ranks 19th.
If the late John Facenda was with us, a narration touting this meeting of Irresistible Force vs. Immovable Object would be all too fitting.
Adam Smith has intercepted six passes on his own. He leads a contingent of four Dukes with multiples picks on the season, including Rashad Robinson's three, while Wayne Davis and D'Angelo Amos have two a piece.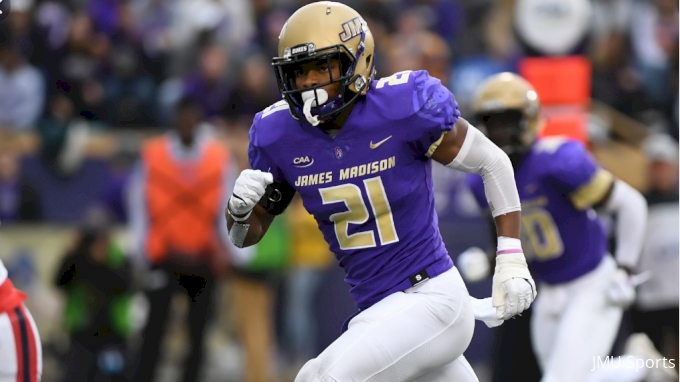 James Madison's talented secondary flourishes as a byproduct of the aggressive and effective pressure the Dukes bring into opposing backfields.
The collective ability of the Dukes defensive line is well-known, and certainly not a mystery lost on the Bison offensive line.
"They're a good, physical group up front. They play hard. It'll be a test for us," said offensive lineman Cordell Volson. "They're one of, if not the most physical d-line we've seen all year. It's going to be fun."
"They get off the ball, that's for sure," added offensive lineman Zack Johnson. "They have really high effort, high motors. That's cool to see. I give them props for that."
With Colonial Athletic Association Defensive Player of the Year and Buck Buchanan Award finalist Ron'Dell Carter and John Daka, James Madison has a pair of NFL-destined defensive ends. But that Dukes dynamic duo are only two pillars of a diverse plan of attack.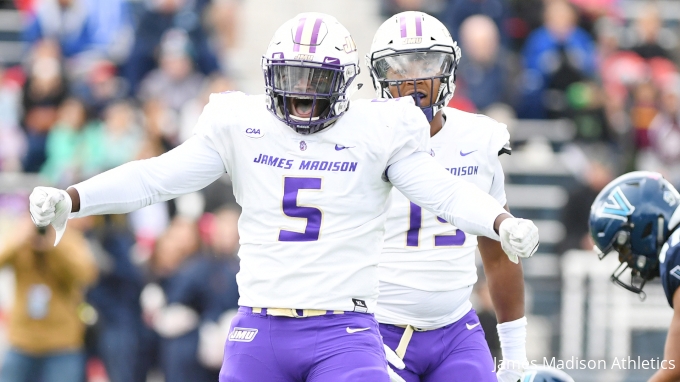 Mike Greene's ability to get to quarterbacks is rare for an interior lineman. He boasts 7.5 sacks and 11.5 tackles for loss on the season.
"The d-line's been tremendous," said Smith. "The way they play, they really slow the game down in the back end. It allows us to see routes, and allows the quarterback a little less time then he would probably like.
"The quarterback doesn't make as good of decisions when he's got a big d-lineman in his face," Smith added.
The Dukes' ability to both generate pressure and force turnovers, including against a quarterback who is otherwise careful with the ball, is best represented in this season's rout of Elon.
Elon quarterback Davis Cheek came into the matchup with a streak of pass attempts sans interception almost as long as Lance's, with 240. On an afternoon that Daka, Carter and Jalen Green combined for 4.5 sacks, Cheek's streak ended on a Robinson interception.
James Madison will also create pressure from other spots, which North Dakota State coach Matt Entz said may be the most vexing facet of blocking the Dukes.
Practice? We talkin about practice. pic.twitter.com/XG7pRpwNKG

— NDSU Football (@NDSUfootball) January 9, 2020
"We'll have to be able to handle some pressure and have to handle if it's single [coverage], if it's a corner coming ... or if they want to bring that Mike [linebacker] or nickel from the field," Entz said. "Those are the things that have probably caused us some issues during the playoffs."
The Dukes can indeed bring pressure from spots other than line. Davis has eight tackles for loss this season, for example, and linebacker Dimitri Holloway recorded 10.5.
Holloway is also critical in James Madison's mission to pressure Lance into uncharacteristic mistakes. The Bison quarterback's mobility factors into his passing numbers; when the pocket breaks down and no target is open, Lance's explosive speed and quick decision-making on when to take off prevent him from forcing throws.
As James Madison's top run-pursuing defender, Holloway's rush containment impacts the pass defense just as profoundly come Saturday.
"They've got a smart quarterback back there," Holloway said. "Against them, you've got to be smart and do your job."
"When you get here, you gotta win it" @Hollows_Way2 & @jawonhamilton talking about @JMUFootball finishing the deal in Frisco at the #FCSNationalChampionship

More tonight on @WHSVScoreZone

Link: https://t.co/LehCaTajZA pic.twitter.com/HbLO6SC6V2

— TJ Eck (@TJEck_TV) January 9, 2020
The prevalence with which James Madison has seen dual-threat quarterbacks like Lance could prove beneficial. In the CAA, the Dukes faced Stony Brook's Tyquell Fields, Villanova's Dan Smith and Towson's Tom Flacco.
The Dukes' performance each time they drew a dual-threat opponent improved from the time previous. One reason is seeing a talented two-way quarterback in practice every day.
"It helps tremendously when you go against guys like [Ben] DiNucci, day in and day out in practice, then you see Tom Flacco in the CAA, those guys who are shifty," Holloway said.
Yes, the James Madison offense factors into its defense slowing North Dakota State's offense -- that's the degree to which this effort is all-in.
Should the Dukes succeed, it won't be because of flukes.