2022 CAA Football
Dominant JMU Pitches First Playoff Shutout, Rolls Past Northern Iowa
Dominant JMU Pitches First Playoff Shutout, Rolls Past Northern Iowa
James Madison is one win away from a date in the national title game thanks to a dominant defensive performance in a win against Northern Iowa.
Dec 14, 2019
by Kolby Paxton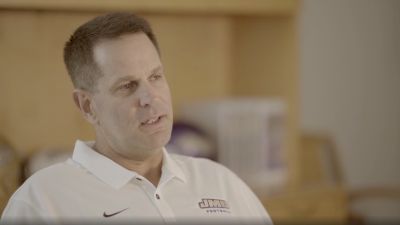 James Madison is one win away from punching its ticket to Frisco, Texas, thanks to an absolutely dominant defensive effort that led to a 17-0 victory over sixth-ranked Northern Iowa in the FCS quarterfinal round on Friday night.
A swarming, punishing JMU defense limited UNI to 114 total yards, including a grand total of zero on the ground, en route to its first playoff shutout in program history — all of which now stand as playoff records for the Dukes.
"We're good on defense, their strength is their defense, and we felt like we had the opportunity to shut them down in this game — and we did," said head coach Curt Cignetti. "We felt like that would be a key to being successful ... we were going to have to play great defense in this game. And we really got after them."
The pursuit by John Daka ?Leads to a @JMUFootball strip sack ?#FCS#FCSPlayoffs Q2 | UNI 0 | (2) JAMES MADISON 10 pic.twitter.com/lkTklESQ0j

— FCS Football (@NCAA_FCS) December 14, 2019
Percy Agyei-Obese led the way for James Madison offensively, totaling 124 yards and a score on 33 carries, pushing him past the thousand-yard mark, as he now stands at 1,098 yards heading into the semifinals.
Ben DiNucci started red hot, completing each of his first eight throws, including a 15-yard scoring strike to Brandon Polk to put the Dukes on the board early. DiNucci would cool amid worsening weather conditions, finishing 19-of-28 for 157 yards and a touchdown.
"I told the coaches at halftime, 'Look, if we don't screw it up on offense, we'll be fine,'" said Cignetti. "They could play offense the whole second half against our defense and not score and we'd win the game."
JMU outgained Northern Iowa 346-114 thanks to a solid rushing attack and 13 third down conversions. The Panthers, on the other hand, couldn't breathe, as Dimitri Holloway and the Dukes were a step ahead all night long.
Defense just making plays ? @JMUFootball can almost taste the semifinals ?#FCS#FCSPlayoffs Q4 | UNI 0 | (2) JAMES MADISON 10 pic.twitter.com/9bHloW3ioK

— FCS Football (@NCAA_FCS) December 14, 2019
Holloway referenced telltale signs from UNI that tipped off a well-read JMU defense.
"We knew if they lined up in certain formations or, like, if they came out in big personnel, we knew certain plays that they would want to run," said Holloway. "We just called great defenses for it and then we just executed."
Second-seeded James Madison advances to the FCS semifinal round on Saturday, Dec. 21, where it will meet fourth-ranked Weber State at Bridgeforth Stadium.